Fake Taxi review
Summary: The girls don't look close enough before getting in this cab! These guys haven't got any license to provide a taxi service, but they have a lot of money and they will use it to get their fares to blow their cocks and have hardcore sex while they tape it. Not every girl is seduced easily, and many put up a hilarious fight and give lots of shit to the driver before being paid off and talked into it. Scenes are totally original and come in HD at this highly entertaining reality porn site.
»
Visit

Fake Taxi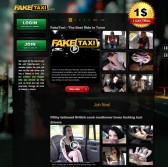 Author:
Jerry Fritz
,
2013-05-14
Categories:
Amateur
,
Reality
,
Blowjob
,
Hardcore
,
High-definition
,
Videos
,
Movies
Tags:
authentic amateurs
,
British Girls
,
European Girls
,
POV
,
sex in public
Intro promises
"Get ready for the ride of your life with Fake Taxi - a website where the girls are real but the cab driver only has a license to thrill!"

First impression
If you just get into any car that looks like a taxi, beware: the guy behind the wheel may just a be a horny dog using the "taxi" gig as a scam to get some action. Fake Taxi has done more than just make another site where amateur girls get tricked into having sex, though; it's a complete entertainment, with the bonus that most of the entertainment is fantastic hardcore sex with smoking hot girls from London and Prague.

If you watch the video sample on their tour, I challenge you not to laugh out loud multiple times as the cheeky bastards behind the wheel talk the girls who get in around to giving them blowjobs, having sex for money and forgiving them for not taking them anywhere near where they had asked to be dropped off. Great sex, hot girls, hilarious drivers: what's not to like about Fake Taxi? I signed up for the full experience. Read on for details.

Our opinion
The Fake Taxi site is new and it isn't very big yet when it comes to content. This is one of the things you'll have to consider when you sign up, but if you have a look at some of the content I think you can be convinced pretty easily. There are few sites with under two dozen scenes available that can convince me to sign up, but this was one of them.


Funny, sexy, exciting hardcore pickups
Fake Taxi is in many ways the evolution of reality porn. These aren't poorly acted, scripted encounters, they are real - or they at least appear to be very real, and they are put together professionally and offer more than just sex.

My favorite cabby was the London driver, maybe just because i speak English but I also prefer his half offensive, "I'm a dumb ass" act he puts on while driving the girls around to places that are in the opposite direction of where they asked to go. "No, no. This be a short cut. Just wait, you'll see." The girls get hostile at some point, a few threaten to call the police or in frustration ask him to stop and let them out, but change their minds when they look out the window. "I don't have any idea where in the fuck we are!" Eventually the taxi chap gets his way, maybe being a little pushy, and offering a few quid doesn't hurt either. Before the girls get taken where they're going they agree to suck his cock and get fucked hardcore in the back of the cab while he films it.

The driver in the Czech Republic is a handsome guy and a smooth talker. His girls aren't flipping out and calling him an idiot and threatening to call the cops. They get lured in, smooth talked, and seduced so that when he offers 10,000 crowns for a blowjob, they coyly say no but then a minute later say sure let's do it.

There are a few other drivers as well, and all of them do a real fantastic job interacting with the girls as well as while banging them. A lot of the action is filmed in POV though parts are filmed with a hidden camera inside the car.


Great quality videos
Every one of the scenes here comes in four download formats: 1080p HD QuickTime, 720p HD QuickTime and Windows Media, and a Mobile-ready format for iPods/iPads and other devices.

The 1080p HD movie has the best picture quality and the largest screen resolution of 1920x1080 pixels (8 mbits). These look really great, though of course the parts filmed by the hidden camera are less sharp than the others. The 720p HD movies open to 1280x720 screens (3 to 5 mbits) and look fantastic as well.

Movies can be watched online, streamed right in the browser window. The Flash video has a great quality playback as well. The only thing missing are pictures and Fake Taxi doesn't have any of them. Given the format of the scenes and how they make the content, it makes sense. There isn't exactly time or opportunity to have a photo shoot!


Small library but it is growing
I was really disappointed to find there were just 17 scenes here at the time of my visit. Not because the site is small but because every episode I downloaded seemed better than the last. Having just 17 I can see myself watching all of them in a short time span. Thankfully they are growing though, adding a new episode each week by the look of it though there are no dates on the content.


Simple site and limited extras
The site is a simple design and is easy to navigate. You won't find any advanced tools for sorting or searching, but the library isn't so big that you need them yet. There are bonuses as well, in the form of DVD video scene feeds. The quality for these isn't the best but they aren't horrible either. It does look like a lot of the clips in the feed are from older DVDs, though.

Conclusion
Fake Taxi isn't the first site with this idea but it is the first to do such a good job. You'll bounce between laughing out loud at the cabbies and the girls as they get pissed for being driven off in the wrong direction, and arousal as they get talked into hardcore sex for money in the back of the cab. The site is very well done and has great downloads and streams. The only thing they need to do is keep producing more scenes like the ones online now. This is a really fun site that fans of quality reality porn are going to love.

Competitors
Can He Score? is a bit of a different format - average joes get a chance to go on a blind date with a porn star they lust after - but it shares the cheeky humor and exciting hardcore action that make up a Fake Taxi episode. This library is huge though, comes in HD, and includes access to the entire Bang Bros network as a bonus!

Money Talks from the Reality Kings network is worth a punt as well. Here they hit the streets and get people to do crazy things for money - from eating bugs or electrocuting their balls to getting girls to blow guys in the parking lot or have sex for money.

Pickup Fuck forgoes the nonsense and focuses on finding hot Czech girls in the street and offering them cash for a good time. The scenes are filmed in POV mostly, come in HD downloads, and offer some great hardcore. They usually end up fucking in semi-public places like the back of a park, a car, an alley, a stairwell, etc.

Pricing
| | | | |
| --- | --- | --- | --- |
| Price | Period | Rebills | Additional Info |
| USD 19.95 | 1 month / 30 days | Rebills after every period | |
| USD 49.95 | 3 months / 90 days | Rebills after every period | |
| USD 79.95 | 6 months / 180 days | NON recurring | |
Payment Processors:
TrustCharge, CCBill, Epoch
External Opinions
Don't take our word for it and see what others think! We have collected a list of opinions and impressions from other sites, so you can compare them all from one place.
Total average: 77/100 Our score: 8.5/10
User Comments
Write your comment - feedback is appreciated
Comments from other readers
User
Comment
Puku
2013-08-29 23:18:28

I think it's scripted, but I still have doubts. On FakeTaxi.com there is a British woman whose name is Delilah--who also happens to appear on FakeAgent.com as well. Same face, same name.

It proves that this could be really scripted. However, I'm sure there are women who really do get tricked. I surely hope this is scripted because the risk of spreading STDs become extremely dangerous.

Born slippy
2013-10-14 08:15:06

I think you will find that the London cabbie (face constanly blurred) is none other than Ben Dover so deffo scripted.
Having said that some of the women are proper filthy!
The Welsh bird finishes with a fantastic cumshot

freako
2013-11-12 03:01:40

yes fake taxi videos are completely scripted.models are same used in fake agent uk

Used Sneakers
2014-01-09 21:24:36

Don't get me wrong, I really love, LOVE, watching these videos, but they're DEFINITELY not real! There is no way that any of these situations have actually happened. Did I mention that I still love watching them?

Markus
2014-01-15 03:55:32

Well it's not just faketaxi and fakeagent both are all fake and set up
I mean most of the girls I think have arranged and settled before the whole scene is done. few of them are working in porn movies wanna be porn actress or some hookers also.
So if you think and getting excited that those girls are actually being trapped with those horny bastard then I think you're just wasting money for being stupid.

Markus
2014-01-15 03:56:12

Well it's not just faketaxi and fakeagent both are all fake and set up
I mean most of the girls I think have arranged and settled before the whole scene is done. few of them are working in porn movies wanna be porn actress or some hookers also.
So if you think and getting excited that those girls are actually being trapped with those horny bastard then I think you're just wasting money for being stupid.

nothing else
2014-01-25 01:30:18

i love this site and the fucking girls

cristian
2014-01-25 01:31:08

i like this fucking site

Czech bitch
2014-03-12 23:50:02

its all scripted period

George
2014-05-31 09:34:04

It doesn't matter if it's scripted it's the thrill that people get from this porn that matters, if it wasn't scripted it would be illegal so good luck finding real birds getting fucked In the back of a taxi without calling the police after

John
2014-06-02 17:05:47

The best fake taxi driver is the older guy because he eats the pussy.. The new cab driver and the car driver they need to get rid of.. I dont event watch their episode..

John
2014-06-02 17:10:06

OMG, I cant believe so many comments saying this is fake and scripted.. Do you ppl actually thought this was real real.. lol.. smh.. u ppl need to get a life.. of course its scripted.. omg...

spank me 2
2014-06-17 08:20:31

fake taxi the is best i wish he show what he doing when he giving oral the lady's look like it the best ever when see the lady feet cramp for how intents he doing it please keep up. my favorite clip is the airline flight attendant

Pete
2014-09-14 09:36:13

Fake Taxi

Good sight ...easy to sign up to....but impossible to cancel membership if not satisfied

pete
2014-09-19 19:07:07

fake taxi is great series.i agree it needs more scenes 2 freshen it up.but it is 1 of my favs.how thedriver coaxes his fares 2 suck before getting 2 fuck them is very exitin.never fails 2 get me hard.often wonder are the models porn stars or just lucky pickups.would love that taxi job myself!