PeterFever review
Summary: There aren't exactly a lot of muscle bound Asians out there, and even less of them have their own solo muscle worship site. Peter Fever features Peter Le, who is one of the hunkiest Asians you are ever going to come across. Everything on his body is nice and built, with a fine balance between plenty of muscles but not going over that line into crazy muscle bound. The video quality could be better, and the layout is pretty sparse, but the actual content is going to make muscle lovers very happy.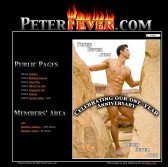 Author:
Tiffany
,
2009-09-06
Categories:
Asian
,
Hunks-and-Muscle
,
Amateur
Tags:
Asian amateur
,
asian body builder
,
muscle worship
Intro promises
1,001 photos
24 videos
Updates every two weeks

First impression
Muscle worship and Asian lust – that's not a combination that you see too often, but Peter Fever introduces you to Peter Le, one of the most ripped Asian men that I have ever had the pleasure of seeing. This hunky Asian has a six pack that will make your jaw drop, a perfect body, and, of course, the wonderful desire to strip off his clothes and share those muscles with everyone.

The member's area has a very amateur design similar to the tour. It's heavy on the plain and simple side, and doesn't really get in the way right now. There isn't exactly a main member's area – you just click the member's link right off of the tour to get to the photos and videos.

Pricing
Payment Processors:
CCbill
Our opinion
The amateur design just works for Peter Fever, although as the site grows they might want to add in some sort of search function. As far as I know, this is the first Asian muscle worship site centered around a single bodybuilder – although to be honest seeing a muscle bound Asian like Peter is very rare to begin with. The updates come about once every two weeks, although they look like they do multiple updates during those times.

There are 24 videos and 56 photo sets, all focused on this gorgeous muscle man. The sets are on the smaller side, with 15 – 30 photos per set, but the quality certainly makes up for that. These artfully done beefcake photos hold nothing back, allowing you to see every last bit of his body. There's no masturbation or hardcore here, just a pure beefcake hunk ready for some muscle worship time. The photographer knows this niche very well it seems, and nails the sets perfectly. The quality of the pictures is top notch, and they are shown at 1000x667. I would have liked to have seen a slideshow or zip download feature, but given the amateur feel of the site I wasn't expecting either.

The videos follow similar themes to the photo sets, with posing on the beach, showering, and oiling down every single one of those muscles. The videos are streaming only in Quicktime, and they are shown at 960x540. The videos are a bit fuzzy, like the bitrate isn't high enough for the size of the video. Although I would have liked to have seen better quality videos, as well as video downloads from them, the content certainly is enough to make you forget most problems. The other sections at Peter Fever are just links to his youtube video blogs and his facebook official fan club. You can't say that he doesn't put himself out there, that's for sure.

Conclusion
Peter Fever suffers from a few technical problems here and there, but that is all overshadowed by the fact that you have a body builder Asian just waiting for your muscle worship. This is some of the most unique muscle material that I've ever seen, and they take pride in it.


Screenshots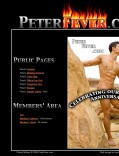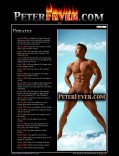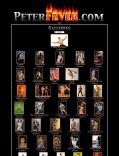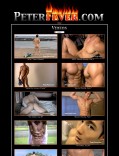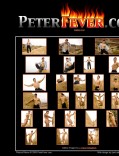 Samples
External Opinions
Don't take our word for it and see what others think! We have collected a list of opinions and impressions from other sites, so you can compare them all from one place.
Total average: 79/100 Our score: 80.0/100
User Comments
Write your comment - feedback is appreciated
Comments from other readers
User
Comment
Harvey
2010-01-17 19:47:21

I enjoyed Peter's website very much. It is unusual in the sense that you don't see very many male erotic sites that feature Asian men. Peter is a beautiful man with a perfect body and an equally handsome face. If you enjoy male beauty, you will love this site as I did. The photography is top notch, very creative and the videos are tastefully done. I really didn't mind that there weren't any explicitly sexual scenes in the videos, i.e. ejaculations. I've seen enough of those and frankly after a while they get pretty boring. Peter is sexy just in the way he presents himself without being overtly sexual. I would highly recommend PeterFever.com to any lover of male beauty.

Artist
2010-05-01 05:39:10

I really enjoy whenever I go to Peter Fever site. He is the most handsome man with a body that one would love to see. He makes no bones about his physical assets and show them fully to the pleasure of his admirers. True, his eroticism doesnt reach the orgasm point and leave you gaping at his mischievous smile or wink towards the end.

Please dear Peter, have a heart...we do want to see you reaching the ecstasy with all your muscle worship at least once in a way..dont leave fans like me disappointed in future...Still I love you, your smile, your voice, your body and your.......well everything.....

AsianMuscleSearcher
2010-07-15 22:12:13

As a man who is really into Asian muscle men, and so tired of only being offered Asian twink videos, stumbling upon Peter Le was, at first, a joy. He is a beautiful male specimen and would normally fulfill any Asian muscle lover's dream. However, his web site is disappointing. First, while his photographs are excellent, the fact that there are no videos AT LEAST showing him pleasing himself to a climax was just plain sad. If he doesn't want to get into full sexual intercourse, that is certianly his choice - although, again very disappointing - but at least let's see and hear you doing more erotic activity as we would love to share that experience, albeit in fantasy only.

When muscle guys just pleasure themselves in videos - i.e. do not engage in sex - it is almost entirely true that they are really straight men earning a living off of the gay community's desires. (For a great example, see Mark Dalton, who even plays head games in interviews about his sexual preference.) Personally, I have always found this to be a turn-off because part of the fantasy while watching porn is the idea that the viewer could actually be there enjoying the pleasure with them, which I would like to do with Peter. Yet, he won't even go that far.

After just finding out that he is going to be on a reality show featuring an all-Asian cast in the genre of Jersey Shore, and that he is seen in bars hang all over women, just sort of ruins this for me. While others may not mind what he does in real life in terms of his sexual prefernce, speaking for myself it destroys the fantasy.

It is evident that he wants to appeal to both gay men and straight women, thus thinking that he will increase his sales base. In the end, I think Peter is going to find that that strategy will not work.

The other thing that disappointed me about his web site is that his store only offers some generic books, which I have seen on other websites as well, only with different covers. The ad and everything else is the exact same. Peter should offer things such as t-shirts and especially photographs of himself which he would personally autograph. That at least may may make up a little bit for what is lacking in the videos.

Jeff
2010-08-02 19:18:15

I loved the pics of Peter, especially the ones that show his cock and asshole. I'd love to rim his hole and suck him off to completion. I'd let him stick it in my hole anytime.

Imurtop
2011-03-10 06:44:54

Just an update, Peter DOES have vid's that go to climax. The "need" to see this boggles my mind, but it is there now. The beauty is in the man, and his hard work to achieve that body. Gay, straight? Who cares since it is just fantasy anyhow? But MAN, what a fantasy!!!

Peter Admirer
2011-07-30 18:14:12

The inability to download Peter's videos blows big time. Although Peter is a great example of what hard work and good salesmanship can do, his site is not worth the money because of this limitation, in my opinion.

PeterWanker
2013-06-21 04:18:53

First of all I take exception to the frequent comment that Peter's Asian-handsome-muscular-horsecock combination is some kind of anomaly. Maybe in YOUR neighborhood!!? Have you ever been to a gym? I mean outside of Aberdeen, South Dakota? Hot good-looking Asian muscle idols are everywhere! OK, so they don't all go the distance Peter does, which is probably why he's such a damn tease. And that's my main beef with his website (which I admit I haven't visited in almost two years). His photographers are impeccable -- he must pay a fortune on photographers alone -- or do they pay him? However his videographers are probably the worst I've seen anywhere. I mean, most birthday party home videos I've seen are better made. And they go on and on and on repetitively and agonizingly teasingly... by the time you get to good part, you're totally frustrated. Then you only go back after looking all over the web to find nothing comparable to his incredibly erotic body and moves. I see now he has other guys doing his sex for him. They seem OK and maybe worth trying it once again. I think the reason we don't see more like him is an Asian cultural thing: bringing shame on the family, blah blah. It's definitely NOT because there are not sexy muscular GAY Asians out there...

John
2013-08-27 22:34:08

The site used to be great but over the last year it's strayed from its Asian roots and Peter is almost never featured anymore.