Dare Ring review
Summary: Dare Ring is a truth or dare game consisting only of dares. For each round the dares get more and more explicit all the way up to oral sex. Participants are all 18-20 year old amateurs. There's 12 games available as video only, but it seems updates no longer occur. Video quality is average.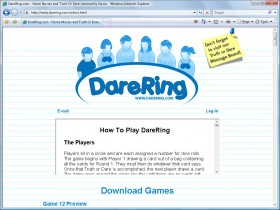 Author:
Joseph
,
2008-09-23
Categories:
Amateur
,
18-23
,
Lesbian
,
Reality
,
Videos
,
Movies
Tags:
amateurs
,
oral sex
,
truth or dare
Intro promises
How To Play DareRing:

The Players
Players sit in a circle and are each assigned a number for dice rolls.
The game begins with Player 1 drawing a card out of a bag containing
all the cards for Round 1. They must then do whatever that card says.
Once that Truth or Dare is accomplished, the next player draws a card.
The game goes around the circle like this until there are no cards left.
Then it is time for the next round. In our game we have 7 rounds.
Here are a few example cards from each round in our game:

- Roll the dice. If your number comes up you must remove a piece of clothing.
- Kiss Player 5 on the mouth.
- You may make any player remove a piece of clothing, if you will also take off one of yours.
- Put on the blindfold. A random player will kiss you, then you must guess who it was.
- Talk dirty. Make it loud and convincing. Be as nasty as you can.
- Pick any player and personally strip them of something they are wearing.
- Give Player 1 a sexy lap dance.
- Roll the dice. If that player is topless, suck on their nipples for 30 seconds.
- Roll the dice. If that player is naked, give them oral sex for 30 seconds.

First impression
Dare Ring documents what happens when a group of folks play an extremely sexualized game of "truth or dare," making it unlike any other reality porn site online, by which I mean to say it actually has a good premise and employs real honest-to-God amateur boys and girls. And it's actually hot! Really hot! The game played by the brave men and women at Dare Ring was supposedly invented by the site's founders and makes use of dice, blindfolds and index cards with dares written on them that players pick at random from a can. The game starts out softcore and gets kinkier and kinkier as the players lose their clothes and the rounds progress; the game usually ends with all players naked and most orally satisfied. Personally, I think Dare Ring should be an Olympic sport — it beats the fuck out of pole-vaulting any day of the week (save Tuesday, which is truly a day made for pole-vaulting!).

Prices
One-time charge of $19.95 for 30 days.

Secure credit card processing with CCBILL
Alternative: Pay By Phone


Our opinion
First off, let me just say that I adore this site — though I think Dare Ring is severely flawed, I absolutely love this site's premise and find much of the action documented here truly entertaining and erotic. A typical episode on Dare Ring involves a group of people (usually around five or six players consisting of a mix of girls and boys, with the majority of the players being female in origin) gathering together to play seven rounds of sexual "truth or dare." The first round is always relatively tame and mostly revolves around the "truth" half of "truth or dare" as participants are grilled about their sexual histories. Admittedly, this first round is kinda boring, but it lets you get to know the people who are playing the game and there's definitely a voyeuristic thrill in downloading clips of friends owning up to having been in threesomes or copping to giving oral sex to their best friend's brother or boyfriend. People start losing their clothes during the next round and things get progressively sexual as the game moves along — girls make out with each other, players give each other oral sex until they are satisfied and folks masturbate in front of the rest of the group. Half of the players have had orgasms by the end of the final round. This is my kinda game, people!

The amateurs on Dare Ring are daring indeed. Allegedly, the players are all college students who are friends of the webmaster of Dare Ring. Honestly, the folks who play Dare Ring aren't the hottest you'll see on a porn site, but they are definitely real amateurs and, personally, I enjoy the novelty of their participation on a smut site — I'd rather see a plain amateur who is actually an amateur than some foxy blonde minx who clearly does this sort of thing all the time even though she's supposed to be new to the porn industry. Having said that, it should be noted that the players often seem a little too preoccupied with making the game look sexy to act natural, creating a weird atmosphere of unreality at times.

Currently, there are twelve "truth or dare" games and six bonus games on Dare Ring; that's ninety video clips in all. Sadly, there has been twelve games on the site for about year now; in other words, Dare Ring is no longer updated, if it was ever updated in the first place. The games are 80 to 165 minutes in length and each round is usually around 20 minutes long. All videos are available in the WMV format and usually display at an impressive 640 by 480 pixels. The videos look quite good but take forever to fully download — why not offer a streaming option, Dare Ring? Please? And while I'm making requests here, how about some still photos, fellas? Oh, and let's have some new updates as well! Consarnit.

Please note that Dare Ring accounts are now limited to a download of three gigabytes per day, which is enough for two full games. If this three gigabyte limit is exceeded, your account will be given a temporary "time out" similar to the one I give my niece when she misbehaves or fools around with my mint Star Wars action figures (they aren't "toys," Caitlyn, they're collectables!). The webmaster of Dare Ring claims this action is necessary to control the cost of having account info posted on password trading sites.

While you wait out your "time out," you can always visit Dare Ring's message board and join the site's impressive virtual community where members post their own truths and dares. Dare Ring's message board is extremely active, with over sixteen thousand posts and over twenty-two thousand members at the present time. Not only do folks participate in challenges, but they also organize meet-ups and post the results of their get-togethers on the board for everyone to enjoy. The members seem to be intelligent save for a few shitbirds who post things like "I DARE U 2 SHOW ME YOUR TITS;" these comments are rightly treated with the disdain they deserve. Please note that anyone can read the board but you must register to see photos and post.

Conclusion
I said it before and I'll say it again: I love Dare Ring. Seriously, fuck baseball — let's make Dare Ring the national pastime! Granted, Dare Ring could use some more regular updates and maybe some photos as well, but I'm willing to let all of that slide just because Dare Ring is so amusing to me. Hell, the message board alone is worth the price of admission!

Screenshots from Dare Ring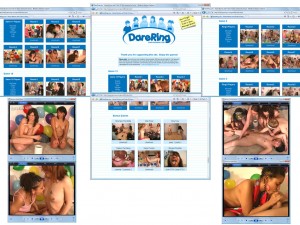 External Opinions
Don't take our word for it and see what others think! We have collected a list of opinions and impressions from other sites, so you can compare them all from one place.
Total average: 72.4/100 Our score: 80.0/100
User Comments
Write your comment - feedback is appreciated
Comments from other readers
User
Comment
Jim M
2011-08-23 15:34:43

Hasn't updated for several years!