Homegrown Video review
Summary: Homegrown Video is one of the leading amateur sites and communities with exclusive and authentic amateur produced videos of real life couples.

There is a newer version of this review - click here to read it.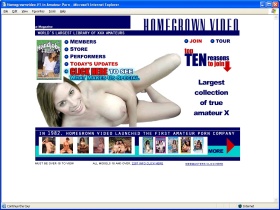 Author:
J.
,
2004-09-23
Categories:
Amateur
,
Videos
,
Movies
,
Fetish
,
Mega-Sites
Tags:
Intro promises
- 3 or more updates per day of exclusive homegrown video
- World's largest library of amateur XXX video
- More awards than any other amateur porn company

First impression
If you're an amateur porn fan and you've never heard of Homegrown Video you have
a.) been living in your mother's basement for too long and
b.) like Columbus looking for the West Indies, have just stumbled upon the equivalent of a completely trusting and naive indigenous people to exploit.

Homegrown has, in their over 20 years of business, established itself as the premiere amateur porn outlet, whether in their immensely popular and long-running video releases (last I checked, I saw some numbered in the high 400s) or here on the good ole internet. They made their empire by compiling home footage from kinky couples and whatnot and eventually expanded into facilitating such kinkiness. That's where my knowledge of the company ends, but things all seem to be in place on the website here and it appears that not much has changed since 1982. Except maybe some hairstyles, though it appears that men who want the world to see them fuck their wives have always (and maybe will always) prefer the mullet. Who knew?

Prices
3 days trial: $4.95
1 month: $39.95

Both memberships are recurring.

Check, Visa and Mastercard.


Our opinion
Holy amateur overload, Batman! The front page of this site is all business- the main site menu is on the upper left and there are about 15 other main headings on this page, from most recent news and literature about sexuality to (finally, at the bottom) lists of the photo and video highlights. That they put the photo and video highlights down at the bottom is a power move, I think. As if to say, "Yeah, we've got all this content. So what?" What, indeed, my friends. What, indeed. I don't even know what I mean by that. What I do know is that there are, at the time of this review, 1,250 movies and almost 100,000 photos on the site. And by "movies," as you'll soon find out, I don't mean "one minute clips."

Blocking out all other information on this jam-packed front page, I go for the gold: I click the "Videos" link on the main menu. This page is just as busy as the front page, but it's pretty easy to figure out. It has 36 mini-windows (that's my very own technical term), each with a few thumbnails and a description of the video the mini-window is promoting. When you first get here, the videos are listed by the date of their addition. That is to say, the first 36 are the 36 newest videos on the site. Here's where things can get a little overloaded.
Homegrown has a bunch of video series (with names like "Housewives Unleashed," Eye Contact," etc.) that have pretty obvious themes and then more specific names for random videos (filed under the "Raw Footage" category), such as "Claudine's 2nd Cream Pie" that tell you exactly what you're getting in the vid. Luckily, to help you navigate the 1200+ videos they have on the site, you can view the videos by title (if, say, you're a "Horny Over 40" kind of guy) or you can view by niche (if, say, you only want to see the videos that contain lesbian action). Related here is a big issue and one of the most glaring problems with the site. First of all, the videos are actually full length video releases. That means that clicking on a video opens up a very long stream that is not at all pre -segmented for you. So let's say you were looking for those lesbian scenes.
You have to do just that- look for them within the stream instead of clicking on a video and choosing a scene from that video or, in an even simpler solution, having little bookmarks where new scenes start. For the most part, the videos are well-described, with each scene getting a little blurb and pertinent information being divulged (for instance, if the scene ends in a cream pie, they usually tell you that). This problem would not be so glaring but for one other issue that bothers me a great deal: the videos are in no way downloadable.

In fact, right clicking on ANYTHING on this site pops up a copyright dialogue box. That means no multiple windows for faster browsing. These are technical details that may not seem all that important, but for a number of reasons, this is one of the first things I look for on a site and I am disappointed to see it here.

More technical notes concerning the videos section include the fact that the video quality is variable- the original tapes range from true amateur to amateur-with-a-decent-camera and the streaming quality leaves something to be desired in almost every size. The broadband feed is large (no exact details because I can't right click, but it's about half screen). The base size remains the same for the 56K/ISDN format and the 28K/56K (remember ISDN and 28K, guys?!), but you can shrink the video to 50% of its intended size, making the 28K a small, dark and fuzzy picture with a decent framerate and the ISDN format equally small and pixelated instead of fuzzy. The amount of digital artifacting in the "Broadband" format is upsetting, especially at full screen. At half size it's still watchable and is less pixelated but, depending on the original source, can be very disappointing. To be fair, the newer videos seem to have a better average transfer- not DVD quality by any means, but certainly viewable. Again, I think that a lot of these issues could be resolved with a simple restructuring and probably painful process of seperating the scenes. Then you could watch the higher quality version without having to wait for something to load for 30 seconds when you're jogging through a 1.5 hour video trying to find the scene you wanted.

Okay, there, I said it. The video image quality is not all that great. But, that being said, I think it's important to follow up with my sincere opinion that Homegrown provides the (pronounced "thee") best amateur video content in the world.

No other company gives you the realism, the passion, and the just plain joy of sex as well as Homegrown does. That's not to say that they're perfect- in fact, many of the member reviews will tell you that there's lots of non-amateur or even alleged fake amateur content on the site. But there is certainly plenty of real couples content that makes you wonder what you look like when you're having sex. The majority of stuff on the site is real people having real sex and real fun and, if that's what you're looking for, look no further.

Apart from the seemlingly endless stream of videos, there is also a library of about 100,000 photos in over 1,000 sets on the site. Many of these photos are companion sets to videos, but there are plenty of unique ones as well- lots of those of first-timers. The layout for the pictures is nothing spectacular, but it gets the job done: thumbnails are listed on the left and the selected picture appears in the main window. Again, since I can't right click, I have no details for you, but the photos are about the same size as the videos' natural size. The quality, again, varies, but even the newer updates can be very soft and pixelated. I am again a little disappointed in the quality of the images here. The actual photographs are of a higher quality production-wise than the videos, but that is negated in the compression here. I consider the photos on a site with such massive amounts of video content to be extra, though, so it's not much of an issue. Especially since the photos, like the videos, are undownloadable. One would think that .zip files of the photo sets (epsecially the companion sets to the videos) would be available at the very least as advertisements for the videos- physical versions of most of which can also available in adult stores and at Homegrown's own video store.

A seperate text section contains erotic stories and jokes, as well as news and some columns by staff writers at Homegrown.

Also are some message boards that aren't all that active and the aforementioned store which doesn't have a lot to offer someone with a membership to this very extensive site. In a kind of unexpected spot on the home page, there's also a link to some downloads where you can even download a few of the full-length movies... at about 400MB a piece! There's also a handful of broken down full-lengths for download, but I'm not exactly sure why those are available and the rest are not. But I won't belabor that point any further. The video is the main course here and there is plenty of it.

Conclusion
There is no way that a trial subscription to this site will show you even a reasonable sample of what Homegrown has to offer. This site carries a premium price tag for a reason- they're the best at what they do and they have the type of extensive library that the US Congress would have trouble cataloguing. There are quality and navigation issues that, while not ignorable, seem insignificant next to the towering monolith of video content on this site.
If you're an amateur aficionado, I dare you to try to watch all this site has to offer. It will be well worth the extra money to try.

Screenshots from Homegrown Video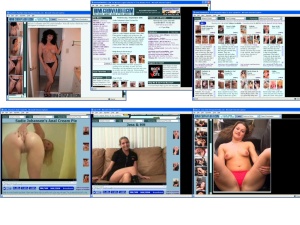 External Opinions
Don't take our word for it and see what others think! We have collected a list of opinions and impressions from other sites, so you can compare them all from one place.
Total average: 81.2/100 Our score: 80.0/100
User Comments
Write your comment - feedback is appreciated
Comments from other readers
User
Comment
No comments yet - please help make our site better for everyone by adding your comment.