Sell Your Sex Tape review
Summary: Sell Your Sex Tape is a unique site that pays amateur couples to document their lives for one week. This results in 7 hours of video for each couple. Often featuring POV sex or masturbation. Although technical video quality is only average, what goes on in them seems very authentic and will appeal to fans of true amateur action.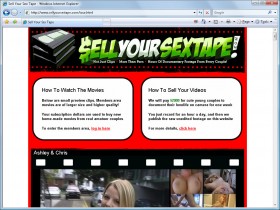 Author:
Joseph
,
2008-10-03
Categories:
Amateur
,
Reality
,
Videos
,
Movies
,
Blowjob
,
Hardcore
Tags:
authentic amateurs
,
home videos
,
homemade
,
POV
,
sex tapes
Intro promises
Sell Your Sex Tape is a site with a unique idea. Instead of paying pornstars to fuck each other like you see on every site, these guys pay $2,000 for couples to submit their own home porn videos. But this isn't like those sites that have random amateur clips.

Each couple has their own section filled with hours upon hours of their once private videos. You get the full boyfriend-girlfriend experience. From doing laundry, cooking dinner, going out to a restaurant, playing at the park to the more intimate moments such as a warm shower, a blowjob in the kitchen, or doggystyle fucking on the bed. Sell Your Sex Tape is the only site of its kind.

First impression
Believe it or not, the premise of Sell Your Sex Tape has something to do with people selling their sex tapes to the makers of this site! Shocking, no? I guess this webpage's name should have been a dead giveaway. Anyway, the webmasters of Sell Your Sex Tape pay "cute young couples" two grand to "document their love life on camera for one week." Essentially, the young lovers record themselves for an hour a day and send in seven hours of raw unedited footage at the end of the week; this footage remains unedited and is "published," for lack of a better word, by the makers of Sell Your Sex Tape on their site. But not only do the couples film their sex lives, they film their love lives as well, which can be quite touching and downright adorable at times. Sure, you'll see plenty of facials and filthy sexual deeds, but you'll also see a good deal of chatting and hanging out, which can be equally fascinating, I assure you.

Pricing
Our opinion
Sell Your Sex Tape has been brought to you by the same people who brought you the excellent site Dare Ring, which documents what happens when young amateurs play a sexually charged game of Truth or Dare and happens to be a favorite of this intrepid reporter, so you know it's a quality site with a cool premise. I wish these people would make even more sites cos they seem to have interesting ideas as well as access to a score of cute amateur girls who don't look like they'd normally be into doing this kinda stuff. Oh, and these gals are adorable! All of 'em! I guess you could categorize the model as being alternative, the sorta women you don't usually see on mainstream porn sites - some are nerdy and some are heavily tattooed, but they're all totally fucking delectable. The guys definitely aren't the "cute" part of the "cute young couple" equation, which will make you wonder what these hot babes are doing with these doughy doofuses (someone less cynical than me might take comfort in knowing these goobers can land such primo pussy despite being so hideous-looking - maybe there's hope for all of us). But who's looking at the guys anyway? Um, I'm not... cough.

Anyway, each series on the site contains seven videos, all of which are presented exactly as the couples made them, thus each series contains seven hour-long videos each. There are twenty-two sets of videos (at the present time which you can stream from Sell Your Sex Tape's server or right-click and "save as" to download to your hard drive. Admittedly, download time is brutal, it being that all the videos are a full sixty minutes a piece. But, boy howdy, are they ever worth the wait! Videos are all downloadable WMV files with no DRM that are sized at 640 by 480 (1300k). Each video has a cache of screen caps to let members see what they are getting themselves into before downloading. The screen caps are just there for reference points, though - there's no real still content on Sell Your Sex Tape, it's all video content (obviously), one hundred and fifty-four hours of video content, in fact.

Admittedly, I got a little sad whilst watching these clips - not one of my relationships has ever looked anything like any of the wonderful loving relationships on display on Sell Your Sex Tape! These kids actually appear to like each other! They seem to enjoy each other's company! And the sex looks amazing! Where's the unwillingness to give head? Where's the arguing over dirty dishes in the sink? Where's the infidelity? Why haven't any of these people bothered to document all the countless hours of masturbating in secret while their significant others are at work?!

Ahem. Like I just said, the sex is hot. Scorching hot! There's a lot of showering in these clips, oddly enough - perhaps cleanliness is the secret to a successful partnering! Some women dress up for their men and many gals flash their tits in public places. These chicks are wild! They're nothing like the women I've dated, who often wouldn't go down on me or scoffed at the prospect of fucking in any position that wasn't the missionary position! Oh, I've lived a sad life - thanks for reminding me, Sell Your Sex Tape!

Please note that all Sell Your Sex Tape accounts are now limited to the downloading of five gigabytes per day (that's enough for one full series) - if this five gigabyte limit is exceeded, your account will be given a temporary timeout for a few hours. Uh oh! Sell Your Sex Tape declares, "This was required to control the cost of having account info posted on password trading sites." I believe you, Sell Your Sex Tape. And I feel your pain (now let me feel some of your models!). Goddamn these password trading sites that take money out of the pockets of hardworking smut peddlers like Sell Your Sex Tape, goddamn them all to hell!

Conclusion
Armed with a truly novel premise, Sell Your Sex Tape is one hell of a ride, one that lets its riders get a peek into cute young couples' sex lives. Come to think of it, this might be the only genuinely real reality site on the Internet! Put simply, Sell Your Sex Tape rocks bells. Join this site. Now.

Screenshots from Sell Your Sex Tape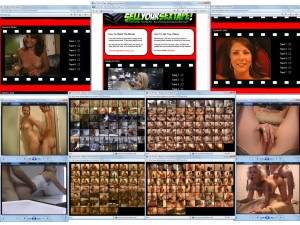 External Opinions
Don't take our word for it and see what others think! We have collected a list of opinions and impressions from other sites, so you can compare them all from one place.
Total average: 75.7/100 Our score: 75.0/100
User Comments
Write your comment - feedback is appreciated
Comments from other readers
User
Comment
Joe Coffee
2013-04-05 18:51:27

Liked your review. It got a little gonzo. Most reviewers could be rating cell phones, for the passion they exhibit. Appreciate your different approach which actually gave me more insight into the site. Cheers.