US Biker Parties review
Summary: US Biker Parties offers a 7 year archive of pictures and movies shot exclusively for this site at various biker parties all over the US. It features authentic amateur biker chicks in all ages and sizes at wet t-shirt contests, mud wrestling or just flashing. A great deal for fans of true amateurs.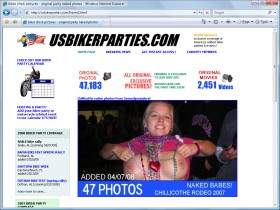 Author:
Fred Lake
,
2008-04-10
Categories:
Amateur
,
Mature / MILF
,
Reality
,
Fetish
,
Softcore
,
Videos
,
Movies
,
Other
Tags:
Intro promises
- Exclusive motorcycle event and biker party pictures. Wild biker girls, wet tee shirt contests, topless biker babes, naked drinking games!
- Biker chicks from Daytona, Sturgis, and more!
- Raw uncut naked biker chick action from America's wildest biker parties.
- 46,405 photos, 2,438 video clips.

First impression
Entering the members area, you see the site name in big text with a small logo, a row of buttons (one for each year of content, plus buttons for member-submitted stuff, Help, and bonus sites).

Below this are large thumbnails of the most recently-added files. There are separate files for photos and videos, which often (but not always) cover the same events.

Prices
$9.95 for a month, recurring
$14.95 for a month, non-recurring

The price of $9.95 is a steal for 40,000 boob pictures, and isnt'bad even for "just" 400 pussy-reality pictures. You can use an on-line check or a credit card. They take Visa, Mastercard, JCB, and Discover through the highly-reliable CC Bill dot com.

Our opinion
Titties, titties, everywhere! Also, boobs, busts, breasts, juggs, knockers, and funbags.

Biker conventions are sort of like Spring Break, except that the women range from 18-48 and the guys are also older and scruffier. There are often women flashing their boobs around the campsite, and there are usually wet-T-shirt contests, other contests ("just git naked and dance" seems to be common), girls dancing in cages (often naked), and sometimes one of the local bars will have topless female bull riding, which can be a hoot.

Tits are everywhere, but pussy is somewhat more rare. You can and should expect any wet-t-shirt contest to end up with some full nudity, but this is often prevented by local cops and sometimes by women who just cannot grasp the concept that they need to take their panties off. So, the 46,000 pictures include about 40,000 with boobs and about 400 with pussy. (The best pussy photos are in 2004 and in a member submission file by "Zach".) Seriously, the guys who take the photos (mostly the site owner, but some fan submissions) are at the mercy of what the women will or won't do. Some contests are very wild, and some are very tame. Be warned that the word "naked" in a file name often means "topless only". It is annoying that in some of the files (particularly in 2008) you almost think that the site owner hand picked the photos that did NOT show the pussy of obviously naked females.

The site has been around for eight years, and the organization of the content has evolved, but navigation isn't that hard for a site with eight years, maybe 200 events, maybe a thousand files, and 46,000 photos. Click on a year, and you get a list of events (in one of several formats, older years were never changed to the later formats, but that's no big deal). Each event lists several datafiles (either video or photo). Sometimes if you click on one of those file names, you get just that file, and sometimes you get an event page with all of the files for that event, which is only momentarily confusing. Photo files come in the usual galleries of thumbnails, but WATCH CLOSELY as many of these have multiple pages (with "next page" links) and you can miss some good photos. About half of the files are random nudity, about a third are contests, and the rest are a mixed bag including swimming holes with skinny-dipping biker chicks.

The women range from 18 to 58, from pretty to chubby to granny. Some of the older women look great (some don't) and some of the younger women are very pretty (and some are fat and ugly).

The videos are mostly in small chunks, and are in WMV format. I couldn't get them to run on Mac OS9, but they will run on Windows and OSX just fine. Most of the videos are the contests and the bull-riding, but there is one bizarre file of a woman getting her nipples pierced with rings live on stage. The movies will download or stream and don't have an expiration date.

There are updates posted every week, but as there are not 52 biker conventions a year, that means you get some of the footage or photos from a given event each week. The content is about 98% unique to the site (although these are public events and other photographers have their own version of some events) and many of the women never got naked before or after their appearance here.

The content has evolved over the years. While most is taken by one guy, he did buy a new camera now and then, and some content is provided by others. The photos range from grainy to clear, from large to small, from well-lit to so dark you aren't sure what the girl is or isn't doing. But remember that THIS IS REALITY. The outfits that do these events do not use a single standard of stage, lighting, crowd distance, or anything else. Every event is different.

Conclusion
If you like boobs, or if you're willing to hunt for the pussy, of if you are a biker who wants to rememer some of the parties he went to and see some of the parties he missed, US Biker Parties is for you.

If you found the various Spring Break sites you have paid to enter disappointing in the pussy-to-boob ratio, this site isn't going to be any better, despite the slutty reputation of biker chicks, who don't even have to get drunk to get naked.

Samples
Screenshots from US Biker Parties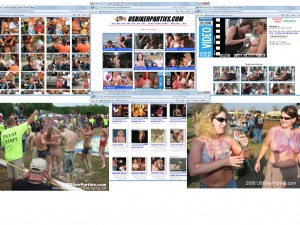 User Comments
Write your comment - feedback is appreciated
Comments from other readers
User
Comment
No comments yet - please help make our site better for everyone by adding your comment.