Aint Cheating review
Summary: Aint' Cheating is an amateur blow-job site bringing content in the form of, image galleries and thousands of adult movies.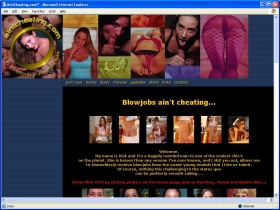 Aint Cheating is closed
Find another site in our Blowjob category instead. We keep the review online for historical reasons.
Author:
Shay Boogie
,
2004-11-23
Categories:
Blowjob
,
Amateur
Tags:
Intro promises
- "The BJ adventures of a married man"
- "This is NOT your average oral or nylon-obsessed site. Inside I share the proís as well as the cons inherent in a married manís involvement in Porn Valley antics. Temptation loves a challenge, and I love to challenge temptation."
- "Subscribe to this site and witness my POV camera confront busloads of horny pantyhose and stocking-clad cum sluts."
- "Donate to my cause and learn my HARD earned porno-trade secrets."
- Instant Access To 1,000's Of Adult Movies
- Download What You Want, When You Want. No Viewing Restrictions!

First impression
I had to laugh when I first entered this site and read "Dick's" (his name is Dick...ho hum, there's a surprise) basic belief as to why receiving blowjobs from strangers isn't considered cheating. Although based on the urban legend that blowjobs isn't cheating, his claims that "casual sex is just casual and can add strength to a healthy marriage" is of course ludicrous. If it is meant as a humorous concept, I think it needs to reflect that a little more. Of course, all of this jargon is merely for shock value, I assume. However, I was very interested to see what the site had to offer. The first page had a collage of decent looking women in lingerie, giving blowjobs, so I was eagerly anticipating what else AintCheating had to offer.

Pricing
Our opinion
The content of AintCheating had a lot to be desired. There were only twenty-eight galleries of girls, with some girls having more than one gallery. The galleries usually showed european models in their lingerie and then shown giving blowjobs to Dick. Personally, I didn't think the girls featured were anything to write home about but to each their own. The movie section encompassed twenty-three quicktime videos each of which lasted anywhere from a few minutes to ten minutes. The majority of the movies began with softcore action and then proceeded to the women giving Dick a blowjob. Unfortunately, not every video ended with a cumshot or even a blowjob, for that matter. In a few of the videos, Dick shot straight into the girls mouths so we were unable to see any real cumshots. Besides the galleries and the movies, there wasn't much more to AintCheating.

The quality of the photo galleries were decent at best. Many of the pictures were too dark and the size of the images was just all over the place. There was nothing uniform about the galleries, which I think is a must for a professional site. In addition, there was a short delay in seeing the pictures once you clicked on the photo you wanted to view. This got a bit annoying after a while. The way the photo gallery was set-up was interesting, too. There would be a tiny picture of the girl next to large text describing the girl and her gallery. Once clicking on the photo of the girl, you're brought to her gallery, which starts with Dick's ranting and raving. This could consist of anything from the girls' sexual prowess to "Mafia-run prostitution rings" in Europe. Usually there were about twenty-five to thirty pictures in a gallery but a lot of the pictures were very similar. This might bore some of the members as in actuality there are only a few different unique poses worth getting larger views of.

The movies section was also an adventure. Here I found what I thought was the best quality of the whole site. The twenty-three movies we're offered were usually broken up into four or five different two-minute segments. Dick would let us know the exact length of time and what occurred in each segment. This made it easier for me to decide which clips I wanted to view and how long each of them were. This information could make someone decide a segment's too long for them to watch or maybe that they only want to watch the cumshot portion. More sites should do what Dick did here, as it benefits his members to the full extent.

Unfortunately, this type of genius was far and few in between. The majority of the segments in the movies consisted of the girls stripping, playing with themselves, and puting nylon over Dick's dick. Yes, nylon. Our webmaster seemed to have a fetish for the material used in women's pantyhouse. He liked having his cock covered and rubbed with nylon and that is exactly what we get in many instances. Depending on your "nylon stance", it's either rather amusing or a bit of a weird fetish. Either way, I had never seen anything like it before. Surprisingly, it didn't take long for the movie clips to download. You could watch them in streaming format or download them. I have cable internet access and was pleased that I wasn't sitting around and waiting for the clips to start.

Besides the photo galleries and the movies, that is really all that the members will get. There are only eight links to other sites and the store section was poorly organized. They offered only one video, which was a compilation of every video on the site. Not to mention that Dick's charging us $40 to buy the DVD or VHS tape (+ shipping)! Of course, members get 20% off but still you're talking about a $32 video versus signing up for membership at a lower rate and having access to the same footage. It was all just a little bewildering to me.

A nice offering for non-members is free pictures from AintCheating. You're able to click on some of the girls and check them out before deciding whether to become a member or not.

Navigating through AinCheating was decent but there was a lot of scrolling up and down the pages to do. Then again, with only two options for us (photo galleries and movies) navigation wasn't too hard. There are six options to choose from, three of which are "home", "links" and "store". I always thought that members should have more quality options than these generic ones.

One of the most amusing parts of Aintcheating is the front page of the guests section. There's a string of photos of different girls holding up both their licenses and social security cards. I would guess that this is to show that the girls are American citizens and of legal age. However, considering you can't see the specifics of the license or SS card, it makes you wonder exactly what Dick was going for here. Any which way, I got a good laugh out of it. Another thing I found humorous was a few of Dick's selling points to prospective members. "Original Music" and "Awesome Lighting" were given as two of the major reasons to join. I don't know about anyone else, but the lighting was just decent and the original music he was talking about...let's put it this way...I don't think Dick will be writing any grammy acceptance speeches anytime soon.

The cost of membership is twenty dollars per month. I think that's a bit much for a site that has too little to offer. If Dick cuts the cost in half, I think that would be representative of what members are going to be getting. Sites that charge you this amount usually have much more content than what is available at AinCheating.

Conclusion
Overall, I thought AinCheating was a good idea but poorly put together. It's definitely not worth my twenty dollars a month but perhaps others will think it is. There just wasn't enough content to make the concept work. Dick seemed more interested in the idea itself than giving us the best he could offer. More videos with ending cumshots and better quality pictures would be a first step. Lowering the membership rate and adding more selections wouldn't hurt either. If Dick can tweak this site in his downtime from receiving "nylon handjobs", than he'd have a nice little site on his hands. Oh yeah, and his belief that getting blowjobs isn't a form of cheating...tell that to any married woman and see what type of response you'll get.


Screenshots from Aint Cheating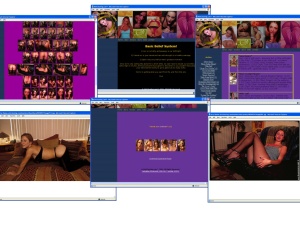 User Comments
Write your comment - feedback is appreciated
Comments from other readers
User
Comment
No comments yet - please help make our site better for everyone by adding your comment.