Busty Brits review
- 1st revisit
Summary: Busty Brits is a soft-core amateur site that holds over 35,000 exclusive hi-resolution images, high quality large size movies with updates 5 days a week.

There is a newer version of this review - click here to read it.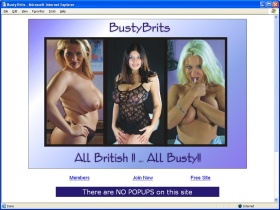 Author:
J.
,
2004-05-27
Categories:
Boobs
,
Amateur
,
Softcore
,
Photography / studio
Tags:
Intro promises
- Over 35,000 exclusive images
- 5 updates a week
- Hi res, high quality images
- High quality large size movies
- 350MB of MPEGS

First impression
Pretty simplistic tour pages that border on unprofessional. Some of the sample thumbs are pretty lo-res, but it wouldn't be fair to judge on that.

From the looks of it, BustyBrits is going to live up to its name- these girls are, indeed, busty. I'll assume they're British because I am generous and like to give the benefit of the doubt whenever possible. I don't see any of the stereotypically bad teeth just yet, but rest assured I'll be on the lookout. Please read this review aloud in your best British accent to get the full effect.

Prices
Credit Card, Online Check (CCBill)

30 days: $19.95 (recurring at $16.95)
60 days: $29.95 (recurring at $16.95/30 days)
90 days: $39.95 (recurring at $16.95/30 days)


Our opinion
The simple format continues here. In fact, one might deign to say it's too simple for modern tastes. Personally, I prefer a layout that works. I'm a style over substance chap, one might say. (Okay, I think I just ran out of bloody British words, so you can read this in your native tongue I guess. Or better, yet, read it in your best Ugly American voice). While I do prefer a simple yet functional site, I will say that I wouldn't mind seeing a font that wasn't the default sans serif that of which this site seems quite fond. Anyhoo, on the main page you get a little news section on top, along with a little vertical navigation bar (we call that a "vertnavbar" in the biz) on the upper right. Below that is a bevy of beautiful busty Brits. And by "bevy" I mean 40. And by "beautiful" I mean they range from really hot to somewhere in the "eh" or "uh uh" range. From the looks of it, these girls all will have a pretty "girl next door" appeal and not many of them will have that standard model/pornstar look to which we in the colonies have become so accustomed.

Each of the girls listed on this main page have a sample thumbnail and their name. They're not in alphabetical order, so I can only assume that there is some secret British organization going on here, like in the James Bond movies. Either that or it's chronological, but I prefer the MI-6 route.

To begin, let's take a look at each of the links on the navigation bar. It starts with "What's New" which, predictably, is the listing of most recent updates. It's text only which, while fast-loading and convenient if you're coming here every day, is a little overwhelming for a newbie such as myself. But hot damn, they sure do update five days a week. I guess you have to go to the UK to get someone who keeps a campaign promise. The rest of the vertnavbar proceeds in kind of a strange order (you'd think "movies" would be above "links" but hell, they drive on the left side of the road so who knows what to expect). Weirder than that is the fact that links to two apparent sister sites (Amateurs Brits and Foxy Brits) are listed in the navigation bar instead of just in the "links" page. I was a little disappointed to find that you needed seperate memberships for these two sites that are kind of made to seem like they're just another section fo the BustyBrits members' site. I guess I'll get over it. Now on to the pictures. What was I just complaining about again?

Since I don't know what order these models are in, I just start clicking away randomly. Clicking on one of them brings you to that model's page which contains a mini bio (including measurements) and links to all of the sets she's done on the site. Note that I said "links." Because that's all there is. Not a single thumbnail to be found here. This is extremely frustrating for me as I have no idea what any of these sets is. The set names are usually about the setting or clothing (i.e. "Jacuzzi," "Bodystocking," etc.) but don't give the kind of information I like to know (i.e. what the damn set looks like). Clicking on the title of the set brings up the thumbs all on one page, which is nice. You get 12 thumbs per page and usually around 30-40 pictures per set. I'm using the word "set" interchangably with the word "update" here, which isn't entirely accurate. Most full "sets" (that is, one whole set of photos from one single photoshoot) actually take 3 or 4 updates' worth of photos to complete. Essentially, one part of one whole set equals one update. Wow, I just did a lot of math on a porn site. The point is that, in the first part of a set you may not, for example, even see all the clothes off of a model. This is pretty common practice these days and I kind of wish it wasn't. Sure, it makes for a nice looking amount of updates but, at the very least, it would be nice to have one photoshoot equal one "set". Maybe after all the updates were added, they could consolidate. This is kind of a small thing to mention, but I think it's important to note that "5 updates a week" isn't really as amazing as I originally thought.

The content of the pictures is almost entirely softcore, which is kind of a rarity these days. You get an occasional soft lesbian scene and there's some solo penetration as well, if that's your thing. The models are all quite busty (there are bra sizes listed here that I didn't know existed). I should probably mention that I, personally, am not all that impressed with the quality of model here. There are plenty of attractive women on the site- don't get me wrong. It's just that they're not all quite up to my standards in some ways. At least the majority of them have naturally large breasts. A lot of the models are a little thicker than you'd see in mainstream porn, for instance. Not that different is bad, but I think it's only fair to mention. The setting is usually a bedroom or a living room or some such room in a normal house. Nothing too exciting here except an occasional British countryside outdoor shoot, but that's not really the point of the site, so it'd be a little unfair to count that against them. Photo quality is above average for a more amateur site like this.

Every set has obviously had at least some attention paid to detail and framing and, in some cases, even lighting (though I think their photographer needs to learn a little more about exposing for backlit conditions). The resolution of the images is pretty nice too, usually coming in around 1024x680. They nearly fit perfectly in one browser window, which is nice and it's a good size for viewing full screen if that's your thing. One very important aspect of a photo site that is missing here is a downloadable .zip file of each set or each girl. That would make archiving some of this stuff a lot easier though, of course I understand why a site would not want to make the free distribution of their content easier. I guess I'm just bitter that a few people who don't respect the site's rights ruin it for everyone. But off my soapbox for now. A small sidenote: I should mention that the photos run about 400k a piece, which can load kind of slowly on a dial-up connection. On a faster connection, you won't even notice the load time, however, and you'll be glad they kept the resolution up.

Apart from the pictures is a movies section where you can see some of the girls in motion. The movies are far from the primary focus of the site at this point, but I was actually pretty impressed with the quality here. The movies are usually about 30 seconds to a minute a piece and come in at 392x272 or 320x240 resolution in standard MPEG format. That's not conducive to full-screen viewing or anything, but for a site that does mainly photos, it could definitely be worse. The video content is very similar to (and in some cases the exact same) as the photo content, but they've got some interesting music choices mixed in there. I might have heard Enya. Or, to avoid paying for the right to Enya songs, maybe they just used Enya's best knockoff: Fenya. (That was terrible, I know. But the worst is over, trust me). A small problem I had with the videos is that They seemed to take a little too long to load up- as if the entire video was buffering at once. I'm not sure if that's anything the site is controlling or not, but I was a little worried they weren't going to come up at all at times.

Other than photos and movies, there's not much else to see here. There's a message board that either has absolutely no messages on it whatsoever, or the messages are only viewable if you sign up for the messageboard seperate from the site. I'll never know because I didn't really feel like signing up for something extra- it would be nice if the message board was integrated into the site better, but if wishes were fishes... (and chipses....)

Conclusion
If you're a big breast fan, I imagine you're be tickled pink by this site. There are tons and tons of big tit pictures here. You'll probably never get tired of scanning through the sets and finding your favorites. You might, however, get tired (as I did) of the lack of thumbnails and slightly (and I do mean slightly seriously, not sarcastically) unorganized state of the images. Busty Brits is maybe a bit too low-end to command the price they're asking, but I imagine the amount of content they add weekly will eventually make up for that lack (some third party big breast stuff would only help make the exclusives all the more worthwhile, fopr instance). While I have a few problems with the site, they're mainly nitpicking.

Take a look at the samples and if these are your kind of girls, I say have at it. Cheers, mates.

Samples
Screenshots from Busty Brits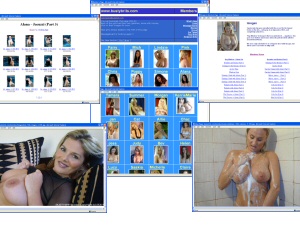 External Opinions
Don't take our word for it and see what others think! We have collected a list of opinions and impressions from other sites, so you can compare them all from one place.
Total average: 80.8/100 Our score: 80.0/100
User Comments
Write your comment - feedback is appreciated
Comments from other readers
User
Comment
No comments yet - please help make our site better for everyone by adding your comment.