Enemas review
Summary: Enemas is all about amateur girls getting their colons filled with water and other fluids which they then expel. There is plenty of ass play and anal fingering and toying going on here, but not much guy on girl action. Episodes are 20+ minutes in length and are downloadable. Images all come in zip files without online viewing.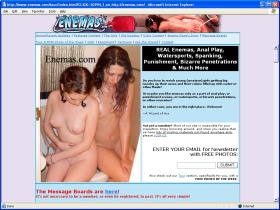 Enemas is closed
Find another site in our Butts category instead. We keep the review online for historical reasons.
Author:
J C
,
2004-08-01
Categories:
Butts
,
Amateur
,
Fetish
,
Movies
,
Videos
Tags:
anal play
,
anal toys
,
asshole fetish
,
butt plugs
,
enemas
Intro promises
"REAL Enemas, Anal Play, Watersports, Spanking, Punishment, Bizarre Penetrations & Much More. Do you love to watch young (amateur) girls getting big nozzles up their asses and their colons filled up with water or other fluids?
Or maybe you like enemas only as a part of anal play, or punishment scenes, or watersports, or bizarre penetrations, or other scenarios?

In either case, you are in the right place. Welcome!"

First impression
It appears to be a very professionally done site oozing with content. I can safely say that I've never even thought about looking at this kind of thing, especially in an erotic way. With that said, I'll keep an open mind and stay adventurous as I trek through all the different flavors provided here.

Pricing
Our opinion
Let's get right up on in there, shall we?

The main attraction here is the hours and hours of video content. Each scenario (of which there are 20 plus) is at least twenty minutes long and sometimes upwards of two hours. You can view them mostly through streaming videos, however some also offer downloadable clips. It's pretty disconcerting when you see the abundance of material available at your fingertips and are unable to transfer it to your harddrive. The files that can be saved use zip files which house wmv files of clips ranging from 10 to 15 minutes long. Nowhere does the site provide the opportunity to save the mammoth sized segments -- that is reserved for streaming.

No matter which you choose, the quality of the movie will be the same. It's still an overly exposed compressed file with a nasty looking resolution rate. The difference is that the size of the streaming video is inadjustable. Not only is the picture quality substandard, so is the overall production value. They create little narrative situations, such as a nurse and a patient or a tutor and his student. It appears as if they've been scripted, because the lines are choppily delivered and without real emotion or surprise as to what's coming to them. The editing is also pretty bad and jumpy as they cut -- for example -- from one shot of a girl's face in "terror" to the same shot of the girl's face. I think it's pretty safe to say this is not to inflict emotional stress on the viewer that mirrors the young lass'. Instead, I think they just needed to cut around some stuff and figured noone would really care. By the way, the lighting equipment is pretty visible on some videos, once again proving that good editing isn't the top priority.

I think it would have been best to completely forego the role playing or else find capable actors. Since the latter may be tough considering the touchy subject matter, just give us some straight video of devices being inserted and liquids being expelled. That's what people are here for anyway. The stories are just laughably bad and distracting. Stroke or joke. Pick one.

Pictures are also available, but usually also in zip files (really for no good reason) only. The scenarios that do provide web-based picture galleries are limited and don't work on all browsers (netscape users beware). The lighting is really standard for a digital camera, but so is the resolution. It's not pixelated in light or dark areas and looks quite sharp, even when shooting close up. The galleries let you go through picture by picture via next and back links. There's also a home gallery link. However, there's nothing on these pages that would bring you back to a more root menu. Even the banner at the top of the page is non-live. There should be separate picture and video sections to begin with, but to not bring you back to some main page is a little careless in a usually overachieving site.

The navigation throughout the site is a little iffy. The tour and member sections are interwoven. You can be on a member page such as the old updates section and click on a link that leads you to the tour page giving its typical meticulously detailed description of what lies ahead, which leads you to the member page containing the downloads and streaming video for the story. That is one too many steps. Once again, if you open these pages in new windows, you'll have no way of linking yourself back out. If you keep it all on the same page you started in, you have the navigation bar right at the top the whole time. It takes away some viewing area, but it's not much and you really won't need those extra lines anyway.

On the plus side, a lot of care was taken to bring you this material. The webmaster, A Wizard of Ass, covers all bases. There is a webpage on technical support that goes beyond anything I've seen on a pornographic site before. There are his descriptions of each video details each and every event that takes place be it enema or various punishment devises. There is a relatively dead message board that is a great effort and has real potential for being a fantastic resource. You can also find a diary from one of the girls telling what she thinks of being an enema sex slave. Most importantly, there is the "Ask the Wizard" page. It comprehensively and intelligently discusses methods of enema equipment use and other various aspects of what is performed throughout the site. For those interested in trying this out at home or for those just curious as to what it's all about, this is a very well written starting point.

The Wizard claims to be growing and there's already some proof of this. The old stuff is starting to be re-issued as expanded editions in better quality (which it desparately needs). He gradually adds new clips or segments as the weeks pass, although there should be a dated list of what gets added/updated when and where to find it. Nothing like that really exists here. And eventually, there'll be DVDs so you can finally get the full videos in your home.

A main point I should mention and haven't yet is how the girls look. Well, they all look the same. Maybe there's just something about the personalities of small breasted dark brown/black haired pale white girls that lend themselves towards such things. Maybe that's the kind of girl the producer prefers. Either way, it's not much of a variety. There are some cute girls, but overall, it doesn't matter, because they're virtually identical and you don't see the face all that much anyway.

Conclusion
For a pornographic site, I was a little surprised at the lack of guy on girl action. I was half-expecting to see penetration by a penis as well as various tubes and items. It's less about cum and sex and more about domineering, punishing and completely controlling women. In a sense, the website is more pure because of that. The site wasn't incredibly disgusting to me, the un-initiated. However, this type of thing definitely has a specific audience. If you're not sure if you'll fit in, look around some of the tour pages and you'll quickly know if it's right for you. If you already know you like this extreme sexual stuff, then you probably already know of this place. Were this my thing, I'd probably give it a month and move on. If there were more to download, it'd be worth staying longer.


Screenshots from Enemas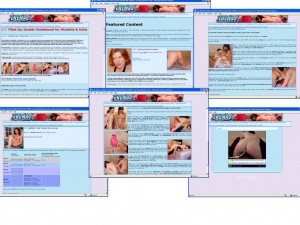 User Comments
Write your comment - feedback is appreciated
Comments from other readers
User
Comment
No comments yet - please help make our site better for everyone by adding your comment.