Adult Bouncer review
Summary: Adult Bouncer is a site network consisting of 800+ small sites each made by an individual webmaster and delivers content in a certain niche. The network covers pretty much all niches, but navigation could be more smooth. Quality is good, but not much above average. A decent bang for your buck for mainstream porn fans.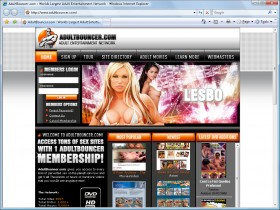 Adult Bouncer is closed
Find another site in our Dvd-archive category instead. We keep the review online for historical reasons.
Author:
Caliente
,
2008-03-04
Categories:
Dvd-archive
,
Hardcore
,
Mega-sites
,
Movies
,
Videos
Tags:
Intro promises
"Only high quality sites are permitted in the AdultBouncer network, and you will have access to over 800 of them. Best value you can get for your money - one membership, hundreds of sites, dozens of different categories!"

The Network:
Total Sites 800+
Total DVDs: 2,000+
Total Hours: 5,000+
No viruses, no spyware and no pop ups.
New sites and new content added daily.
Np DRM, no restrictions, no hidden fees
Total Videos: 140,000

First impression
Wow. Looking for huge amounts of content? You've found it! Intro page is busy busy busy, but grabs your attention - with the above promises and enticing pics as well as thumbs of a small selection of their most popular sites including The Urinator, Weird Porn and The Tit Pit, newest site additions such as Anal Canal and Hentai Heaven, not to mention the latest DVD additions you can see the amount of content suggested is nothing less than impressive. Take the tour if you're not sure, it's cool and quite slick.

Pricing
Our opinion
When logged in, the first page isn't so cool. You are welcomed to the member's lounge but it's not that appealing, black screen with a bit of text telling you you are required to log in to each site on their network individually. This was posted on the 30th of Dec 2004 which did not install faith in me straight away. After opening a few sites, I found you do still need to log in separately - why hasn't something been done about this in the last 3 years?? The whole logging in thing was a little confusing and annoying at times because I didn't know if I was still logged in to the Adult Bouncer site or not.

Page loading was a little slow at time of review, maybe just a bad internet day. So you'll probably want to start snooping around the site directory first. You can perform a keyword search if you have an idea of what you're after or browse through the list of over 800 sites Adult Bouncer has to offer. Each site is created by an individual person and is focused on one specific niche. You can choose to browse a category to speed things up, anything from older women to water sports to german porn. Below the category drop box are 8 thumbs of each category along with a link to view more thumbs from the particular genre, each display the last time they were updated which is a good feature.

Alternatively you can be more scientific about it and click on the Adult Movies button where you're taken to a page with a list of DVDs that are available on the Adult Bouncer network. Each DVD has a link to the site where you can download this DVD. You can again search by pretty much any genre imaginable, or view by most popular or most recently updated. Each thumbnail of the DVDs include the studio which produced it and gives you the option of previewing scenes or taking you straight to the download page of that particular title for members. Unfortunately there's no next button so you can't actually browse all the DVDs like a usual directory. Because the number of scenes are so huge it's difficult to give an exact file size but the scenes were anywhere from around 300 to 800 MB. One good thing about most of the sites in the Adult Bouncer network, they have multiple download options, WMV, Quicktime each at various connection speeds - premium, high band, low band and for ipod. Total DVDs at the time of review was 2,641, total Hours: 5,546, total Clips: 126,060 - that's 231 days of constant porn watching, that's almost 2/3 of an entire year!! Hey, if you've got the time, why not?

There really aren't that many more features or bonus sites or anything but why the hell would there need to be? I'll say it again, with the sheer volume of content on the Adult Bouncer network there will be something for everyone, it's just a matter of finding it. They pride themselves on unlimited downloads, no viruses or annoying things like pop ups, as well as daily updates - pictures, movies and occasionally an entire new site, I think that's enough reason to check it out. Webmasters should take a look too.

Conclusion
I think in regards to bang for buck you definitely get your money's worth on Adult Bouncer. After my initial gripe with the logging in to each site and the welcome page being with absolutely no imagination I got over that very quickly to realise this is an adult entertainment resource rivaled by very few others.


Screenshots from Adult Bouncer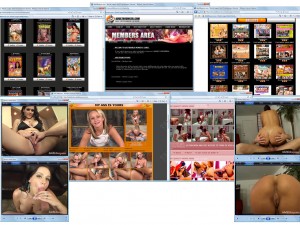 User Comments
Write your comment - feedback is appreciated
Comments from other readers
User
Comment
D Whitman
2010-09-20 07:13:47

I have been a member of this sight for about a year. Just recently I have not been able to download movies due to response problems. I get error messages that a connection with the server cannot be established. or that the server teturned an invalid or unrecognized response. I have sent them several emails with no response. It does not matter which computer I try to log on from. I have canceled my membership. I am wondering if anyone else is having this problem with this site.