Ten dot Com review
Summary: Ten dot Com is a mega-site focusing on videos. There is a secondary photo page, but the main attraction is the thousands of XXX video clips with new clips added daily.

There is a newer version of this review - click here to read it.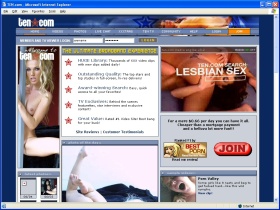 Author:
J.
,
2004-05-25
Categories:
DVD-Archive
,
Mega-Sites
,
Videos
,
Movies
Tags:
Intro promises
- Thousands of XXX video clips with new clips added daily
- Full screen, hi-res clips
- Exclusive behind the scenes featurettes, interviews and other content
- Award-winning search

First impression
The opening non-members page is jam packed full of content. That's a pretty good sign. An even better sign is that it isn't just thrown up on the screen like some porn volcano just erupted. There's pretty obviously been some thought put into the layout- with all the site features right at top and a streaming video window in the upper corner, you get an idea of what you'll find on the site. Some reviews and testimonials grace the bottom portion of the site and you even get a glimpse of the searches that they claim has won awards. I'm interested to see if they can make good on some of these claims, so let's get right to it!

Prices
Credit Card or Online Check

One Month: $19.95


Our opinion
The front members' page opens as I expected- pretty similar layout to the main front page. The 4 latest video updates each have links right up top and the latest photo updates run along the side. The little video window is still there and, while I appreciate dynamic aspects of sites, I must say that I'm grateful for the "Audio Off" button on it after about 45 seconds.

Below the update links the top 5 videos are listed, along with some "channels" that I'm not real sure on. We'll get to those later, I suppose. For now, let's delve into the content here.

Forgoing the latest updates for now, I decide to click on the "Videos" link on the top toolbar. You now get the 25 latest video clips linked instead of just the four. And a very intriguing search engine looking thing on the top. Now, when it comes to searched on porn sites, I must admit that I am cautious about trusting them. I mean, someone literally has to sit there and classify everything and, obviously, something is going to slip through the cracks (pun intended). So I look around at the search options for a little while. Then a little while turns into a few minutes. Then I realize that you can search by just about any possible combination of ANYTHING you might wish to. They've got about 100 sex acts you can search by.

Looking for something more specific? Try searching by title or star. Or how about setting? You into fashion? Search by clothing type. Search by studio or physical attributes. And better yet, narrow your search down by searching in ALL of these categories. Obviously I can't go through each of their videos (there are literally thousands) and check to see if each search article was accurate and none were left out, but I can say that I'm pretty sure they wouldn't have 9 seperate categorizations for "Mutual Masturbation" if they weren't being pretty damn exact. This search engine is unbelievable. I could sit here and talk about how much fun you'll have just with that for about 3 more paragraphs, but I'll spare you. Ahem. Moving on.

Before I get too far ahead of myself, I should probably explain a little bit about how the site is set up. Like some other sites I've seen, ten.com licenses entire DVD releases from studios and then breaks them up by scene for your streaming pleasure. So every link to a new video you see in the video update section is actually just one scene from a longer release.

From that scene, however, you can access all the other scenes in that release. So, essentially, you have an entire DVD library at your fingertips here.

I should also explain some quirks in the video formatting that should be mentioned. The videos are available in one or more of the following formats: Real8 (low, med, high), Real9 (low, med, high) or Windows Media (low, med, high). I'll explain the technical details on these formats in a less cluttered manner here (Bear in mind that RealPlayer10 does not give exact resolutions per se, so these are my estimates):

Real Low: approx. 160x120, 34kbps, mono
Real Med: approx. 350x240, 220kbps, mono
Real High: approx. 700x480, 501kbps, stereo
(Both Real8 and Real9 formats are pretty close in specs, but Real9 is more geared towards the newer software and, in my opinion, simply looks better. I think it has to do with an upgrade in video compression from one format to the next)

Windows Media Low: 176x144, 36kbps, mono (11kHz)
Windows Media Med: 352x240, 213kbps, mono (44kHz)
Windows Media High: 352x240, 493kbps, mono (44kHz)

For those of you who think that list reads like stereo instructions, let me break it down for you in layman's terms. The "low" version of each of the formats is TINY. I put that in caps not to be ironic, but to emphasize the fact that those are very small videos and only recommended for a dial-up connection. Even then, it might be frustratingly small and, especially in the Real version, very choppy. The medium of each format is decent- a fair size for normal viewing and a very natural-looking framerate. The high end of each is meant for full screen or, at least, larger scale viewing. However, I should mention that I wouldn't exactly call any of these formats "ideal" for full screen viewing. There's some definite softness in the WMV format (I don't know why they didn't increase the resolution along with the bitrate) and you'll probably catch some digitization and detail loss in the high Real Player versions.

Some other notes about the video formats include the fact that, in general, the RealPlayer formats will load faster than their WMV counterparts, making for a less frustrating viewing experience. Though I should mention that the streaming of both filetypes is pretty remarkably fast. Also of note is the fact that, when you click on the format you want, ten.com's own little viewer window pops open. You do have the option of opening the movie in the external viewer (if you're using RealPlayer10, don't use their button for it, use the program's own external button that appears when you hold the mouse over the picture) and I would highly suggest opening all the movies in the external viewer. In fact, I'm a little surprised that there's not a link for that right under the clip link itself. Also, you'll find that when using RealPlayer, you'll almost always have to sit through a ten.com advertisment clip. These range in time from 10 seconds to a very long 30 seconds, and personally I don't really see the point of them since you're already a member. My major problem with the video section is the old classic: the videos are not, in any way that I can tell, downloadable. Perhaps if I shelled out the $40 for the "professional" RealPlayer, I'd have better luck (and probably less Real-related spam), but alas.

As far as video content goes, their search engine says it all. There is so much content here that you literally won't even know where to start. Not only is this site jam packed with content, they're also adding on every day. In the 3 day stretch I took to review this, I saw over 15 new clips. There's also a section on each video clip where you can write a short review and give it a rating, so that gives you an idea of what's best. I've yet to see more content in such an innovative navigation system. I won't go so far as to say that the general navigation is intuitive, but the search engine alone makes the content so much more accessible that it is worthy of the several mentions I've already given it and then some.

Apart from the videos, there is a photo page accessible from the top navigation bar. The photo page is obviously secondary and it does not benefit from the video section's wonderful search engine, nor does it really have any order at all. These are apparently all just random picture sets and therefore the quality varies, though for the most part the photo content is of very high quality, even if the images themselves suffer from too small a resolution. Again, the photos are not the focus of Ten.com and it shows. There are, however, nearly 400 sets for you to browse through if, by some miracle of the porn gods, you get through all of the video content and have not yet been hospitalized with a wicked case of chafing.

Another secondary aspect of the site is a "Live Chat" section that has links to a handful of those third party "Free" chat places that want you to pay for private time. Nice as a bonus if you're into that sort of thing, but most of you will wisely pass on that option. Speaking of third party content, there is a link called "XXXtras" which essentially just has a couple of ads for other sites. Again, not much worth looking at here unfortunately.

One of the features touted on the front page was bonus content on "Channels" that I assumed were just bonus streaming links.

Unfortunately, they're actual television channels. From the "Ten TV" link, you can view the schedules of all of their affiliate channels and decide if you want to order them for your satellite or cable TV connection. There are, however, about 20 Behind The Scenes featurettes available on this page, as stated in the feature listing. They appear to defualt to the Real Med format and there are no other options, but since these are just bonuses, I guess I can't count that against them.

Another link from the Ten TV page brings you to a (small) handful of interviews with some adult stars that, again, default to the medium resolution. But I guess all you really need to do is hear it. Both of these features are claimed to be "exclusive," but it seems like these or very similar features would be pretty easily found on a DVD somewhere.

Topping off Ten.com is a nice little Community area that contains a few relatively sparsely visited fora (that's plural for "forum" in case your Latin is rusty), some info on the site moderators, and a few sex tips in the "Ask Tina" section. You can also sign up for a free ten.com e-mail address which is a pretty cool idea, though I wouldn't suggest putting that domain on any business e-mails or anything.

Conclusion
Bottom line: I love this site. I think the incredible search engine makes the absurd amount of content they have available managable and not intimidating. I will say that, without the search engine, I would probably be lost on a site as large as this, as the basic navigation (that is, non search engine navigation) is not exactly streamlined. And, of course, the lack of bonus features (or, more accurately, the pseudobonus features) don't help much. However, based on the amount of content, the diversity and quality of content, and the accessibility of the content, I'd have to say that this is easily one of the best sites I've ever seen- and it's in the lower price range. If you want a lot of options, you really can't go to a better place.

Screenshots from Ten dot Com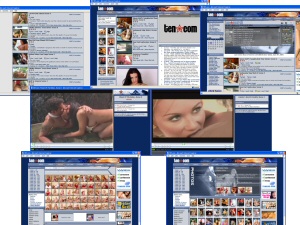 External Opinions
Don't take our word for it and see what others think! We have collected a list of opinions and impressions from other sites, so you can compare them all from one place.
Total average: 82.8/100 Our score: 85.0/100
User Comments
Write your comment - feedback is appreciated
Comments from other readers
User
Comment
No comments yet - please help make our site better for everyone by adding your comment.