Splosh Me review
Summary: Splosh Me is a soft-core amateur site featuring professionally shot large images, WMV format vids available in clips and it's all exclusive content.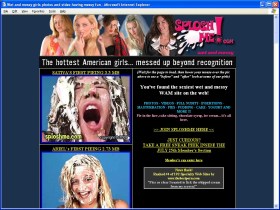 Author:
J.
,
2005-08-22
Categories:
Fetish
,
Softcore
,
Movies
,
Videos
,
Amateur
Tags:
Intro promises
- "You've found the sexiest wet and messy WAM site on the web!"
- PHOTOS - VIDEOS - FULL NUDITY - INSERTIONS - MASTURBATION - PIES - PUDDING - CAKE - YOGURT AND MORE !!!
- "Pie in the face, cake sitting, chocolate syrup, ice cream... it's all here."

First impression
To be perfectly honest, my very first impression of this site was that it was a joke. A funny little site to show your friends while waiting to go out one Friday night. The site appears to feature not just simple food fetish stuff, but an entirely seperate fetish called WAM (Wet And Messy). It dawned on me as I saw the at least semi-professional looking layout and design (coupled with an actual link to an actual Ultimate Messy Directory website) that this is a serious fetish... and these folks here seem to take it pretty seriously. This fetish doesn't focus on food so much as it focuses on smearing girls with food products. Cream pies, chocolate syrups... if it can be smeared on some tits, this fetish covers it. Looking at theit sample images in the tour, I see milk, peanut butter and jelly, ice cream and a few other things slathered on naked girls. I'll admit that this holds no praticular novelty for me, but I assure you that I'll do my best to keep the feelings of these fetishists in mind as I review the site.

Prices
Credit Card, Online Check

30 days: $24.95
60 days: $44.95
90 days: $64.95


Our opinion
The opening members' page is a no-frills listing of news and the latest updates. Lots of text descriptions and small thumbs of the newest sets are listed here as well as some other related news tidbits occasionally. This page is layed out about as well as can be expected, but it's pretty much all business- there's not a whole lot of design elements to comment upon. Function over form works well in certain sitautions, but I think the visual library involved with this sort of fetish lends itself more to something a bit more flashy. However, as I noted from the front page, these guys are pretty serious about this stuff. Keeping with that idea, the updates are very frequent with entries appearing ever 2 or 3 days at the latest. For the most part, there is a standard format to how the actual updates are listed and that is extremely helpful. That way, if you're just popping on for a quick fix you don't have to search around too much. There is a nav bar on top of this main update page with only three links: Updates (that's the main member's page, as mentioned), All Our Girls, Megapics, and Contact. I'm assuming that the All Our Girls link will list these updates by model and I hope that's the case, since this list is rather lengthy at this point (it goes back two months and, as I mentioned, it's text-heavy) and something a little more streamlined might be in order to initiate the new member- this huge list is pretty imposing!

Sure enough, the All Our Girls page has banner links to each of the 7 models currently on the site. These model pages really hit the spot in terms of functionality (though, again, they lack a real distinctive design flavor). You get a nice big straight on clothed photo of the girl, a little description (including measurements), and a small thumbnail for each photo and video set she has. The photo and video sets are broken up into smaller sections (usually about 4 sections per set).

The photos are done a bit differently than the videos, as each section has its own seperate page instead of just a simple click to download from the main model page. Their photo viewing system has an interesting navigation aspect that includes all the thumbs for the section listed on the left with a scrollbar to browse through them. In the center you get the photo that you've selected so when you click a photo no new windows pop up and there's no incessant pressing of the Back button. A very clever and intuitive system here.

The photos are large (960x1280 in resolution) and are all professionally shot and lit (e.g. no light stands poking around on the wedge of frame). There is a bit of digital artifacting and pixelization around the edges of the sharper changes in color, but otherwise the pictures are clear and show off all the messy details of the pic- you can really see the goosebumps from the cold cream pies! In fact, the only real problem I have with the photo section is that the photos are entirely too large to fit into the viewing area of the window so that much scrolling is required to even see the entirety of the image. Now, that's not to say that I don't appreciate a high resolution image, but I do get a bit tired of scrolling down to the action every time. You can, of course, turn on the "Resize Images To Fit Screen" option in your browser, but that can cause problems on other sites. In a perfect world the image viewing system would have a built in zoom feature as I've seen on some other photo-based sites. Plus, there are no links on the photo viewing page that take you back to the girl's page, so you've got a couple extra clicks in store if you want to go back and look at more photos from the same set. For now, however, this system works pretty well and I'm probably just nit-picking. Besides, each section is available for download as a .zip file so you can really view them any which way you please. Another nit to pick, however, is the fact that the entire SET is not downloadable in one .zip file- you're still stuck with the seperated sections. Sure you can download all of them and just put them all in the same folder to watch a flipbook-style slideshow of these girls getting messy, but that step could easily be bypassed with a little extra help from the designers.

The photos and the video sets coincide in terms of content for the most part. That is to say that, when there is video, photos are also taken at the same time so you have two different ways to view the sloppy action. At this point there are more photo sets than video though, which is really a shame given the type of content here. It's all very action-packed and I would assume (though, again, my credentials are weak when it comes to this particular fetish) that the girl's reaction and movements would be important to really enjoying the aformentioned action... and the "packing," for that matter.

All of the videos are in .WMV format and most have a resolution of 640x480 though some are "medium resolution" at 320x240 or "small resolution" at 240x180. Most vids are seperated into smaller clips and some are also available as a large single file (a format I much prefer and wish they would apply to all the videos). The large format videos look nice even at full screen (though expect some compression artifacting) though the actual production quality leaves something to be desired. Sure you get plenty of closeups of the messiness in all its sloppy glory, but the on-camera mic, lack of stationary shots or legitimate editing, and plenty of light stand action make me think that perhaps the video is just something extra they do during their photoshoots instead of being the focus of the site. In fact, the constant clicking of the still camera is only slightly less annoying than the constant chatter by the cameraman: "So you like SploshMe, eh?" What's she gonna say... no?! As I mentioned earlier, It's especially sad that the videos don't get the focus they deserve because the nature of this fetish would be much more conducive to movement than to stills and here we are with second rate video. A shame, I say, a shame. You do get to see the reactions of the girls as they're getting messy though (giggling as strawberries tickle her stomach, etc.) but for the most part these vids are just something that was happening during the photo shoot. Sometimes we have to sit and watch while a piece of cake is positioned on a sloppy bride's stomach for the still camera on a plain white or blue backdrop. Sorry, fetishists, but that's just plain boring no matter how you slice it.

The content of both the photos and the video are dead on target though. A sampling of their current messy offerings includes (but is not limited to): ketchup and mustard-slathered hot dogs, lollipop fucking, lots of pies, watermelon, chocolate and strawberry sauce, etc. It's apparently not just a basic food fetish, though, as there's some creepy-looking green aloe vera gel in there somewhere too for all of you with swamp fetishes or something.

Basically the girls get messy as hell and appear to be enjoying themselves, despite the occasional element of humiliation involved (and, indeed, imposed) by the director/cameraman. It's all solo stuff and only occasionally breaks into the penetration realm. I see several news posts claiming that the site simply "does not do" hardcore and don't plan to in the future. In fact, some of their models remain partially clothed during the sploshings (though that is a rare occurrence).

The Megapics section is a small handful of pictures at an insanely large 2048x3072 resolution and is basically all the site has to offer in the way of extra content. For such a unique niche, one would think a forum or "submit your photos!" page would be welcome but there are none in site. The good thing is that the webmasters appear to be very good about keeping the site (and their members) up to date, so I have no doubt that future incarnations of the site will include more bonus stuff like that.

Conclusion
Exclusive content for niche fetishes is always welcome at whatever the price. For someone for whom sploshing is a priority, the semi-premium price tag on the site won't pose much of a hinderence. But for the casual fan or simple food fetishist, this site probably is going in a somewhat different direction. The good thing is that the people in charge of the site know that their audience is a very specific one and, if you are part of that audience, you will be treated to what I can only imagine is some of the higher quality content available for this fetish. Hopefully they switch gears and begin focusing on video soon or, at the very least, start giving equal attention to both photo and video. To do otherwise, it seems to me, would be a waste of a great opportunity to capitalize on some of the more interesting aspects of a peculiar fetish.

Samples
Screenshots from Splosh Me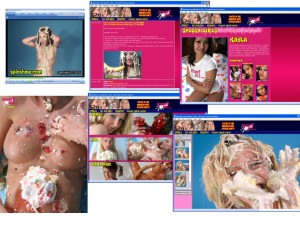 External Opinions
Don't take our word for it and see what others think! We have collected a list of opinions and impressions from other sites, so you can compare them all from one place.
Total average: 80.5/100 Our score: 85.0/100
User Comments
Write your comment - feedback is appreciated
Comments from other readers
User
Comment
No comments yet - please help make our site better for everyone by adding your comment.