6 Buck Lesbians review
Summary: 6 Buck Lesbians is a bargain paysite. 6 bucks is the actual price for this and a handful other sites similar to it. The content is nothing out of the ordinary, but it isn't that bad either. If price means everything to you, this is a good alternative.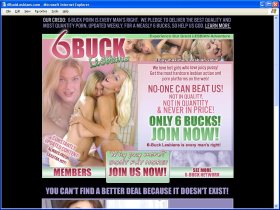 6 Buck Lesbians is closed
Find another site in our Lesbian category instead. We keep the review online for historical reasons.
Author:
Joseph
,
2006-09-19
Categories:
Lesbian
,
Movies
,
Pornstar
,
Videos
Tags:
Intro promises
ďBringing you more lesbian value for your dollar than anyone else, anywhere else on the web!Ē

First impression
Henry S. of Massachusetts is a typical 6 Buck Lesbians member who has gone on record as saying, ďI donít know what it is about two chicks fuckiní each other, but I canít seem to get enough.Ē If youíre anything like Henry S., then you probably live in a two-bedroom apartment with your elderly mother and havenít had sex with a woman since 1985, the last time you had enough disposable income to afford a visit to the Moonlite BunnyRanch [sic], located in beautiful Mound House, Nevada (Iím not making that up ó itís really located in a town called Mound House! Too perfect, huh?). Oh, and youíll probably also love 6 Buck Lesbians, a bargain for lovers of lusty lesbians with an eye for value.

Pricing
Our opinion
First off, yes, 6 Buck Lesbians only costs six dollars a month, so can you pretty much stop reading this review right now and join this site without too much fear of being ripped off if you truly do have a thing for lesbians (shit, man, you canít even buy a tall Tangerine Frappuccino Juice Blend for six bucks these days!). Six dollars a month is one hell of a bargain in the world of Internet smut, where the average membership costs thirty dollars a month. Hey, even if 6 Buck Lesbians sucks ass, it still only costs six dollars to join it, so itís not like a single monthís membership will break your bank or anything.

And, yes, 6 Buck Lesbians does kinda suck ass. The site isnít exactly terrible, itís just not that great. The content is rather unremarkable. Adding insult to injury, Iím fairly positive that none of the content on 6 Buck Lesbians is exclusive. Also, Iím fairly positive that none of these women are actually lesbians. Thatís the dirty little secret 6 Buck Lesbians doesnít want you to know: most ďlesbiansĒ in porn are actually heterosexual females. Shocking, right? Keep your eyes peeled for the startling 60 Minutes exposé that rips the lid off this controversial subject.

Anyway, what do you get for your six bucks? A couple thousand photos, twenty ďoriginalĒ videos that look like they were taken from another porn site, access to camwhores galore and dozens of links to filth elsewhere on the Internet, including a gaggle of movies featuring puppets fornicating on a webpage called Let My Puppets Cum (donít you think Smut Puppets would be a better name?). Really, the photos and videos are the only two things on the site to look at ó everything else you click will take you to another site entirely. So... whatís up with these photos and videos? Well, they look fine, and are actually quite nicely sized, but overall they arenít particularly awesome. Two new photosets are added each week, but I have no idea if the videos are ever updated. The videos can be viewed in three speeds with RealPlayer and Windows Media Player. And... for once load time is a factor here - the site seemed very slow when I visited it. And... thatís about it.

For your 6 bucks you actually get access to 4 other sites. Same concept, but different niches; anal, teens, orgy and gay.

Let me take a moment to apologize for the brevity of this review. Try as I might, I cannot think of anything else to say about 6 Buck Lesbians. So many porn sites look exactly like this one that itís nearly impossible to think of anything new or clever to say when sitting down at the old typewriter to pen a review; heck, if 6 Buck Lesbians didnít cost a mere six dollars to join, there would be nothing to say about it. Again, I am sorry. I promise Iíll try harder next time.

Conclusion
6 Buck Lesbians isnít that great of a site, but, hey, itís only six bucks a month! I guess you really do get what you pay for. Sure, we have lesbians, but at what price...? Six dollars.


Screenshots from 6 Buck Lesbians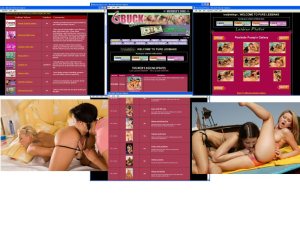 User Comments
Write your comment - feedback is appreciated
Comments from other readers
User
Comment
No comments yet - please help make our site better for everyone by adding your comment.