Fuck For Forest review
Summary: Peace, love and harmony. Yes the old motto is still valid on Fuck For Forest. The only site where you can watch porn and support the World's forests at the same time. Content is made by amateurs supporting the cause, so don't expect pro quality.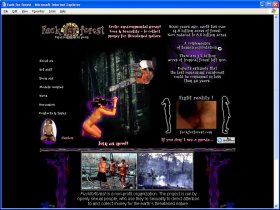 Author:
Melissa
,
2006-05-21
Categories:
Other
,
Reality
,
Amateur
,
Hardcore
Tags:
Intro promises
The intro of this site is a page that opens up with a drawing that immediately made me think of things we used to draw inside our school notebooks back in the 70ís, when peace and love was the biggest message you could project. They ask for your support in the means of artistic creativity right before letting you know that Fuck For Forest contains adult material and is born to give attention to how humans destroy nature and shocking information about how humans exploit this planet. Not only can you expect to see vibrators and dildos here, but you also can find an image of a nude woman praying to the gasoline Gods that the chainsaw wonít start and cut down a mighty tree that sheís worshipping.

First impression
Iím not exactly sure what to expect from this website. Itís not what Iíve grown accustomed to, where you either search for a particular niche or youíre given categories, but this seems to step across the boundaries of mundane and leads me into a world where thought is the most erotic nature available.

Prices
30 days $15.00

Credit card and check.
Processor: CCBill


Our opinion
Iíve come to a quick conclusion that this site is lacing pornography with politics. Iíve always heard the old saying that ďSex sellsĒ but in this case, they are hoping that sex makes you sit up and take notice to what is happening in the world that we inhabit. They say that Fuck For Forest is an alternative non-profit organization, the site is made by sexual, open-minded people who care about the environment. There are promises that this site will contain content from nude photos to sex videos and that they also do their performances, both on the internet and in public places. Iím not sure I understand everything theyíre projecting in text, but maybe after going through the site it will become clear.

The membership page opens up and shows how these folks are getting back to nature in order to save nature. I must admit, itís a worthy cause and the end results will not only make you feel better about yourself, but will also make you do better at feeling yourself! The money donated will be used to save threatened rainforests and nature. I enjoy a nice Sunday stroll through the woods as much as anyone, to watch the wildlife and appreciate the surroundings, so, I already appreciate those that remove their clothing for the sake of saving nature.

This site really does remind me of something right out of the year 1974, so itís nice to step back in time for awhile and watch them cum for the cause. The links to where you want to go are readily available, navigation doesnít look too difficult, just maneuver between the text boxes of written rainforest words. I will admit my surprise when going into the photos section. I guess maybe I was expecting some serene settings evergreens with a checkered blanket laid out while people fondle and fornicate, but thatís not what there is. There are over 100 categories here with headings such as; World Love, City Walk, Suck Me, Sex Temple, etc.

The advertising pics arenít overly large, but youíll be able to tell what gets your motor racing. Find one, click on it and thatís where youíre greeted with the thumbs, which again, arenít huge in size, but this isnít some professional site where everything is done with perfection. The enlargements puff up into an average pixel size of, 533x800, and I like the way the various cameramen really became up close and personal with the genitalia of these folks, you wonít miss a pubic hair or a pimple on a thrusting butt here. Just remember, this is amateur content, which means you wonít have all of the highlights of perfection, just take them for what they are... real! They definitely do believe in free love here, because they are sharing their sexuality with anyone that wants to join in, so be prepared for multiple body bumping! Just so you know, at the bottom of the photo page, there is an archive link to bring up even more images, so you are getting thousands from this natural nookie site.

Ok, I have to interject a personal opinion here, I was really impressed with the videos. No, they werenít professionally shot by any means, but they are really good and extremely hard-core. You have the six updated choices and then click on the previous link and youíll get about 27 more. They showed all of the things that you are wanting to see the most when youíre in the throes of passion with your prick. You can pump the oil out of your well with these 5+ minute running movies for sure. The format choice was QuickTime and streamed in an integrated player, which makes a good impression but unfortunately I wasnít able to get bit rate, etc. The viewing screen was large and the action it held was hot! The footage here is about as real as it gets, the look of arousal on the faces you can tell is what they are really feeling, thereís nothing fake for the sake of the camera here.

Conclusion
It will be a stroke of luck for you to find Fuck For Forest. The presentation graphics arenít the best that Iíve ever seen, but they have a reason behind everything that they do and this site represents the fact that they are trying to save what most take for granted and never think about, they just happen to be doing it with sex, which is the best tool to draw in the attention. Youíll find thousands of images here and youíve already read my words about the videos. You can follow a trail of couples, which are man/woman and woman/woman, that not only bring you the filmed fornications, but they do these things as live activists. Not really any intro promises to compare membership to, it was mostly written word about the cause, but venture behind those payment doors and you get some hot material that will make you not only want to save a tree, but also hug a root!

Screenshots from Fuck For Forest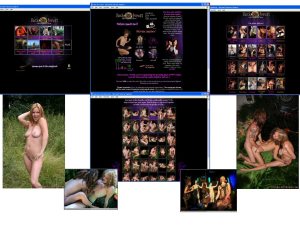 User Comments
Write your comment - feedback is appreciated
Comments from other readers
User
Comment
Pissed off
2011-10-08 01:21:42

they bunch of worthless hippies running the worst site on the net fuck them, fuck the cause, don't don't give these ass backwards pices of shit your money.