NerdPr0n review
Summary: Anna is a self proclaimed nerd and she has made this website to show that nerds can be sexy too. Picture quality could be improved, and the video content is sparse.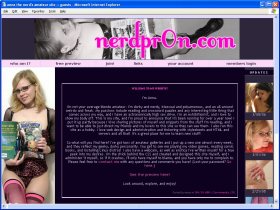 NerdPr0n is closed
Find another site in our Personal-Amateur category instead. We keep the review online for historical reasons.
Author:
Melissa
,
2006-03-04
Categories:
Personal-Amateur
,
Amateur
,
Softcore
,
Sologirls
Tags:
Intro promises
Step into the world Anna on her website, NerdprOn, and youíll discover a self-proclaimed nerd, geek, amateur, and dork. I personally think sheís adorable and respect her for sticking to her guns and being her own person. Youíll find that this website has not only been designed by Anna herself, but she also administers it alone, so she definitely has brains. Her beauty isnít what you find on the babe pages of Penthouse, but itís natural, itís fresh and itís definitely present. Her updates are done weekly and she doesnít run out of material because she admits to having an astronomically high sex drive, she enjoys being an exhibitionist. The tour page blog tells you that what youíll find here are tons of her amateur galleries, and erotica that she has written, no mention of videos, but weíll see what we get inside.

First impression
Ok, I have to give high marks to any amateur that sustains a site laid out nicely like this one is. Anna is an individualist and I just like her style. Iím looking forward to delving into the memberís area and learning more about this girl that says she has a dorky personality. There isnít a lot of information as far as everything this site holds, so weíll see how much sexual content there is and if it would be worth the price of membership or if this site...her hobby, as she calls it, is more of just a personal/amateur site that is a, ďGet to know me and my quirks,Ē or, ďI really want to get you off here.Ē

Prices
1 month $15.00 (recurring @ $10.00 a month)
3 month $30.00

$40 +materials (requested themes and outfit pics posted on the site)
$75 +materials (requested themes and outfit pics for your eyes only)


Credit Card, Check

Processor: CCBill

Our opinion
Well, it looks like this girl is killing two birds with one stone with this site. She is getting her craving to be naughty in front of people fed while striking poses that will make you want to stroke something as well. The site is laid out nicely, links across the top to take you where you want to go, nothing confusing and then her gallery links down the side as well. Her glasses give her a studious, teacher gone wild sort of look, but when they are off, she really is gorgeous with her porcelain like skin.

Being bi-sexual brings a tasty twist to this site and of course she doesnít want to keep anything under-wraps as far as her sexuality. When you click on her galleries link youíll find the thumbs of advertisement arenít all neatly stacked with the same pixel size in rows of the same number, instead they are a bit scattered and disarrayed, sort of like Anna herself. This site really does project her personality and a little messy when done with taste and an artful eye is fun to explore. There are galleries by the way showing images of some play-time with her girl-loviní girl friends.

52 galleries open up to 30-50 images each. The thumbs are small, but clear enough to see if itís something you want to enlarge and ogle at. Clicking will bring Anna more up to size, but still not overwhelmingly large with there being a pixel size of, 498x750. But the clarity really is nice, the lighting is natural looking, not like there is a huge lamp positioned just right so there are no shadows. Most of the shots are solo except for the ones that are lower on the page where she and her girlfriends share precious moments.

Eureka! I found 2 video clips on this site. The first one runs just 46 seconds in time, an MPEG with a video size of, 640x480. The second movie she says in write-up is enormous in size, taken off of her digital camera. I gave up on that choice, I have internet satellite connection and when I clicked on the link to stream it, I waited nearly 30 minutes and nothing had come up yet, so Iíll forfeit the stats on this video just to say good luck on seeing it.

Besides images of Anna in her Superman panties and fish-net stockings youíll get access to her webcam (which doesnít include an availability schedule), and a new story penned by her each month. Membership fee is low with options available to request certain themes and outfits (that you pay for) and then the pics are posted on the site, or for a bit more sheíll do shots for your eyes only.

Conclusion
This site is one of the easiest to navigate that Iíve reviewed, everything is pretty simple, cut and dry. Well, except for Annaís moisture on NerdprOn. She has a large amount of images, the thumbs are small but the enlargements, while not huge they are nicely sized with great quality. The only two vids I located were a bit of a fiasco, one just 46 seconds and choppy and the other I never did get to see. She did well with the layout of this site and she is accomplishing her motive of allowing people to get to know her and her exhibitionist side.

Screenshots from NerdPr0n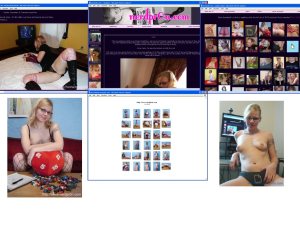 User Comments
Write your comment - feedback is appreciated
Comments from other readers
User
Comment
No comments yet - please help make our site better for everyone by adding your comment.