1By-Day review
- 1st revisit
Summary: 1By Day is a porn star babe site with a photography/studio feel. Exclusive content in 150,000+ images, 10,500+ videos and 7 new sets a week.

There is a newer version of this review - click here to read it.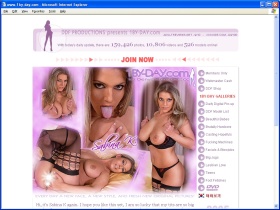 Author:
J.
,
2005-05-18
Categories:
Photography / studio
,
Babes
,
Pornstar
,
Movies
,
Videos
,
Blowjob
,
Hardcore
,
Lesbian
,
Mega-Sites
Tags:
Intro promises
- 150,000+ photos, 10,500+ videos and 500+ models online!
- 7 new sets a week

First impression
1By-Day is one of many web-based outlets for the work of Denys DeFrancesco, a professional European photographer who I guess I'm supposed to have heard of. But I haven't, so if you don't there's no reason to feel bad. DDF Productions (his company) produces loads and loads of exclusive content and then posts them on a handful of sites, of which this is one. His company's site calls this one "the sex calender" so I can hope to find 7 updates per week here.

Prices
Credit Card (CCbil, Verotel, 2000Charge), Phone

One month: $29.95
Two months: $49.95
Three months: $59.95
One year: $150.00


Our opinion
The sex calender just about sums up the bulk of the main members' page. Here (below the navigation bar, an intro paragraph, an ad, and the "Girl of the Day") is the current month's calender, each day showcasing a headshot of the girl that appears in that day's set. You get headshots for not only every set that's already available, but also for the rest of the month's upcoming updates. As expected, there's one a day, so the site lives up to its name. The calender appears on the site's main page, under a navigation bar, a description of what the site is about, an advertisement (ugh) and the "girl of the day" feature. Luckily the nice looking, prfessional layout makes this less cluttered than it sounds. There appears to be a pattern to the calender: girl/girl on Sunday (it being the lord's day and all), a hardcore set on Friday (it being the beginning of the weekend and all) and in between mostly solo model stuff (with a bit of the other two thrown in). My only problem with the calender setup is that you don't get a thumbnail for the hardcore update- just a little tile that says "HARDCORE" so you don't know immediately if it's something you'd be interested in or not.

Clicking on a date on the calender brings you to that set's page. If there are video clips for the set (as there are on all the newer sets and a vast majority of older ones), you go straight to the video clips section. Here you get a thumbnail for each segment of the video, with links to download or stream each of those, plus the link to download the entire clip as one .WMV file. It should be noted that older pages have a slightly different format on the video page. The major differences are fewer video formats (they're all .AVI on the very old pages), no full video download, and very tiny thumbnails. The small thumbnails have been fixed only within the past year and the format differences have been upgraded for a little longer than that. I would really like to see them go back and update all the older stuff here as well. I'm a big fan of consistency, not to mention that the improvements make the site more navigable and less frustrating to use. The only other way to get to the content on the site is the model index, where you go through, letter-by-letter, each model's headshot and decide if you think she's hot enough to persue. It's nice from casual browsing, but I was a bit disappointed to not see a search engine or at least a list of simple categories (lesbian, hardcore, solo, etc.) so you could get straight to the content you were looking to find. There's plenty of info collected about each model (measurements, hair color, age) that could easily be put in a database of some sort to make finding specifics a little bit easier. As it stands though, be prepared to do a lot of spidering on the site to find everything you want.

The videos on the site are professionally produced insofar as the lighting was thought about before shooting began and the models appear to have taken some direction. There's usually one cameraperson (usually gonzo-style) and the audio is from the on-camera mic so you get that home video increase and decrease in volume as you get closer and farther away from the subject. The settings are always a bedroom or living room of some sort- not much thought or effort went in to mixing those up and the same can be said for the models. Lots of European girls here (and I do mean lots- over 500 just like the intro said) that range in attractiveness from "What is a girl that hot doing in porn?" to "What is a girl that fugly doing in porn?" You take the good, you take the bad, as the old American saying goes. My problem with the models is that they're all pretty... well, standard. Lots of makeup, big hair and vapid looks on their faces. I suppose I'm not disappointed in the production quality or model selection- it's just that I'm not blown away by it.

The videos are segmented into clips about 2 minutes long and are available in three formats: .MOV, .AVI, and .WMV and, as previously mentioned, a .WMV for the entire video. As a dual-platform computer sure, I appreciate the .MOV if only because it means Mac users won't struggle with the content. The .AVI videos are 320x240 in resolution and of decent quality at their native size. Blowing the videos up to full screen brings out a great deal of pixelization and that standard DiVX grain that bothers me personally but, given the popularity of the DiXV codec, I guess I'm the only one. I noticed that older .AVIs have a lower framerate, giving them a choppy feeling. The .MOVs are at a similar resolution at full speed (29.97fps) and hold up a bit better at larger sizes than do the .AVIs. You still get some pixelization, but it's not quite as obvious. I would, however, suggest neither for full screen viewing. Both the short and long .WMV files are of a similar resolution but at about a 400kbps bitrate, making them pretty fuzzy even at their original size. Blow them up and you lose a lot of detail. It's a shame that the full length .WMV format wasn't a bit less compressed- it would be nice to have a high quality video option here and it seems like the long form would be the place to have it. Some of the vids are also letterboxed, but at a similar resolution. Overall, the video quality could use some upgrading. Granted, the site's tagline is for quantity, not quality, but that doesn't absolve it from responsibility. While downloading a video, the speed of the site decreases significantly. This isn't a huge problem, as the segmented clips are usually only around 8MB and the large ones usually between 20 and 40MB (12-20 minutes a piece), but it can still make navigating the site less pleasant, especially on slower connections. Remember that all those calender thumbs or model headshot thumbs have to reload every time you go back to find more stuff.

The photos are a little more advanced in quality. The resolutions vary with age, but the newer ones have three different sizes for your browsing pleasure. A small at about 420x280, a medium around 530x800, and a large at a nice 1000x1600. There's no real reason to bother with the smaller ones unless you're on dialup, but the large is very crisp and solid looking at that nice resolution. The older pictures have no option on sizes and are close to the current medium format in resolution and quality, but the best thing about these pics is that they're taken seperately from the videos. That means not only no flashbulbs popping during the videos but also a high quality, more unique image here. The picture viewing system isn't quite perfect, even with the nice addition of multiple sizes. There's a downloadable .zip file for the sets, but it only allows you to download one page of pictures at a time instead of the entire set. I've seen this before and it still frustrates me. If you're an archiver, be prepared to spend a lot of time here. Clicking on your preferred filesize opens up the pic in a new window which serves as the only picture viewing window that will open on its own. That means any other pictures you left click on will open in that window and replace the previous one. This can be a bit frustrating if you're looking for some fast-clicking action, but it's not something you can't work around. The content of the photos is what I would call hardcore glamour, very much like the higher scale print magazines floating around. Expect attention to be paid to the lighting and set design and a professional (apparently digital) camera to be used. Very nice looking photos here.

In a pretty unique Extras section, you get an interesting look behind the scenes as well as bonus content like wallpapers, the top 10 sets on the site, a shop and tech support. They include here some outtakes and casting videos from the site itself. I really like this idea and I hope it catches on with other sites, even if there's not a whole lot on this one yet. But that's about it for content on the site- no third party content, just some links (aka: ads) to others.

Conclusion
In terms of a large collection of exclusive content, 1by-day is great. There's stuff here you won't find anywhere else and there's plenty of it to go around. My small navigational gripes aside, it's a decent site overall that will only continue to grow at a rapid rate. The site definitely lives up to its name and my expectations of it. However, the premium price may be a barrier considering the subpar video quality and model selection. It's safe to say, though, that the site is a good investment, as it will eventually be absolutely huge. Hopefully the quality of content and navigation grows proportionately.

Samples
Screenshots from 1By-Day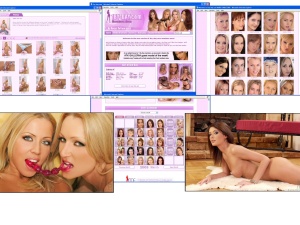 External Opinions
Don't take our word for it and see what others think! We have collected a list of opinions and impressions from other sites, so you can compare them all from one place.
Total average: 91.9/100 Our score: 85.0/100
User Comments
Write your comment - feedback is appreciated
Comments from other readers
User
Comment
No comments yet - please help make our site better for everyone by adding your comment.