Party Hardcore review
Summary: Party Hardcore is taking place at Eastern European nightclubs where dozens of women are invited to a wild party including male strippers. The women often get caught in the moment and go crazy! How much is real and fiction is not 100% clear.

There is a newer version of this review - click here to read it.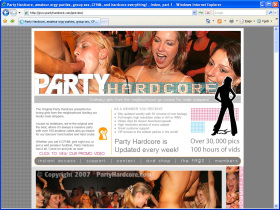 Author:
Fred Lake
,
2007-07-05
Categories:
Reality
,
Amateur
,
Blowjob
,
Hardcore
,
Videos
,
Movies
,
Mega-Sites
Tags:
bachelorette parties
,
CFNM
,
multiple girls
,
strippers
Intro promises
The Original Party Hardcore presents fun-loving girls from the neighborhood hunting our hunky male strippers. Accept no imitations; we are the original and the best, where it's always a massive party with over 100 amateur cuties who go insane for our dancers' hard bodies and hard cocks. Whether you call it CFNM, girls night out, or just a wild amateur fuckfest, Party Hardcore has it all. Come on and join us now. Site updated weekly with 30 minutes of new video and high resolution photos.

First impression
The members area is functional, and gets right down to business. You have a title graphic (nothing that's going to win a prize for web design), a menu bar (support, updates, DVD shop, other sites), and then the updates start. (The menu button for updates takes you to this main member page; there really isn't a "home" page as such.)
Below this menu bar is a row of numbers, 27 of them, each leading to a set of six updates (a total of 197 updates have been posted). The most recent six updates are shown, each with four thumbnails. Those thumbnails will make you want to jump right into a file, and there is no reason not to. BTW, the site runs fine in Windows, MacOS9, and MacOSX.

Prices
Party Hardcore only: 24.95 Euros (about $33)
Entire network: 39.95 Euros (about $53)


They take Mastercard and Visa through CCbill and VXSbill (a European billing company). They bill in Euros (which show up as a somewhat larger number of dollars on your credit card statement). To join just this one site costs 24.95 Euros (about $33); to join the whole Euromax network costs a whopping 39.95 Euros (about $53, but worth it since you get three great orgy sites and a bunch of other stuff).
The sign-up page has a "cancel your membership" link in plain site; you don't have to look up a third-party billing company to stop the cost.


Our opinion
You have probably seen enough of their free samples on thumbnail galleries to know all about them, but if not... There is this nightclub in the Czech Republic. Among other things, they have "male stripper revues" for women to come and watch. They seem to have about one such party a month (which lasts for two or three hours and shows up on the site as four or five separate updates, and you can buy a DVD of some of them). The crowd consists of various groups of women. This table maybe four sisters on a night out, that table might be a divorce party, another few tables might be women from a company celebrating their bonus checks, another few tables might be a bachellorette party, another few tables might be a girls sports team celebrating a winning season. It changes every party. From 30-100 women attend any given party (with lots and lots of alcohol), watching a few hunk male strippers get totally naked on stage. The naked men then wander around the audience feeling up the women and trying to get them to suck cock or even fuck. The trick that the women do not know (and they could not since the audience consists of various unrelated groups) is that a few of the women in the audience are paid porn actresses who pretend to get drunk, pretend go crazy, and start sucking cock (or taking their own clothes off and getting fucked) because they (pretended to) just get caught up in the action. The women in the audience react in various ways. Most stand around in various stages of shock and fascination, while others get caught up in the action (seeing other women suck cock must mean it's ok for them to do it, right?) and start sucking, stripping, and fucking. (Any housewife who is interested in a full-nude male strip show already has an open mind and only has to open her mouth.) You are never really sure which of the cock-sucking drunk women are actresses and which are housewives or businesswomen. (If you go to a certain amount of trouble, you can spot a few women who show up at multiple parties. Some, but not all, of them are the paid actresses. Most, but not all, of the other women are the innocent housewives. Even a trained detective could never be 100% sure just which are which, which adds to the fantasy.)

Navigation is straightforward. Each weekly update comes with: a link to around 175 pictures (some have over 300), a link to 30 minutes of video, a paragraph of text about that part of that party (written in breathless excitement), and four thumbnails to show you what kind of action is going on. (The photos are almost irrelevant; there is plenty of action in every update.) Each party consists of four or five updates. The only really annoying part is that it is often very hard to tell which update is the start of the next party or a continuation of the previous party, and the descriptive text (written by people who do not speak English) can be amusingly vague. Start with the oldest files and work forward and it won't matter.

The photos are decent sized (600x900), clear, and well-lit. You will see ALL of the action, every flick of the tongue and every drop of cum. It can be kind of fun to work your way through an update file trying to track the various women. Hint: do it by the ear rings in case they take their clothes off and you can no longer track the cute one in the yellow sweater. Each update even has a link to download a zip file of the entire set of photos. You can spend hours flipping through set after set. The site has over 30,000 photos. One fun thing you can do is try to spot the panties and bras laying on the floor.

The videos are large and wild, and truly show the energy of the parties (even if you cannot understand what anyone is saying since it's in Czech). They are available in AVI (512x384) and WMV (640x480, 1.12 mbps) (and will not work in MacOS9, but will work in MacOSX and of course in Windows). They will download or stream. Each is available in various sizes and lengths so you can make the most of your connection speed. High-speed users can get big screen movies in large chunks, while low-speed users can get smaller-screen movies in smaller segments. The site has hundreds of hours of video. Note to women attending these parties: When you see a stripper putting on a condom, check to see if your panties are down around your knees. And don't bother wearing a bra; you won't have it when you leave the party.

The action consists of wild women, naked male strippers, followed by cock sucking, getting the women to partly or completely strip, a little fucking here and there, and then cumshots on the womens' faces or in their mouths or other places. I never found a creampie in the whole site. These strippers are not just willing to flop their dicks in a woman's face and hope she will take the bait; they're not at all above feeling the women up, pulling their boobs out of their blouses, hiking up their dresses and pulling down their panties, and so forth. A lot of these women get in a party mood and dance around in their underpants. Some of them will never again see the bra they were wearing when they got to the party (but then, few of the women are wearing bras). The parties follow a general format (women partying, guys stripping, girls suck, then things go completely nuts) but there are variations. Look for the party where the women have a fake blowjob contest using bananas to get in the mood, and then move on to the real thing. (In another party, blindfolded girls alternately suck bananas or cocks. I'm not sure if they're being tricked or are supposed to guess the difference, since it's all in Czech.) There's even a little girl-girl pussy eating here and there, and as always, you're never sure who is an actress and who is a drunk housewife or office girl who got carried away. You just know that some of these innocent women had no intention of taking off their pants; and that when they climbed on top of a naked stripper wearing only their panties they had no idea that 20 photos later the panties would be pulled to one side and a monster dick would have slid into their vagina. Some of these women just wanted to rub against a naked hunk and had no idea that 20 photos later they would be naked, on their knees, sucking a huge dick, and vaguely wondering where their underwear is. Some woman somewhere is showing these photos to her sister, saying "Here I am, surrounded by waving men... and they're waving my clothes!"

The photos and videos are exclusive to the site. There really isn't any "other content" but there are many other sites. (Note below; you can buy either just this site or the whole package of sites.) If you buy the whole Euromaxx package, you also get:
Drunk Sex Orgy (a swingers club where nobody pretends to be a housewife)
Mad Sex Party (another swinger orgy, this one with smearing food on people)
My Fettish (silk and satin sex orgies)
Fully Clothed Sex (yes, you CAN have an orgy without undressing)
Cum on Jugs (a variation on bukkake)
Pissing in Action (if you're into that sort of thing)
Fully Clothed Pissing (for those who are really into that sort of thing)
Always Wet & Messy (various photo sets of girls who are wet and/or messy)
TS Cum (Tranny site)
Cum Squad (Bukkake; no longer updated but has 92 sets)
Pee Squad (Bukkake with urine instead of cum, no longer updated, has 92 sets)
Al Caporno (anal sex, no longer updated but has 82 sets)
There also seem to be some gay-male and bi-male sites that I did not check out.

Conclusion
For wall-to-wall naked people having fun and having sex, there is just nothing else like Party Hardcore for the quantity and quality of content. The variety of kinds of sites (if you buy the whole package) is astounding, and while you may not be into one or another part of the megasite, there is going to be more content any potential member likes than they can see in several months even leaving out the parts they don't like.

Samples
Screenshots from Party Hardcore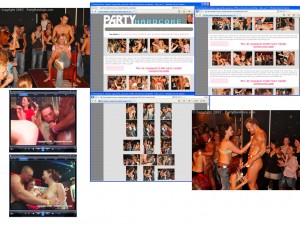 External Opinions
Don't take our word for it and see what others think! We have collected a list of opinions and impressions from other sites, so you can compare them all from one place.
Total average: 86.3/100 Our score: 85.0/100
User Comments
Write your comment - feedback is appreciated
Comments from other readers
User
Comment
No comments yet - please help make our site better for everyone by adding your comment.