Pineapple Pink review
Summary: Pineapple Pink is a soft-core amateur site. The content is exclusive images and videos of teens from across the midwest in some fetish acts.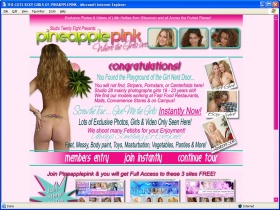 Author:
J C
,
2004-10-03
Categories:
Softcore
,
Amateur
,
18-23
Tags:
Intro promises
"Exclusive Photos & Videos of Little Hotties from Wisconsin and all Across the Fruited Planes!"
"Congratulations! You found the Playground of the Girl Next Door... You will not find, Stripers, Pornstars, or Centerfolds here!"
"Lots of Exclusive Photos, Girls & Video Only Seen Here! We shoot many Fetishs for your Enjoyment! Always Something for Everyone!"

First impression
Alright, spelling and grammar mistakes aside, this doesn't look like an incredibly professional organization. The name doesn't even fit. Little hotties from Wisconsin only on Pineapple Pink...the home of pineapples? I guess a cheese reference would sound too disgusting and mentioning cows would draw some disappointed fetishists. Not really expecting much.

Prices
By Credit Card or Check
$29.95 for 30 days, then $24.95 every 30 days.
$44.95 for 60 days, then $21.95 every 30 days.
$89.95 for 150 days, then $20.95 every 30 days.


Our opinion
The first thing I noticed when logging on is the strange main page navigation. It almost makes sense, but not quite. There's a set of vertical buttons that lead to picture material, then there's a horizontal set inside a filmstip-like frame that doesn't include normal content of video or pictures, but rather all the extra stuff. Below that is the lone video link that's off on its own as well as a link to the online store.

The bad set up continues throughout. In the model directory, there's a list of letters to choose from. Pick a letter, see the thumbnails of the girls who's name starts with that letter. All letters are active, whether there's a girl or not. It would be nice to have a list all option or to tell you how many girls are under each letter or deactivate the unneeded ones. I don't know why they can't organize it like in the tour page that lists all the girls in thumbnail form. That'd be so much more efficient and user friendly.

There are random sections, like the "Young Babe" section which serve no real purpose except to make the site look fuller than it is and to confuse people more. The models in these parts can be found elsewhere and everyone in the site is within the same age range, anyway.

Throughout the site, the navigation is more text based, than thumbnail/picture based. This requires more time searching for girls that may work out for you. There are a lot of misses in amongst the few hits, which could make things more frustrating. Evidently the tropical state of Wisconsin is just as contradictory as hot girls of pineapple pink.

Each girl has a main page that lists their photo sets and vital stats such as height, weight, birthdate (get those cards ready), bust size and what they do if and when they give head. The potential sets you could find for each girl are solo sets, "girls/girls" or hardcore. There's a very slim chance you'll see anything but solo for most of them and on a blue moon occasion, you'll see either a story, a video or maybe even both. The pictures are presented in a nice long page or two or three of thumbnails, but when you click on one, it leaves you no out. Even within the gallery pages, there's not always a way to get back to where you want to go, whether it's the model main page or the directory main page.

The picture quality is not very good. It's point and shoot digital work with lame backdrops and bad flash oriented lighting. It's not very exciting or titalating. It's amateurish photography. I see no improvement in skill from the early day photo galleries to the current stuff. These look like quick pictures taken by anyone with a willing woman and a digital camera (and some cheesy, nasty looking furniture).

There are some strange extras here as well. They have wallpapers and several puzzles for you to play around with. I couldn't imagine anyone actually using the wallpaper, but I guess the optimism is good to see. There's also the "art gallery," which is where the photographer photoshops some of his images into these "works of art." It's a mix between glamour shots and crap. He assumes people will want to print these up and hang them, I guess. Once again, I don't understand why anyone would want to waste ink and paper on non-erotic, soon to be fired high-school yearbook photographer rip offs.

The video section only has one girl on there. She has several videos, but it's still only the one. If you look in the recent updates area, you'll find a second girl. Now, maybe my computer was just slow at the moment or maybe the site is or both, but it took quite a while to download anything.

The newest video is in mpg format where the rest are in wmv. The mpg looks like a webcam with canned audio. With rock radio playing in the background, we see the girl masturbating. Perfect mood music. The camera mostly keeps a safe distance, but it awkwardly zooms every once in a while. The overall effect is one of an inept robot controlled camera. The wmv files look better, but are surprisingly low quality for the download time (once again, that could partly be at the fault of my computer). It's extremely pixelated, and once again the camera work is quite horrendous. The girls show how annoying and even less appealing they are and how annoying the editing is, too.

Conclusion
Good thing I wasn't expecting much of anything, because that's pretty much what I got. There are plenty of photo galleries to explore, but you have to do A LOT of exploring to find something remotely good. And I wouldn't expect much quality out of it, either. If you like the amateur, I-could-do-this-too look, then you will have an easier time swallowing the whole thing. As it is, this pineapple is just too sour for my tastes.

Screenshots from Pineapple Pink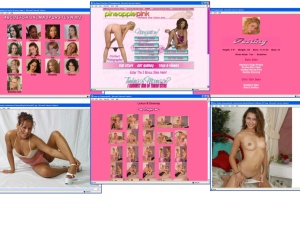 User Comments
Write your comment - feedback is appreciated
Comments from other readers
User
Comment
No comments yet - please help make our site better for everyone by adding your comment.