Strip Game Central review
Summary: Strip Game Central offers unique material showing cute girls playing various games such as spin the bottle, where the loser has to take off a piece of clothing. Everything is well documented in good looking photos. Must-see if you like this content.
Author:
Fred Lake
,
2007-03-30
Categories:
Softcore
,
Photography / studio
,
Babes
Tags:
Intro promises
We enjoy watching attractive girls playing and, better still, losing stripgames. If you do too then this is the website for you!

It's a simple concept: two or more girls play a game of chance or skill, removing garments each time they lose until at least one girl ends up totally naked. The best part is that you get to watch it all, the games, the losers and frequent and naked forfeits!
Games: 219 - Girls: 91 - Photos: 16,923

First impression
The public front page is graphically busy and confusing (and too wide for the screen) but don't let that stop you. Unlike other sites, this is actually an important page and it's a quick place to see if this week's update has been posted yet (the last few updates are listed), and you can get into the chat forum here without going through the log-in process. (You can get to the chat forum when not a member. If you are like most users and buy a month's membership every year or two, this is a good way to keep in touch with the site.) There are a lot of links on the public front page, some of which go to amusing places. You quickly learn that despite the confusion, the only thing you really need to worry about is the button for the forum and the list of updates.

Once you get into the member's area, well, it's functional, but we're not here to admire the website structure. There is a list of the last dozen or so updates, and buttons across the top for: girls (a list of the women who have played and links to the games they were in, including small photos that can take a couple of minutes -- total, not each -- to load), games (a list of the games, sorted by type of game), message board (which actually takes you out of the member's area), links to other sites, and "main page" (which takes you out of the member's area, back to that graphically-busy front page).

Prices
$16.95 for 1 month (recurring at $15.95)
$29.95 for 2 months (non-recurring)

Membership costs just $16.95 for the first 30 days and then only $15.95 for each further 30 days. It will take you at least two or three months to flip through the 200-plus games. You might consider the 60-day membership for $29.95 which does not renew.
They use CC bill and Verotel.


Our opinion
Do you remember back in college the time you got your girlfriend to play strip poker? Do you remember all of those times you wished you could get girls you were casually dating to play strip poker? If you never got over that, if you are intrigued every time you hear about or see a strip game, if those ridiculous censored strip games you see on television drive you crazy, have I got a web site for you. There is, simply put, nothing else on internet like this, not anywhere. The site is unique in its content, management, and philosophy.

The object here is that in each of the over 200 games played over the last four years, two (sometimes three or four) women play some kind of silly game (often not understanding the rules) and end up taking their clothes off. There is a huge variety of games, some played many times, others only a few. Some of the more popular games include dice (low number loses), high card (low card takes something off), minefield (a European game with a deck of cards, each card showing an item of clothing; turn over a card and take that item off), rock-paper-scissors, Tickle (first one to laugh strips), checkers (called "draughts" in England, where the site is based), coin toss, pontoon (the European version of Blackjack), darts (accuracy counts), and many more. The genius of the site is that it's rare to find the same "game" twice. Sometimes the shoes go first, sometimes last. Sometimes the girls toss a coin to see if they start stripping from the top down or bottom up. Sometimes the other girl (or guy watching the game) picks what comes off. Some of the games are "sudden death" where the first girl to lose takes everything off. At the end of all but the earliest games, the winner does a "twirl" so you can see it all.

Each game comes with 50 to 150 photos, and the photos are huge. Most are 960x1280, but when things get interesting, the webmaster tosses in a super-huge shot. The photos are clear and well lit. (The exception being a few old games which are screen caps from an unhappy video experiment.) There are no videos (although you can buy a CD-Rom with .avi files of a few of the older games). The women are mostly young and pretty, but (in older days) a few women who were older or fatter or less attractive somehow got onto the site. (The webmaster doesn't do his own photography, but hires photographers who are hundreds of miles away to do the shoots. His multi-page instruction manual is, rarely, misunderstood with unhappy results, and like all web sites, even the shoots that don't work well get posted since money was spent on them. The webmaster does listen to his customers, and unattractive women are quickly eliminated from the stable of models.)

The philosophy of the site is important to understand. The models are told to act like they really are embarrassed when their clothes come off, and they usually spend a couple of shots after each item is lost covering up before they let you see the goods. There is no sex, not much touching, no kissing, no lesbo stuff (well, a couple of light touching scenes as part of the forfeits), and while the nudity is full frontal and often quite graphic, there are no "open beaver" shots which, the webmaster says, would spoil the mood of the fantasy. At the end of all but the first games, there is a "forfeit", something that the loser has to do. Some of these are silly (fixing a snack for the winner) and some are spectacular (perform jumping jacks, spreading their legs) and some are (if you follow the fantasy) humiliating. There is no sex, no sex toys, no masturbation, nothing like that. It's not the point, and you can (the owner says) find that on a million other sites.

There is no other or bonus content, and while the owner has another site, it's a separate membership fee and not really anything to do with strip games (although it uses many of the same models). The content is exclusive, and a new game is posted every Wednesday. The chat forum is actually fun, as you get to suggest new games, new forfeits, and harangue the owner (who takes it all in good fun) over some of the unhappier experiments.

Navigation is easy, once you figure out what you really want to do and where you really want to go. After you have seen everything, getting to the new game when it's posted is simple. You just enter the members area, click the top link in the update list, and you are on the first picture of the game. Each picture of the game comes with buttons for next picture, previous picture, links to the listing of girls and games, and (except in the very oldest ones) a thumbnails page allowing you to skip ahead to the next time something comes off. There are no zip-files provided. To actually get all of the content when you first join is not much harder. Just click "games" and there is a list of all 210-plus, by category. The trick is one of organization; with so many scenes to go through, keeping track of which ones you have already seen is mind-boggling. You even get to learn a few British terms (they call "hose" "tights" over there).

Conclusion
If you like strip games, there is simply no other site on the internet than Strip Game Central that has one tenth of this much content. Even if you ignore the games with unattractive women (less than ten of those) and the two or three where the photographer didn't make the naked girl uncross her legs, it's still an astounding amount of content, and it's kept fresh by constantly bringing in new girls, new games, new rules for old games, and new forfeits (and new ways for the girls to mis-understand the rules. The bottom line is this: if you like strip games, you MUST join this site. If you do not, then it's just a few thousand or so pictures of naked women. (And I'm not saying that is a bad thing.)

Screenshots from Strip Game Central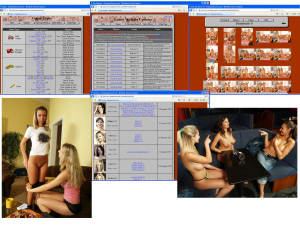 External Opinions
Don't take our word for it and see what others think! We have collected a list of opinions and impressions from other sites, so you can compare them all from one place.
Total average: 78.7/100 Our score: 80.0/100
User Comments
Write your comment - feedback is appreciated
Comments from other readers
User
Comment
No comments yet - please help make our site better for everyone by adding your comment.