Voy Zone review
Summary: Voy Zone is a large voyeur site that offers pictures and videos from nude beaches around Europe. The majority of content was taken secretly, with the camera being in some sort of box or bag so the nude sunbathers don't know they are being taped. There are a lot of attractive women here and you'll get a real ground-level view of what goes down on these nude beaches. The content can be a little repetitive and the media options inconsistent, but overall it's a great, authentic collection of voyeur content from nude beaches.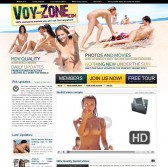 Author:
Jerry Fritz
,
2011-10-19
Categories:
Voyeur
,
Amateur
,
Boobs
,
Butts
,
Softcore
,
High-definition
,
Videos
,
Movies
Tags:
hidden camera
,
naturism
,
nude beach
,
public nudity
,
spy cam
,
voyeurism
Intro promises
- Photos and movies shot at topless beaches
- HDV Quality movies
- Daily updates
- 100% Exclusive

First impression
Voy Zone is short for Voyeur Zone and this is a voyeur website that revolves around footage from nude beaches in Europe. On the previews we see what looks to be footage taken from a camera that has been concealed and in more than a few of the video trailers you'll see some of the nude sunbathers realizing that it's a camera and getting pissed!

As for being authentic, this site has me convinced it is the real deal. They promise high quality, HD nude beach movies here as well pictures and promise to give us more of them every day.

Will Voy Zone live up to its promises? Is 100% nude beach content exciting enough to be worth joining? Read on for our in depth review of what the site offer as well as our opinion of the site.

Pricing
Payment Processors:
CCBill, Online check
Our opinion
The Voy Zone members area is very simple. When you log in they give you a look over what has been happening: the last 5 forum topics to be posted in on the members' message board, latest video and picture updates and some featured posts by members, such as their first-time experiences at a nude beach.

You can go on to browse the photo or video sections of the site or skip over to the forum using the links in the main navigation. Beyond these large and vague areas there are no other categories or systems for organizing content. That means you'll need to browse through thumbnails manually. To be fair, though, most of this content is the same from one scene or gallery to the next.

All of the footage is real and it is all taken at nude beaches. This is stuff you can't fake: hundreds of nude bodies, people out on the water in the background. The camera in the videos usually has a circle of darkness around the image, because the camera is hidden inside of a box or something. Yeah, this perv isn't supposed to be making videos of these nude sun bathers!

Most of the videos are these 'hidden camera' styles of footage. Even with such a cumbersome way of filming they manage to see a lot: nude men and women bathing in the sea, or just laying out getting sun. The camera gets shots of boobs, shaved pussies and even assholes when girls are rolled or bent over for one reason or another.

There were some older people in some galleries and footage but most of these nude bodies belong to healthy, fit and attractive women in their 20s and 30s. There are some really nice tits and asses. I even spotted a girl giving her boyfriend head in one clip, albeit discretely enough that you only see the back of her head bobbing up and down in his lap. Sex isn't the point here, though. The site is about the nude beach lifestyle and lets you experience it if you never have.

In the photos section you'll find more shots of girls and guys posing for the photos. I guess not everyone has a problem with the perv's camera!

The tour promised HDV movie options and you will have them, but not for every movie. Those that did have an HD option were AVI files with 1280x720 screens (5 Mbits) and an excellent quality playback. Given that these movies are taped from a camera hidden in a box of some sort though you shouldn't be expecting Hollywood-style cinema in terms of quality. Other movies can be in various sizes such as 720x576 screens (5 Mbits) or variations in between. All downloads are in AVI file formats and most videos are 2-5 minutes long, featuring several shots edited together in a sort of highlight reel.

Like the movies, pictures also come in different sizes. I'd say the majority are around 900x658 pixels, but I came across a few galleries with high resolution photos of 2376x1584 pixels that looked fantastic. You can browse through the images online or in an automated slideshow. There are no zip file downloads to save entire galleries, but you can save individual photos by right-clicking on them and choosing the 'Save Target as...' option.

As promised the site is updating every day and the libraries are large. You don't really realize how large until you keep clicking through to go to the next page of updates again and again (there is no way to skip to deeper pages). The poor navigation starts to wear on the nerves a bit once you've been here for a little while and need to dig deeper into the archives to see new things (besides the updates that come daily on the front page).

I also found that, unless you have a huge interest in nude beaches and spying on people at them, the content can grow repetitive. Not much distinguishes one video or picture gallery from the next. The girls and guys in them look similar and they are on beaches, nude. Again and again.

Conclusion
Voy Zone might grow a touch repetitive after a few months but the site does a great job of putting real voyeur footage from nude beaches in Europe at your finger tips. They update daily and have a huge archive of videos and pictures. Content quality could vary but it was all hot material that anyone with interests in spying on a nude beach full of healthy, natural and attractive European women and men will enjoy.

Competitors
We've reviewed quite a few voyeur themed porn sites as well as several that feature a lot of nudity in public. If Voy Zone doesn't seem like the right fit or if you just want a better idea of what is available to members at other similar sites, check out our reviews for: Voyeur Bank, Voyeur Russian, Piss Hunt and Hidden Zone.

Screenshots




Samples
External Opinions
Don't take our word for it and see what others think! We have collected a list of opinions and impressions from other sites, so you can compare them all from one place.
Total average: 81/100 Our score: 80.0/100
User Comments
Write your comment - feedback is appreciated
Comments from other readers
User
Comment
TheMoreYouKnow
2014-06-13 16:04:08

Before even deciding on investing 30 bucks on a month with Voy-Zone.com, I noticed the "Last Updates" indicated on their non-member main page were all given (current month/year, but no exact date of entry) when hovering over them individually with the mouse. Suspicion ran over me, telling that these images/videos were not really updates at all, rather these images were the same and the dates were automatically set to change with the current month. So I waited till the next month passed and sure enough, the same images stayed on page, but their attached month auto-adjusted to the current month.

Video Count: 462 video clips (some are however repeats).

Despite this blatant deception toward prospective customers, I was still curious what content was held within their site, and thought maybe Voy-Zone's page intro was simply a by-product a lazy web management and thought perhaps they still held some exclusive fresh content that maybe worth while, so I still forked over my 30 bones to see what's up.

First impressions… Once joining Voy-Zone.com, and logging in, the site's main page was completely different, filled with actual updates with complete dates of when they were posted. As to whether this material has been recycled from any previous posts, I would consider to be quite feasible, due to the fact there's a huge gap of time where no posted material is to be found on site! Strangely enough between September 9, 2011 and February 5, 2014, there was absolutely no material to be found inside their video collection. Also to note, what little material that has been left on site posted in 2011 has been reposted in 2014! With this in mind, it's an easy guess that periodically material is withdrawn from the site, then probably reposted later in the site in order to keep material fresh as well as keeping customers from downloading the majority of their archive in a month's membership. Also if you're more into high quality image sets (i.e. related pics of a particular scene), than movies of beach voyeurism, stay clear from this site, the image "sets" here are pretty much random unconnected pics, by average 4X6" in size, fairly poor in resolution given their from a pay site.

EDITING: Many of the movies are riddled with mouth breather moments, that being many of these 3 plus minute clips contain women on their backs barely fidgeting an inch, all the while they could have simply taken a photo which would've consumed hundreds of megabytes less than a video… It's often a wonder at times to think if these guys ever consider the topic of conceptual editing, meaning if nothing is happening in a half minute or so through a scene, hit the pause button or at least edit it out the inactivity in the material later when the footage has been captured. And these guys definitely have plenty of experience in editing software, since much of the footage has been divided into individual clips in order to increase appearance of having more content, a common practice among voyeur sites.

QUANTITY VS QUALITY: To say that all Voy-Zone films are like the ladder would be unfair, there are some nice gems scattered through out and about 1 out of 10 films are hard drive keeper worthy, at least to my standards not sparing the smiles and womanly curves, while the rest are simply mouth breather fillers kept on site, just so that it would appear their collection is immense in size: mission accomplished. As of June 04, 2014, to my count there were 462 video clips, including some repeated material peppered within the sets.

De 'Rena, who has distributed content on other sites, actually captures the best material on site, but still at times have moments of stagnant mouth breather scenes, also having tendencies of attention deficit disorder (ADD) moments with the camera shifting away from main subject at hand toward random uninteresting views, then shifting back toward main subject, this probably is due to the lack of activity with subjects not being in motion, but for the viewer (at least to me) these odd shifts get quite annoying, and the answer again to resolve these mouth breather moments and odd off-base subject shift, is that good ol' fashion pause button, patience, and/or perhaps the use of editing software as well. Also repeated posts of the same material are not uncommon to find.

VOLUME: Also another tip, lowering the volume is quite an effective measure in reducing self-noise which is another annoyance entirely on its own.

RATING SYSTEM: Each page does provide users a means to rate the material, however there is no way to see the accumulation of others' ratings. The accumulation of these ratings apparently determine the "Top 7 Video Sets" of the site, but unfortunately there's no optional page viewing system given to see material rated from best to worst, which would be an ideal feature as well.

In short, this is a pass due to their price is a bit steep considering the limited quantity of quality movies on site.