Adult Movie DB review
Summary: Adult Movie DB has 137 models that offer hard-core content in the form of videos. Easy navigation with a lot of oral advertisement.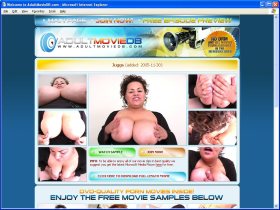 Adult Movie DB is closed
Find another site in our Handjobs category instead. We keep the review online for historical reasons.
Author:
Melissa
,
2005-12-09
Categories:
Handjobs
,
Blowjob
,
Hardcore
,
Videos
Tags:
Intro promises
The tour page opens up on Adult Movie DB with some sexy, naughty and enticing shots of Julie. This is what I call doing a spread for the website, she is spread about as wide as she can possibly get and the view is out in the open and caught by the camera just for you. There is some nice photography showing on these advertising attributes along with an offer to watch a sample piece of film work next to the, "Join Now" button. They give you a tid-bit of information about the way for you to enjoy all of their movie clips, the most is to be sure you have the latest version of, Windows Media Player.

First impression
My first impression of Adult Movie DB is it's going to a nice one to review. The pictures offered on the tour pages are clear, naughty and hot, but with some reservations that I'll continue to hold until I delve into the member's area. I hope the rest of the site lives up to the nice way they've put together introducing you to what they have to offer, which includes a model index so you can formally meet the ladies.

Pricing
Our opinion
Logging into the member's area brought up the exact same page as they tempted you with on introduction. Julie is their flavor of the day and she is a pretty blonde that has a figure to drool over. All the girls are listed on this first index page, which comes to a nice amount of 137, and it doesn't look like there's a bad one in the bunch. You'd be proud to escort any of these ladies on your arm out for a night on the town. Now that we've delved into this website a little further, allow me to share my "not so nice" findings.

If we start at the number one million and go from there we can probably estimate how many porno pages are alive and well on the world wide web, so to be that something special that will lure the customer in and keep them there for a recurring membership you have to find a 'niche' of unique material to make you stand out above the rest. I don't feel as though this website has found that. Yes, they offer videos, yes, the videos are hot, horny and satisfying, but they are also nothing out of the ordinary that you can't find on many, many more sites that might have that something special that will take your membership money quicker than this site will.

Most everything about this website is orally fixated. The movies, the images, etc. the common theme seems to be oral sex. Now if that is the ONLY thing you enjoy to get off to, great, but I think there needs to be a little wider spectrum here. Yes, there were some masturbation pieces and penetration, but not many. And the model index, nearly all 137 of them the images were fixated on fellatio. It needs spiced up a bit with a theme of variety instead of single thoughts.

Another thing that bothered me was again, every thumbnail throughout the model index I could count on one hand the number of images that the girls were not directing their gaze right at the lens. Call me old fashioned or whatever, but you want to feel a realness when it comes to sex movies/images that you're paying for. I didn't feel that here. Close your eyes if you must, but by staring into the camera with your tongue an inch away from a throbbing mushroom shaped head tells me that they were posed that way, there were too many of them in the same type of stance to say differently. To me, that was a disappointment.

Ok, one more porno peeve and then I'll stop complaining. Unfortunately the links provided under the model index pictures which take you into the images and their available movies were not all operable. I counted 59 of the gallery girls that went no where, a picture showed their deep throat action, but you couldn't get into anything from there, so that was disappointing. But there were some good things about the site and I'll start addressing those now.

A girl named Bliss had a pretty smile on her face and looked like she could be the adventurous type, so I decided to slip inside her image to see what she has to offer. It's nice the way they have thought through the ease of this website as far as navigation goes, that does impress me. With just one click on her link she exchanged places with Julie as the feature model. There are 6 images surrounding her larger facial picture that gives you an idea of what the movie is going to hold in store for you. There is also break-down information, such as, Bliss's movie was added 7/24/05 and the file size is, 138.3 MB. Don't forget about needing the latest version of Windows Media Player to really enjoy the offered films on this website. The movies are downloadable and Bliss shows some hot action of penetration, hand job and as she finishes him off there is a rush of goo to show his appreciation. It's a shame some of these images weren't used on the model index shots to show something besides just oral.

Renee was another model that caught my eye, her hands "were full" in the thumping thumbnail, but she had a grin that told me she was really enjoying what she had going on. You can tell she is a bit of a ham for the camera, the 6 surrounding shots show her in different stages of undress and she is definitely a tease. Her breasts are noticeably natural and just the right size to make her body that of something you'll want to worship and then make wet. Just for your information, her movie was a bit shorter, but still came in at, 110.8 MB in file size. The videos are 512x384 with a nice bitrate of 1.19 Mbps.

As you can tell this is strictly a video site, concentrating on material that isn't to be called softcore, but not an outrageous hardcore either. The thumbnails of the model index are nicely done shots that measure in at, 176x125 pixels, and then the main image of the girls you have chosen is a bit larger, 357x258 with the smaller images of what the film holds surrounding it. They haven't loaded this website down with a lot of bonus offers or links to other friendly sites, it's just the movies that they offer and that is a refreshing change. The videos were nicely done, and the ease of this website is outstanding.

Conclusion
This was a nice website in my opinion, but not mind blowing with a written rave review from me. There was nothing fancy and confusing to take away from the product they have to offer, and they've made that product nicely done, I'm just not fond of the way they've chosen to advertise it. There was much more action, natural action in the videos that the images bringing you to them, didn't show. With 137 models to choose from, even with the 59 that didn't have working links tonight there should be enough material to keep you from growing bored. I didn't notice an actual comment on how often updates are done, but by the look of the model index, since they conveniently date their material it looks like approximately every 4 days, which is a nice amount of time.

[2005-12 - The links that were not working during the time of this review have all been corrected shortly after this review was published. /Editor]


Screenshots from Adult Movie DB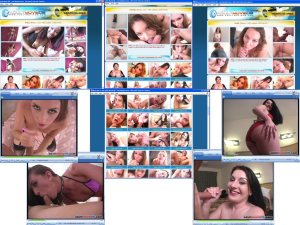 User Comments
Write your comment - feedback is appreciated
Comments from other readers
User
Comment
No comments yet - please help make our site better for everyone by adding your comment.