Jerk Him Off review
Summary: Jerk Him Off is an amateur site holding some blow-job action, carried in videos and screen captured images.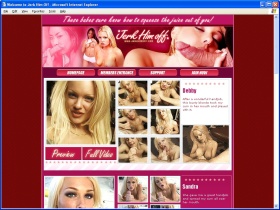 Jerk Him Off is closed
Find another site in our Handjobs category instead. We keep the review online for historical reasons.
Author:
J C
,
2005-02-27
Categories:
Handjobs
,
Amateur
,
Movies
,
Videos
Tags:
Intro promises
"These babes sure know how to squeeze the juice out of you!"

First impression
Well, they sure don't like to make promises, do they? It doesn't really matter, I suppose. Just as long as the title of the website is not meant to sound like an order barked out at the members. Speaking of the title -- it's not really appropriate, as it looks as if the girls are all giving head. Stroking is obviously secondary here. As far as first impressions of the content: I'll be suprised if this brings anything new or good to the saturated POV BJ scene.

Pricing
Our opinion
The layout of the site is pretty clear. There's a line of links along the top that lead to the various "added content" sections. Below that is a three columned attack of recent and upcoming updates. I like this system. On the left, you see what has recently been added; the middle is reserved for the newest episode (complete with short description and several screenshots; and on the right is something rarely seen -- screenshots of the next four updates. They add content everyday, which is very nice, as well. Below this area are just more attempts to get you to visit their business partners. There's even a text box labeled bonus sites, and inside it reads "There are currently no accessible bonus sites." Hahaha. Yeah, right. All you have is a buttload of recorded video feeds from various places, live feeds, interactive videos, e-zines and picture feed sites linked to high heaven. I suppose none of them are labeled as "bonus sites," but you can't fool me. With all this promotional activity going on, it's odd that none of the other sites on this group's network are linked up. I have a feeling that's the bonus stuff they're talking about.

So, you just have to make due with the videos you've been handed. And I do mean videos. The pictures you'll find on the site are entirely comprised of screenshots. The quality is what you'd expect, complete with motion blur and tons of pixelation. I really wouldn't bother with these, unless you're desperate for some type of warm-up visual while the video downloads. What's good, though is that the pictures are contained within the layout of the site and can be navigated nicely.

Navigation around the videos is pretty self-explanatory, but lacking. When you're in the main videos page, you can jump around the five pages of downloadables at the top, but at the bottom of the page, the only option is "back." Otherwise, the site is rather user friendly. They have info boxes that pop-up when you roll-over things that may require explaining, which is a nice little touch. Support is readily available and easy to find at all times as well. They want to make the experience as smooth as possible.

Yet, despite that, the pages are far from perfect. The navigation is completed through screenshots, because as we've established, that's all there is. Sometimes the screenshots don't appear to be representative of the scene of the movie. For instance, there are times when the girl's face is completely absent from the thumbnail pic. There are no names to use as a guide, either. If you can gauge your interest based on a grainy picture of a girl's pussy, then you shouldn't have much trouble. If you find it a little tough to tell what's what and don't want to go back and forth trying to find something or someone you like, here's a tip. Hit the refresh button. That's right. The representative thumbnails are randomized. It sounds cool, but ultimately is a huge hassle. I'd rather see the girl's face or have a description or something more standard to help me make my downloading choices.

The videos vary in size. Some are pretty huge and you can only get them through downloading three parts. You won't find any clip sized pieces here. However, it tells you straight off the bat how long the selection is and how much space it'll take up on your harddrive. That'll help you decide whether to download it as a wmv file or to stream it from the site. The picture quality is surprisingly lack-lustre. Usually, when coming across wmv's, especially as the sole source of video, the image is better than this. It's not horrible, or even bad, but it's not great. I expected a little more.

As for production value, it's also not bad, but also not the best. For starters, there's no intro. I don't know. Maybe some of you out there like that. But, as lame as they always are, I enjoy a little bit of a lead-in. Let's watch the girl strip, tell us her name, why she's there or something. I don't need them to be picked up off the street or anything. The best part is the audio. There's a lot of moaning and gently given orders by the guy. It never gets rough or mean, but you can still sense the control paradigm. I'd like to hear the girl's talk a little more. Not all the videos are strict POV, but for the ones that are, the camera tends to drift a lot, rather than roam around. The composition stays virtually the same as the camera moves within a ten degree radius. Not enough varience, but it's obviously held by the guy receving, so he can't go everywhere you might want to look.

Conclusion
They just started, but they update every day, so they have plenty of content up on the site. The girls are obviously seasoned, but still quite young. This is just another stop on the round of porn sites for them. They look good. I can't vouch for exclusivity of the content, however. Since it's updated everyday, I doubt that's the case, but they stay true to the theme of POV BJs, even if that's not reflected accurately in the name. I'd like to see some improvements in video quality and that randomized navigation, once those are made, this site would be a potential front-runner in this sub-genre.


Screenshots from Jerk Him Off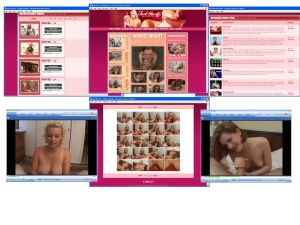 User Comments
Write your comment - feedback is appreciated
Comments from other readers
User
Comment
No comments yet - please help make our site better for everyone by adding your comment.