Cinema Erotique review
Summary: Cinema Erotique is trying to create something different than most other porn sites - movies with an actual plot and a professional production process. It doesn't completely succeed and the whole concept will only appeal to a certain crowd.

There is a newer version of this review - click here to read it.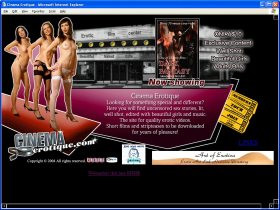 Author:
J.
,
2006-01-12
Categories:
Movies
,
Videos
,
18-23
,
Amateur
,
Hardcore
Tags:
Intro promises
"Looking for something special and different? Here you will find uncensored sex stories, lit, well-shot, edited with beautiful girls and music. The site for erotic videos. Short films and stripteases to be downloaded and enjoyed for years of pleasure."

First impression
I don't know if it's the oddly worded intro or the uneven design and layout (I could hardly tell where the buttons on the opening page were), but something just feels "off" from the get go here. The final page of the tour has a small description of what to actually expect, but a lot of that comes from clips of other reviews of the site. It appears that this British site makes porn videos with stories and high production value. I actually like the idea, but something from what I see in the tour isn't clicking with me so I'm anxious to see the end result.

Prices
Credit Card, Online Check

7 days: $10
3 months: $20
6 months: $30
One year: $40


Our opinion
The main member's page has a very amateur looking layout- flat red background, Times New Roman text, etc. There are 8 thumbnail images, presumably from the latest movie releases, each with only their title below. There are only a few other links on the main page, including one to more videos, stripteases by their actresses, a contact button and something called "The Editing Room." If the idea of the site is to offer high quality porn of a cinematic style and quality, I must say that there are many many better ways to present it. There's all sorts of iconic imagery associated with both of those themes that could easily be exploited to great effect here but, instead, we get a bland layout and no attention to interesting design. It's a big missed opportunity.

I click on what appears to be the newest installment- a film called "The Dream"- and I get a similar design scheme with a few images from the film, a condensed version of the film's credits, and what appears to be fake newspaper clips with sections of fake reviews for the film. While the last isn't exactly pulled off well stylistically, it's at least an attempt to pull in some of the elements of the medium. Clicking through the other video pages, I find that this is a pretty standard format for the site, and that usually one of the little review snippets jokingly(?) compares something in the film to something in a famous classic film (he drops a D.W. Griffith comparison in there for all you first year film school kids). In fact, this format is so standard that sometimes the review snippets are even re-used. D.W. Griffith would be proud. What's especially interesting about the video pages is that there's almost zero information about the video. You get to see who directed it, who stars in it, who did the music and sometimes the length filesize of the video itself. Now, if you're going to put all the work into these films that these guys claim is being put into them, why not bother with a simple synopsis? A fake movie poster? Occasionally you're blessed with a cheeseball tagline and, honestly, that's the sort of thing this site needs more of. Just typing "Un film de" before the title doesn't do anything for me. And the "reviews?" Can someone tell me what the hell "I was moved by the spiritual content so much that I crashed my yoghurt truck" means? Is it some reference I'm missing? Or is it just a lame joke? In fact, at this point, I'm not even sure how seriously to take these guys. Either super cheesy or remarkably serious would be totally acceptable, but they seem to be lingering in a limbo between the two. So far they're not off to a good start. On to the videos themselves.

Let's start with the first one I mentioned, an 8 minute video called "The Dream." It starts with some off-the-shelf titles (more Times New Roman- maybe next yaer we'll get Comic Sans!) and a woman getting into bed. She takes 2 minutes to get in bed (she has to pray, of course- this is what we in the biz call "character development") then looks at a picture of some dude in a magazine for 2 minutes and, for some reason, her lava lamp. Then she has this dream where she dancing naked and then naked in a shower and a bath and the dream is so hot she needs some cheeseball Video Toaster effects circa 1994 and some masturbation. So she wanks for the remainder of the video, ending off on (I'm not joking here) some superimposed fireworks exploding on her crotch. Then, in Times New Roman, we're treated to a classy "Fin." Fade out aaaaaaaand... scene! Okay, cut. No seriously, never let me waste 8 minutes of my life like that again.

I am now positive that whoever is responsible for this video has no idea how ridiculous this was. There was not a single wink or nod to the fact that this was not, in any way, artistic. It pains me to do so, but I have to watch other videos now. I'll give you a few highlights: There's one where a bunch of girls are playing strip poker when the villian from the Scream movies (yes, he's just wearing one of those costumes) comes in and ties up the girls. The big twist is that one of the girls smashes a bottle over his head then makes out with another chick. It took 28 minutes for all that to happen. In another, an out-of-the-box "old time movie" effect was put on a video of a right proper English gentleman spanking a girl. At the end of this classic, the guy looks at the camera and acts as if he's going to take off his moustache because the director had obviously said "cut" or something. Then the movie ends. In one called "Hot Cold War" the director makes some poor girl with an accent try to deliver lines before making out with another girl awkwardly. The plot is that she's from Moscow and has come to whatever country the other girl is in about sex. There's a lot of Russian being spoken without subtitles, some giggling and weird, seemingly random, cuts in the audio and video. The only good part about this one is that it ends with a spin fade just like in Superman II when the bad guys get trapped in the glass thing and spin off into space. I'll give the guy a break and call that an "homage." Then there's one where some girls talk about trying out some sex toys, then go try them out and talk about it some more. Believe it or not, that one's 35 minutes. And at one point I'm pretty sure one of the girls falls asleep. Which, while not an homage, is still pretty funny.

The point is that there's almost no connection between these movies and actual movies you might see in a theatre, as the site seems to believe. Sure, some attention is paid to the lighting and a little (VERY little) to the set design. But most of these movies don't have any dialogue, the music is just watered down British techno, and the camera is all handheld. On top of that, msot of the porn content in these is borderline softcore, with only a few videos showing any actual sexual acts. The pace is slow, the girls are disinterested at best (and annoyingly awkward at worst) and these movies are just plain not worth the amount of time they take to download and watch.

In the spirit of full disclosure, I'll give you the technical specs. Each video is available in a high and low resolution version (note, though, that some links to one or the other are broken or inaccessible for some reason). The high quality videos are 640x320 in resolution, with the low quality videos at around 350x200, both in WMV format. The quality on the high resolution vids is certainly adequate for the content, while the low resolution ones should be used only as a backup. I should warn you also that some of the older videos don't allow fast forwarding or skipping through the video. Needless to say, I just went ahead and skipped those.

Bonus content on the site is limited to those striptease videos mentioned in the preview and "The Editing Room" which I'll get to in a moment. The striptease vids are exactly what they sound like- there are 14 girls who do a little striptease dance for the camera. Sometimes the girl is in a cinematically-lit room. Other than that it's pretty standard. However, I should mention that these are pulled off much more successfully than the "movies" on the main page are. The Editing Room is an interesting idea, but it's not quite where it needs to be just yet. Here you can download scripts (yes, scripts!) for the movies and... well, that's really it. There are links for costumes, stars and music but the only one that works is the music one and that just lets you download an mp3, I guess from one of the movies.
Ho hum.

Conclusion
Looking back on my review I can't help but feel a little bad for how harshly I treated this guy. But seriously, folks, the ball was most definitely dropped on this one. I'm all about bringing something new into porn- lord knows I've seen a lot of the same old stuff. But without anything actually connecting the videos to the things this site purports their videos to be connected to, this is just the same old except more annoying. Quality, clever story porn was the only way it was done in the '60s and '70s. The person responsible for these movies would do well to watch a little more of that and a little less of "Un Chien Andalous" and something from Vivid Video back to back. There is definitely potential here, but at this point this site is dead in the water unless they can find something actually cinematic to produce.

Screenshots from Cinema Erotique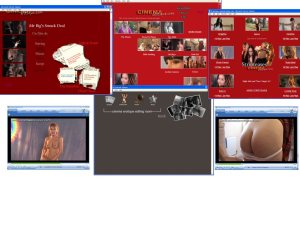 External Opinions
Don't take our word for it and see what others think! We have collected a list of opinions and impressions from other sites, so you can compare them all from one place.
Total average: 78.7/100 Our score: 50.0/100
User Comments
Write your comment - feedback is appreciated
Comments from other readers
User
Comment
No comments yet - please help make our site better for everyone by adding your comment.