Hello Adult Reviews fans,
Lance here from
BangBros
once again. Once again I have also been blessed by my friends at AdultReviews to bring you latest in the adult community.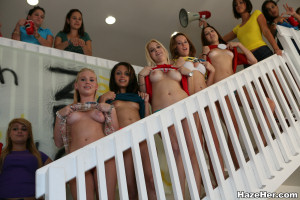 I have some very, very exciting news today. We have released the monster, the monster being
HazeHer.com
. This site is nothing like you have ever seen before. You are all seeing this release first here at AdultReviews. They are the first ones on the web to announce everything from the BangBros, HazeCash and Program3 crew. Read the AdultReviews team's
review of Haze her
right here, but I wanted to give you all a chance to read more about it here nevertheless!
So to start out with this special introduction, this is a hazing site. If you are not familiar with the word haze, it is short and slang for unconventional punishment usually in a frat/sorority environment.
This site is comprised of a sorority environment, meaning all females.
These females are not your usual porn females. They are real sorority girls, and you cannot doubt nor ignore this just by their young untarnished physical features.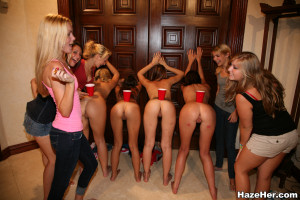 So now that you know what kind of talent and what type of site we are bringing in, I shall get to the good stuff! So when you first go to
Haze Her
to the enter page, you can definitely see that you are in no way in any clichť or any known niche environment right off. Donít be frightened. Once you enter you will be enlightened, delightfully surprised, and thankful you visited AdultReviews today for them to bring you this exceptional gift. So you have made it into the site. Inside you will find a collection of girls getting punished and hazed in the most extreme and intricate ways ending with soft-core/hardcore sex. Literally every imaginable fantasy of lesbian sex, hazing, and punishment you will find it here.
The site explores the darker side of sorority life and crosses it over into the best girl on girl fucking you have ever seen. These girls do things you have never seen in adult entertainment and are treated in a way by each other you havenít even dreamt of in your wildest dreams. This is a not pornstar site per say but if you are into new amateur real sites. This is the site for you. The memberís area provides long scenes, interesting situations, and madness.
Interesting situations I say this because you have never seen a scissor fuck before. This is literally what it sounds like, 4-8 girls fucking all at the same time. Have fun trying to imagine this; itís something you have to see to believe. Trust me on this. I say madness because the harsh hazing and the way they do the hazing is crazy, quite literally. Also because of the sex, the sex scenes are comparable to nothing. I was speechless when I seen the first video. And that was just a warm up as this site is incredibly versatile. I thought I had seen it all till I seen this site. Have fun. And it was my pleasure.
Lance Chris
BangBrosNetwork.com
(@Pornographers)on twitter