Playing With Toni review
Summary: Playing With Toni holds lesbian action in this personal/amateur teen site. Weekly updates with exclusive photos and videos. 56K and broadband optimized videos.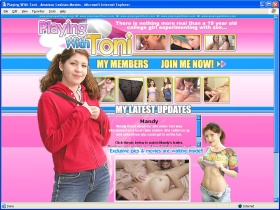 Author:
J.
,
2005-03-23
Categories:
Amateur
,
18-23
,
Lesbian
,
Movies
,
Sologirls
,
Videos
Tags:
Intro promises
- Weekly updates with exclusive photos and videos
- Full screen downloadable videos
- 56k Dial-Up and Broadband optimized videos
- 24/7 live cam shows with 70+ girls
- Access to 1000's of streaming videos
- Photos and videos of some of Toni's friends

First impression
Wow! Lots of pink and blue! Flashing arrows! This site makes me use exclamation points! But besides that we get to see some pictures of, you guessed it, Toni herself. She is girl next adorable (I should copyright that) and the preview images show lots of girl/girl stuff with a smattering of boy/girl action. I would, however, like to stage a formal argument on how inaccurate her claim that "There's nothing more real than a 19 year old college girl experimenting with sex." My first point would be that an actual real alive girl of any age or education level standing in front of me right now would, in fact, be much more real than a girl on a webpage. Also, staring at a real girl would be significantly less pathetic. Toni has some other quotes popping up in the preview pages that claim she's totally stoked to finally get the opportunity to have sex with all these girls and whatnot.
Whether or not this is true, I choose to believe because, once again, I am pathetic.

Pricing
Our opinion
The members' area opens up in the same style as the intro pages (consistency is good) and the main page is well-designed and organized to give you access to everything you need on the site. There's a section for news (empty at this point) and links to the three newest "playmates" of Toni. There are links to all the sections of the site (only 5 of those total) readily available. Integrated into the design are some windows that, apart from the news and latest updates, offer links to the live streams on the site and extras like Toni's Toy Shop. All in all the navigation from the main page and throughout the site is solid and efficient.

The videos on the site are listed all on one page and each get a thumbnail and little description. The movies are both streamable and downloadable and there are high speed and low speed versions of the streaming vids. I was disappointed to see that there wasn't a low speed version of the downloadable videos though- if you're on dial-up you're pretty much stuck on the streaming because these video files weight in at around a massive 300MB or so a piece. These downloadable videos are all WMV format and 720x240 in resolution. That's pretty large and is normally difficult to keep unpixellated, but the whopping 1.32Mbps bitrate keeps the picture looking quite crisp at its natural size and blowing it up a bit to full screen doesn't make much of an impact on quality. I am absolutely impressed with the quality of these videos- I definitely see where all that filesize is going and, in my opinion, it's well worth the wait.

As for viewing the videos, they pop up in a Toni-themed movie viewer window in one of the three formats you choose (all available in high and low speed versions): WMV, Real, or Quicktime. The WMV videos are 360x240 at 464kbps in the high speed version and, in Toni's little viewing window they look pretty pixelly. It's certainly acceptable, but this is more like a mid-level version instead of a high quality one. The low speed versions are half the size and are compressed to a 50kbps bitrate, making for an extra pixellated and super choppy video. As usual with dial-up-quality videos, use only if necessary. Another downside to the WMV format here is the impossibility of fast forwarding though the slow intros. These videos are long, folks. They're half an hour a piece. So watching them without the benefit of a fast forward option is a real hassle. It would have been a wise idea to seperate the videos for viewing convenience.
As for the full WMV videos, it should be noted that they are protected by DRM, which raises a few questions. Read more about that in the FAQ.

The Quicktime videos are the same size as the WMV and look pretty similar at that size, though in a different way. Instead of the digital artifacts there's a constant 70's VHS feel to them with vertical scan lines occasionally popping up. It's not terrible at all, but it's not quite the quality I was hoping for. Again, the Quicktime low res versions are pretty low quality. The vertical pixellation is enhanced to almost unwatchable degrees and the framerate drops below 24 frames here. Definitely stick with the WMV if you have to view the low res vids. Unfortunately, I was unable to access the Real videos, as I received an error every time I tried. Since I never have trouble with Real on other sites, I can only assume this is a problem on Toni's end.

At this point, all but one of the videos is purely girl/girl. That is to say, Toni plus another girl. The girls are usually very gentle and loving with each other and that was surprisingly refreshing to me. It's nice to see two girls at least trying to enjoy one another instead of stuffing everything but the walls into each other. This gentleness makes for pretty low key videos though. Not a whole lot of screaming in passion which, again surprisingly, was refreshing. When the girls (especially Toni herself) get into it you know that they're actually getting off (for the most part). That, coupled with the setup of the movies makes for a pretty amateur feel. That setup usually includes what I assume is a staged "meeting" of Toni and the girl in some random real-life situation. I'd love to believe that girls will let you tape them fucking other girls if you just ask really nicely, but I have a feeling it's just part of the act. At least the girls put some effort into it and some of them seem genuinely uncomfortable having the camera around. In a word, it's cute. In fact, that's basically what this site is about. It's cute porn. The kind the Care Bears would watch if Horny Bear finally returned from exile. And that's not a bad thing. It's respectful and, even at only halfway honest, it's still 49% more honest than most porn. The downside to these setups is that the first 5 minutes or so of every video are filled with lots of talking and not a lot of action and, with no fast forward on the streaming WMV, that makes for a lot of talking that you may not be interested in.

The pictures are basically just 800x600 resolution video captures from the aforementioned videos. They more or less act as thumbnails for the videos but, unfortunately, all the thumbs for the pictures load up on one page. So if you're already downloading a video from the site and searching in the background, it can get pretty sluggish. I was hoping for some posed photos of higher quality or perhaps some personalized photos (or custom videos for that matter) but I'm let down by this section.

The bonus content on the site is supposed to include some stuff of Toni's "Friends" but that feature is not active yet. Instead you get an unfortunately generic pay-per-view setup instead of additional third party content. In the same vein you get some live cam access. But for both of these features you need to set up a new account with each of the providers. Then there's Toni's Toy Store which, again, is just a standard out-of-the-box package that added Toni's site colors to their cookie cutter format. Very disappointing to see a site with a semi-unique version of reality porn take such a standard and easy path to so-called bonus content. That coupled with the lack of a live stream of Toni herself makes this personal site that much less personal.

Conclusion
For a premium price, I expect more than the 20 some videos avaialable on the site as of the time of this review. The updates are frequent (a new video every week) and there's sure to be plenty eventually, but right now it's a little barren- especially with the "pictures" just being vidcaps from those same videos. The downloadable videos are top notch in picture quality and the streaming videos are certainly up to par. But for a personal site there are certain expectations. And, while the personality of Toni shows up in the videos, there's just not as many personal site opportunities (live chat, custom videos, etc.) as I'd like to see taken advantage of. Maybe eventually Toni will take the site to the next level but, as it stands, this site isn't quite worth investing in until you see Toni investing a little more of herself.


Screenshots from Playing With Toni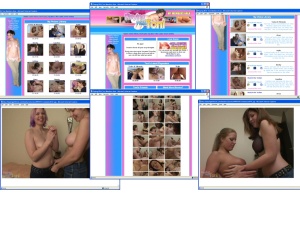 External Opinions
Don't take our word for it and see what others think! We have collected a list of opinions and impressions from other sites, so you can compare them all from one place.
Total average: 50/100 Our score: 60.0/100
User Comments
Write your comment - feedback is appreciated
Comments from other readers
User
Comment
No comments yet - please help make our site better for everyone by adding your comment.