New Nude Mag review
Summary: New Nude Mag is a soft-core photography/studio site. Hot images are the focus for this adult online magazine site.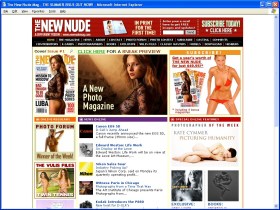 Author:
Tracy
,
2005-08-20
Categories:
Photography / studio
,
Other
,
Softcore
Tags:
Intro promises
"The New Nude has been created to bring sensual, high-quality photo art to the internet in a magazine format with in-depth articles, interviews and stunning models in exciting locations.

The New Nude online is accompanied by the innovating launch of The New Nude in print and subscribers will receive each year four 132-page copies of the magazine delivered to their door; the first in summer (out in May) and then every 3 months.

The New Nude contains behind the scenes photographs and reports from photoshoots, interviews with the models getting that title super in front of their name, images from the collections of photographers in the vanguard of the New Nude Revolution, articles by writers with a distinctive voice, profiles of New Nude photographers, a new one every week, Words of Love, a humorous love dictionary by Terence Doyle."

First impression
The New Nude claims to be a magazine with a "different vision" and the "voice of a movement." Already I love their mandate, and I'm ready to explore their pages to discover both this vision and voice. The magazine structure leads me to believe that I will have access to superb quality photos and excellent articles. While my initial impression is that New Nude Mag will be a blend of 'Photography Today' and 'Maxim', upon spotting names like Vulis, Mapplethorpe, and Helmut Newton, I am led to believe there will be a lot more art, and a lot less glamour in the photography.

Pricing
Our opinion
What I do notice right away about New Nude Mag is that it's a specialty site and not a porn site. In fact, I would not even say that it is a paysite like Hegre Archives. It is, in my opinion a site geared to either erotic photographers, or connoisseurs interested in the art, history and even technical aspects of photography.

The member page is a reflection of the tour, the difference being that you have access to the complete magazine. The top-page menu offers 17 categories to choose, and the remainder of the page features online items like NewNudeMag regulars, specials and news, which gives you information regarding art expos, nude and photo events, as well as offering technical reviews on new equipment.

While it is a fairly overwhelming design and structure, I am not really surprised since most magazines are laid out in a similar fashion. Everything is well marked in three columns and features are easy to find.

It would be quite impossible to describe every area of the magazine without writing an essay, so I will try to give you an overview of what I consider the most important areas of NewNudeMag.

Obviously, photography is the main feature. The 'Photo Forum' is an area where members can upload their own artistic photos for feedback from other photographers and artists. There are currently 1241 amateur and professional photos, and all members who post their work will be automatically entered into a weekly contest voted on by other members for a prize, and with the possibility of having your work published in the print magazine - an exciting proposition for artists.

Under the menu heading 'Photographers' you will find a Photographer of the Week profiled with an article and a gallery, which this week consisted of 28, 886x900 photos to view in a slide show, or to download. In addition there is an archive of 32 previous weekly photographers from around the world. Each gallery samples the artist's work, and their individual exploration, and visual definition of the female nude. 'Vulis Files' is a regular feature with submissions from renowned Latvian erotic photographer Ralf Vulis. There is a brief article summarizing the shoot, and 20, 803x1200 photos, and another 20 archived galleries, each with a different nude-sport theme.

If you are looking for 'Classic Masters' then you won't be disappointed. The articles in this section are much more in depth biographies and observations about the work of such unique and timeless photographers like Helmut Newton or avant-garde artists like Man Ray. While the articles were informative, I'd have also enjoyed reading more about the art itself, particularly regarding the images featured in the galleries. For example, the article on Man Ray touches on an anecdote about his sadomasochistic tendencies, and it would have been fascinating to explore how this developed in his work over his lifetime, or perhaps as the writer notes, how his "humour and witty eye bore upon everything he did."

"Models" features a girl of the week. There are 14 models profiled in a similar fashion to the photographer of the week, although I did note that the model galleries showcased photos across each girl's portfolio of work rather than on an individual shoot. I loved this aspect, since a model's diversity is something I believe is important to photographers.

In addition to all of this, there is a book section where you can find brief reviews about current photography books on the market, and a small sampling of images that you can download. "Exclusives" offers a range of thorough articles from interviews with photographers about their work and art, to essays on elements of style, or critiques on a set of famous photos.

To recap the content, because there is so much, there are 103 sets of photos with varying numbers of images in each, plus a collection of 1241 individual amateur nude pictures. Image sizes vary widely from 400x600 to 800x800 and 899x1199, but it really depends on the camera used, which I believe ranges from 35mm to digital and medium format. Each photo set is accompanied by an article or commentary, which makes the reading material on the site just as extensive.

Conclusion
New Nude Mag is an atypical adult magazine site, and one that I suspect will appeal to those who appreciate the fluidic and sensual nature of nude photographic art. While there is quite a bit of quantity, new content is added weekly, and you receive a hard copy of the magazine 'The New Nude', quarterly. What I loved about the site was the blending of both new and innovative photography and the retrospective of classic photographers. There are opportunities to read about advances in equipment or techniques, and to participate as a photographer in a feedback forum. The profiled nude work was sometimes vibrant, and sometimes passionate, playful or erotic. The quality of photos is exceptional, and the articles were always absorbing and intelligent. The subscription is a one-time fee that amounts to little more than a penny a day, which in my opinion is more than worth it.


Screenshots from New Nude Mag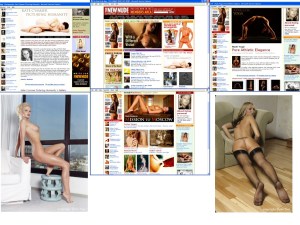 User Comments
Write your comment - feedback is appreciated
Comments from other readers
User
Comment
No comments yet - please help make our site better for everyone by adding your comment.