Hardcore Partying review
Summary: HardCore Partying is an amateur reality site that has content covering images and vids in MPEG and WMV formats, bonus sites are included with membership.

There is a newer version of this review - click here to read it.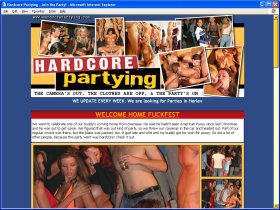 Author:
Fred Lake
,
2005-11-17
Categories:
Reality
,
Amateur
,
Hardcore
,
Videos
,
Movies
Tags:
Intro promises
Wild spontaneous parties where girls suddenly get the urge to strip naked, suck cock, and fuck.

First impression
Upon entering Hardcore Partying, you find a page listing the parties to date (with one small thumbnail each) and listing the bonus sites. There are several such bonus sites including: Girls Hunting Girls, Teen Hitchhikers, MILF Cruiser, Big Sausage Pizza, Cheerleader Auditions and Limo Patrol. And then there is a bonus on top of the bonus, seven other archives (Hot Shots, Back Seat Fuck and Suck, She Likes It Big, Desperate Teens XXX, Her First Lesbian Experience, MILF Galleries XXX, and Her First Anal XXX) with zillions of photos.

Prices
3 day limited trial: $2.95
Monthly: $38.80
Annually: $95.76 ($7.98 per month)

At $38.80 per month this site is at the high end of what modern consumers will pay. It's worth it (especially given the bonus-bonus sites) but not cheap. One warning, do not pay for the "limited trial" as it includes less content than any one of the hundreds of free sample sites. Worse, when you cancel it offers you a $20 special deal, which turns out to be a month long subscription to the tiny little trial site. This is a ripoff and they should just remove it from the site for the good karma that wold result, or at least tell you before you pay just how limited it is (and it shouldn't be that limited!).

Our opinion
As of November 2005, there are over 38 parties. Each comes with videos; the most recent have photos (over 100 per party). The photos are medium sized (500x800 pixels) and good quality. Some of the photos in some each sets are screen caps while others are separate stills. The site has evolved over time, from video only, to video plus screen caps and high quality stills (needing both kinds of stills to carry the narrative thread), to video and only high quality stills (the still photo guy having learned to carry the narrative thread by himself). The photo sets include titles as Will's Party, Big Sisters, Lucky Cocktail, the Cigar Club, Cafe Paradiso, Club After Hours, Closing the Bar, Paul's Pool Party, Brumski's Bar, Toga Party, Brickhouse, Mardi Gras, Money B's Graduation, Jake's Birthday, Mid-Terms, Happy Hour, and DA Club.

Videos are downloadable in mpg and wmv formats. The wmv includes a system of a "license to play the movie" which is only good as long as your membership so you can't download the movies and play them after your membership expires. This is known as DRM. The WMV videos seem to be in WMV8 which will not play on Macintosh OS9. The WMV videos run at 521 kbps. The MPG movies work on most platforms, don't have an expiring license, but come in one-minute clips that can be annoying to follow. The MPG files have a resolution of 352x240 and take up about 7 MB per minute.

While the scenes follow a general outline, there is variation between each party. Each starts with people dressed for a party dancing and drinking. Sooner or later, girls start losing their clothes. Sometimes one of them gets a sudden urge to jump up on the bar and strip, sometimes they just start tossing their blouses, in Cafe Paradiso the theme seems to be that the panties go first and the shirts and bras (a few of them DO wear bras) go later. In some cases, guys strip the girls, and in some cases, other girls strip the girls. Some of the girls make a big production out of getting naked and others just dump their clothes as they move along. After that, the girls get sucking and eventually fucking and then the guys cum in their mouths. It's not a by the numbers script; some girls are still dressed when others are already naked and fucking away. Some of the parties are better set up than others. In Mike's House Party, everybody is in a hot tub, and there are just too many bodies in a small space to see what any of them are doing. And why do two of the women still have their bikini bottoms on halfway through the party? Jeez, guys, just pull those things off and show those two women what they're missing!

Navigation is easy once you learn the trick to open parties in a new window (since it is hard to get back to the main menu once you are in a gallery.) Select a party, and it gives you a list of the video clips and (if there are any) the photo galleries. The site is somewhat "unfriendly to users" which is not the same as user unfriendly. You have to log in twice, when you leave you get a series of annoying pop-up ads for the site you are already a member of, and the "help" email address simply never replies to questions.

The women range from reasonably attractive to spectacularly pretty. The action includes stripping, fondling, sucking, and fucking. I didn't see any anal but can't swear there isn't some somewhere; there are no creampies. The site is updated with a new party every week. The content is exclusive to the site, but they have put out a huge amount of previews on hosting sites. After digging through hundreds of free previews, it's clear that the owners gave away too many good scenes.

There are a lot of myths, rumors, and complaints about this site, which is one of the most interesting, controversial, and intriguing on the internet. There are many unfavorable reviews, and many confusing advertisements. Let's take these one at a time.

The advertising says "everybody fucks at our parties". Unfavorable reviews say that only two or three girls fuck, the rest just strip and stand around. The reality is closer to the reviews. Some of the girls get naked, some topless, a few never take off anything. Many of the guys never take off anything. Several of the girls fuck and suck, but a few (naked or dressed) just stand around and others just do lesbo stuff. This is kind of curious and you wonder just what the real story is. In Cafe Paradiso, one girl (who wore a blue dress and got fucked several times at Mike's Rager Party) gets naked but never fucks or sucks. In some parties, you want to scream "why doesn't THAT girl over there take off her panties and fuck somebody?" Even so, there's plenty of fucking and sucking in every party. It is annoying that some of the most interesting women never get naked or never get fucked.

One advertisement (picked up by one review) says that "we surprise the girls by cumming inside their pussies" but this never happens. But then again, almost all of the cumshots are in the girl's mouth not just somewhere in the general area of her face. Lots of good open-mouth shots are provided showing cum-splattered teeth, tongues, and tonsils.

One unfavorable review complains that they have movies but no still photos. Apparently they listened because the later parties do have still photos.

One often-asked question is whether the zillions of free samples on many preview sites constitute only a teaser or most of the action. As for movies, they're most of the action on the site, although at least you can watch one party all the way through in longer pieces. As for the photos, each party has 100-500 photos and relatively few of them are on the freebie sites.

Another mystery is where is this stuff shot? A query to the webmaster said most are shot in Europe. There seems to be at least two separate crews (no overlap in participants, but I can't be positive). One of the later parties includes an actor who is on another site based in Prague, but that doesn't mean anything about where the scenes are shot. One web site describes the party as happening in Romania, and a review somewhere talked about "western European girls" but they seem to be Americans. The movies have clearly spoken American English, but I suppose it could be dubbed.

The great mystery of the site is just how much of this is scripted (Ok, babe, when I give you the signal, drop to your knees and suck him), and how much of it is spontaneous (as the party started, they hadn't really decided if they were going to drop their panties or not). Why do girls who fuck like demons at one party just stand around naked at another one? The presence of some women who never undress and seem mildly embarrassed is curious. Did these women show up not knowing it was a fuck party? Did they come with the intention of participating (or at least thinking about it) and chicken out? Are some of these girls working up their nerve, show up for one party, get naked in the next, and fuck in the one after that? Did the producer invite a couple of girls or couples who were never intended to participate just for window dressing or because they thought it would be a hoot? One of the great charms of the site is that you just really don't know.

Conclusion
If you are into fuck parties, this is an incredible site. The bonus sites are very good as well, none of them being off-topic junk of limited interest as is the case on some mega-sites. Comparing this to the site's competition, there are plenty of parties and the bonus material is sure to be of interest.

The bonus sites in the mega-site include:
Teen Hitchhikers, Euro Bride Tryouts, MILF Cruiser, Big Sausage Pizza, Two Dicks One Chick, Cheerleader Auditions, Limo Patrol, Slut Seeker, and Latin Caliente, all of which are boy-girl sites.
Nude Beach House which has groups of girls frolicking naked at a mansion by the seashore.
Girls Hunting Girls which is girls convincing other girls to try some lesbo action.
And then the bonus-bonus sites, which are archives of photos bought from other sites but still very good:
Hot Shots, part of the Lightspeed teen group.
Back Seat Fuck and Suck, 127 girls who get banged in the back seat.
She Likes It Big, 108 girls who like big dicks.
Desperate Teens XXX, 99 girls who will do pretty much anything.
Her First Lesbian Experience, 79 pairs of girls willing to try something new.
MILF Galleries XXX, 139 women who just need to fuck.
Her First Anal XXX, 62 girls who take it up the tailpipe (and elsewhere).
Creampie fans will have to hunt through the bonus sites but there is a creampie or two over there along with plenty of anal.

Screenshots from Hardcore Partying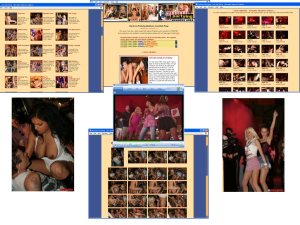 External Opinions
Don't take our word for it and see what others think! We have collected a list of opinions and impressions from other sites, so you can compare them all from one place.
Total average: 74.7/100 Our score: 80.0/100
User Comments
Write your comment - feedback is appreciated
Comments from other readers
User
Comment
No comments yet - please help make our site better for everyone by adding your comment.