Vixen E-magazine review
Summary: Vixen E-magazine is a brand new attempt to create an online gentlemen's magazine. It consists of articles with many different themes as well as a few photo series. Overall not a threat to FHM or the other major mags, but is worth a closer look.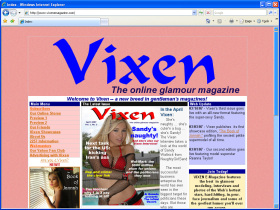 Vixen E-magazine is closed
Find another site in our Other category instead. We keep the review online for historical reasons.
Author:
Melissa
,
2007-03-17
Categories:
Other
Tags:
Intro promises
Vixen E Magazine is said to be the new breed in gentlemanís magazine. They promise to feature the best in glamour modeling, interviews and photos of the webís hottest stars. This is said to be laced with humor, and everyone can use a smile, right? Most of the models youíll find on this online publication are local talent from the Houston area, and theyíve appeared in Playboy, Mystique, and other magazines.

First impression
Ok, Iím a bit eager to venture further into the material theyíre offering on Vixen E Magazine. I like anything thatís different and they seem to have a nice sexual spin going on here. The images theyíve shown through the tour area definitely shows beautiful girls that have a radiant look to them.

Pricing
Our opinion
Dave Mundy is the man with the plan for Vixen E Magazine. With more than 25 years and 40 awards under his belt he was more than ready for the task. He strives to combine investigative journalism, conservative and libertarian opinion, humor and glamour photography to the pages you'll find here, and I think he's done a nice job. I enjoyed the articles, they look at issues from outside of the box in many instances and gives a food for thought outlook. It's not JUST articles here, it's writing that a lot of thought has gone into, to present it in a light they remain proud of and also enjoyable to the readers. Sometimes you'll catch a bit of this type of thinking in other magazines, but it's rare. The beauty that he brings forth in the women are an added touch that allows him to cross the line into erotica and sensuality as well as just "another" magazine.

Adding username and password takes me to a simple page, just two magazine covers featuring this month and last month. Of course weíll go with the most recent, but Iím wondering if there is an archive anywhere. When clicked the cover opens up to a very large size with all of their featured articles laid out and easy to observe. A link at the top will turn the pages for you... so no more sticking corners from your previous loads. You will find some very erotic pictures laced throughout the pages to this site.

The photography is great, the capture of the lighting, making it work across the nude bodies to enhance their every attribute is very well done. One of my favorites fell upon page 11 of the 2nd e-magazine issue. Itís a one page feature on ďKitty: a look inside a tortured soul.Ē Everything compliments everything in the images, the black and white film is always a favorite with me to start with, but this nearly naked woman is bound in what looks to be barbed wire, giving the illusion that she is trapped within something... maybe herself? Her expressions, her running mascara, the sadness in her eyes, it all gives that dismal appearance of someone searching for something. Iíve always heard it said a picture is worth a thousand words and this is proof of that. I must note however that not all the images are the best quality. Some of them seem to be enlarged beyond their natural size, and some seem to be scanned from an actual physical photograph making them a bit grainy.

I canít do an actual image count for you unfortunately, mostly because this isnít what I would consider a porn site. Yes, there are soft-core shots here and there throughout, but itís much more than that. Youíll find articles here on most any topic you can think of. They offer departments such as; Menís Fashion, Cuisine, History, Business, Recreation and Automotive, so, as you can see, you get a mixed back of material here.

In going back the second time to Vixen, I can't really say the layout of this magazine site reminds me of other E Magazines. I just recently finished another site very similar to the genre of this one, and there were differences as to how it's done. One thing I did find is that this site is much more user friendly as far as accessing from here to there and it just had a softer, more inviting look to it. It doesn't carry that glossy paged look to it so much as other online mags do, and yet it's professional and enjoyable. I'd say Vixen pretty much has their own style going and it really does work for them. They don't stick with only articles that are of the sexual or sensual sense, they bring all sorts of information and storylines to you, making this more of a mainstream magazine in many ways except for the spots of beautiful nudity that's included.

Page 33 is where youíll find the featured Vixen of the month, which happens to be a lovely blonde by the name of Bailey. A nice write up on her frames the edges of some equally nice images. The largest one I found to be breathtaking, her skin looks like that of a porcelain doll, but itís not just her that makes the picture, itís the back-drop, the coloring, the un-noticed look she seems to not give the camera, it all works to make such a great presentation. Her nipples are so small, and her breasts have just the right amount of curve to their size, and her lean body, shaved mound and delicate features. Theyíve done a great job in layout of this page turner, and you could definitely find some great articles with and without humor, to go along with the softness of sexuality they offer as well.

Conclusion
Vixen E Magazine is a magazine that youíll pay less for here than you would for the rack price, and letís face it, everything pretty much is being done on the computer these days, so why not thumb through a favorite glossy paged presentation. Itís not what I would consider porn, but if you enjoy articles and great photography with a fair share of beautiful nudity, then youíll enjoy this magazine.


Screenshots from Vixen E-magazine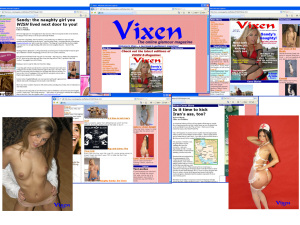 User Comments
Write your comment - feedback is appreciated
Comments from other readers
User
Comment
No comments yet - please help make our site better for everyone by adding your comment.