Fucked By Frank review
Summary: The character Frank likes to fuck teen girls and this is the site where you can see it on video. The videos are technically not very great and the amount of content is sparse.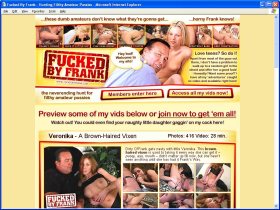 Fucked By Frank is closed
Find another site in our 18-23 category instead. We keep the review online for historical reasons.
Author:
Mads
,
2006-01-30
Categories:
18-23
,
Reality
,
Movies
,
Videos
,
Hardcore
,
Mega-Sites
Tags:
Intro promises
- Get full access to all of our exclusive reality content!
- I walk up to random girls and ask them if they'd like to fuck
- Exclusive amateurs

First impression
Fucked by Frank seems to be quite a neat adult website from the outside. Decent previews of four teen girls gives you an idea of what to expect contentwise and it certainly looks like this guy Frank has got it figured out.

Prices
$4.87 For 3 Days Trial
$39.73 For 30 Days Membership
$39.73 For 30 Days Membership

Payment by credit card, check, phone, mail or by the minute.

Credit card processor: CCBill

Our opinion
Moving on to the member's section everything seems very decent and straight forward... the models are neatly arranged by thumbs and you can choose to behold either their pictures or videos. Everything seems to present itself quite eloquently within the framework you experienced on the outside. Unfortunately, this impression doesn't last forever as you'll experience when diving deeper into the site structure. In fact if you decide to go for the left hand navigation bar you'll be redirected into various third-party sub-sections. The inconsistent main design with little navigational logic makes the site come forward as conceptually blurred. The fact that the site primarily offers third party material which makes the original content come forward almost as embedded within the third party design framework. This gives one the impression that the original content is quite secondary. It should be the other way around and altogether this unfortunately makes browsing the site a pain in the butt and gives the whole site a second-hand feel in terms of quality.

Let's take a closer look at the technical quality of the exclusive content Fucked by Frank has to offer. I started off in the picture section, and though I'm more of a video than a picture kinda guy I was somewhat disappointed to discover that the pics are screen caps only. The pics are however decently arranged by thumbs in chronological order. The thumbs can be enlarged to a 640x480px view mode and though the quality of screen caps is quite poor it shouldn't surprise anybody as this is the trend in the moment. What's worse is that the poor quality of the enlarged screen caps foreshadows an equally mediocre technical quality of the videos.

After snooping around a while I finally decided to go for the vids and though I did not enter with high hopes I was not pleasantly surprised with the technical standards altogether. The videos are decently presented by thumbs. There is no introduction of any of the scenes nor any supplementary information of what is needed in order to play the vids also it quickly became clear to me that there's no option of downloading whole scenes, only bits and chunks with an average duration of 2-3 minutes. Some sites recognize the costumer value of offering optimized material for various user connection speeds, however at Fucked by Frank it is one- speed only and one video format only which is wmv.

As it turned out the vids can be downloaded as well as streamed and as the bitrate 464 kbps evidently suggests the quality is not overly impressive and it emphasizes the fact that these clips are optimized for a 320x240px resolution in 4:3 format which results in a mixed viewing experience for the end user. Only positive aspect here in my opinion is that this quality may suit low speed connections well, but still it is not very ambitious and as a result of the low resolution and the low bitrates the vids are very poor to behold in full screen mode. The fact that several of the clips evidently have been shot with disregard to lighting settings doesn't make the overall result better.

Moving on from the specs of the techs to the action of the exclusive content at Fucked by Frank I find that what's here is decent hardcore stuff in the vein of similar reality sites. The girls are a great asset to the site albeit some might argue that they do not act as amateurs... now that's a nice plus! Others may argue that what you'll get here is noting out of the ordinary. In any case I'll sum it up as decent one on one action with some occasional spice. Presently Fucked by Frank offers 10 models which seem to deserve the teen labelling. The model quality in itself is fine as these girls are quite attractive and not afraid to show it. I'll settle with the claim that some of these girls might be amateurs, while it's somewhat harder to believe that they in fact engage in explicit hardcore acts all due to Frankie charm (seems a little unlikely that a guy who wears a t-shirt that says "Shut up Stupid Bitch" would be able to pull such stunts off repeatedly ;-)

Conclusion
From my personal point of view the plot and concept of the "Fucked by Frank" is not particularly interesting. It is not in itself insanely original to come forward as a so-called reality site these days as there are a lot of sites out there "starring" guys like Frank who are doing practically the same thing. This means that Fucked by Frank is forced to offer something out of the ordinary to earn its place in the spotlights.

This leads me straight on to my conclusion of Fucked by Frank. The content is not particularly well executed technically and at present Fucked by Frank has a pretty limited amount of original content as well, and last but not least the third party material blurs the 'vision' of the site... not that I expect a site named Fucked by Frank to be an epiphany.

This does on the other hand not mean that there's not a lot of entertainment options here... there certainly is and this is fine for what it is. The issue is however that these options mainly derive from non-original sources shared between a lot of other sites, and as such the present evaluation of "Fucked by Frank" must indicate that there's plenty of room for overall future improvements in order for the site to step up to the plate on its own terms.

In short; less talking and more walking might make Fucked by Frank an interesting prospect but as of right now there's still quite some way to go!

Screenshots from Fucked By Frank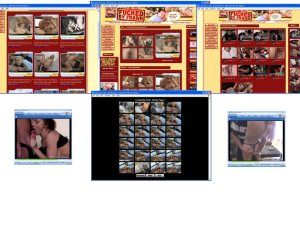 User Comments
Write your comment - feedback is appreciated
Comments from other readers
User
Comment
No comments yet - please help make our site better for everyone by adding your comment.