Chaturbate review
- 1st revisit
Review Update
Chaturbate remains one of the big players in the Live Cams niche. Since our last review things have not changed to much, which for this site is really good news. You can now purchase credits using Bitcoin, which is a great move for this site. You will find a huge variety of models online at any given time and with men, women, couples and even Tranny's performing here it caters to all tastes. With free access it's easy to recommend Chaturbate, so get over there and take a look for yourself.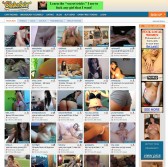 Summary: Here you have genuinely free amateur sex cams to watch. Girls host their own shows, run their own chats, and are willing to get naked and do pretty wild things on camera here, and you don't have to pay a dime. The site relies on big crowds and tipping, which together makes the models lots of money while allowing some free-riders to watch and pay nothing. You'll have the most fun here after signing up and buying some credits though, which allow you to go private, do group chats, or just tip in public chats and get the girls naked and in your debt!
Author:
Jerry Fritz
,
2019-05-24
Categories:
Live-cams / chat
,
18-23
,
Amateur
,
Ebony
,
Latina
,
Lesbian
,
Mature / milf
,
Sologirls
,
Squirting
Tags:
anal play
,
interaction
,
live chat
,
live sex
,
nude chat
,
sex toys
,
webcam sex
Intro promises
- 100% Free cam chat
- Private chats
- Custom emoticons
- Full screen, multi-cams, and private messaging for supporters (not free)
- Credits can be purchased using Crypto

First impression
Chaturbate isn't revolutionary in its idea of combining live cam streams and masturbation, but it does go about it in a novel way: it makes it free. And I do mean free, as in costs you nothing at all. There are pay for features as well, and having some credits to spend on tips to your favorite performers or for private shows is going to add to your experience, but that doesn't stop this from being a free live cam site!

Pricing
Payment Processors:
No independent merchant.
Our opinion
Chaturbate is one of a few high quality and truly free live cam site that I've reviewed here. This is my third visit, and while much has stayed the same, the site has grown even larger and is a more vibrant community. The core idea is still in play: without signing up or paying anything you can sit in on live chats, in which girls, guys, and couples are getting naked, and it costs you nothing. There are some fun ways to spend money here if you want to, though.

You have free access to most cams. Some girls might opt not to allow those without an account to come in; if you have an account, though, you don't have to spend money once you are inside if you don't want to.

The concept here is based on the power of the crowd and tipping. Hundreds or even thousands of people can be sitting in on one of these public chats at a time, and models will do things for tips.

Often the girls ask to hit a certain amount of combined tips for the whole room to do wild things like masturbate, dildo their asshole, take clothes off, or in the case of one couple cam, take a messy facial (she was sucking his cock and jerking him off, waiting for it).

Since there are hundreds of viewers, even if a small number tip small amounts, it's possible to reach big sums and get the girls nude. Often girls will get naked and stay naked, as tips trickle in, building up to a hot sex show. I've seen girls take us into the bathroom and bathe naked, seen them masturbate their assholes, and watched a couple have oral sex.

Now since you're probably getting a free show, there is etiquette to be observed and if you aren't tipping, you better follow it. Don't spam in the chat room, don't harass the model(s) or demand them to do things, and don't be rude or harass the other people in the chat. This is really common courtesy.

I like being able to reward hot girls or girls that are nice to me - and after tipping they are usually really nice! I also like to get the girls to do things I want to see, and not just what others ask of them. For really small amounts at a time you can be a more active participant, and the girls really fawn on the guys tipping them. If you go back to them regularly, they're going to remember you and your tips, and that makes a huge difference in your enjoyment and entertainment.

You can also use credits to go into private chats with girls, or spy on other people's private chats. This is a more traditional area of live cam sites. Some girls will do discount-per-minute rates for group shows, where four or five of you in the chat can jump in and get a full show together, each paying less than it'd cost to go private but still getting a say in what's going on.

When you have an account and some credits, you also get features like private messaging and multi-cam angles. Again, this doesn't cost much at all, and you only spend the money when you want to on the girls of your choosing, and even then, you can spend very little. It's a really great set up because you don't have to splash the cash to have a fulfilling interaction, and the girls are still getting really well paid since so many guys are tipping in the same way, or going private.

There were twice as many cam models online since my last visit. The site is doing well, growing more popular, and the tipping/free model works really well and girls are making good money - hence things are just getting bigger and better.

The cams are smooth and look good. Some have "HD" quality, which is really just a sharper picture and not true HD resolutions. The sound is usually good and overall, cam quality is great compared to most other sites in the niche.

Want to get in on the business side? Create a cam and start hosting chats. You can also earn yourself credits to spend by helping to promote your favorite girls around the internet. They tend to appreciate that sort of thing, too, which has its perks...

They separate the models by girls, guys, shemales and couples, but they don't use a good tagging system besides that. It'd be nice to find girls by breast size or by what they are willing to do. The preview pics are updated constantly though so you have a good overview of what each model is doing right now.

Conclusion
Chaturbate is free and exciting, and even more fun when you sign up and grab some credits to use as tips or otherwise get involved promoting your favorite models. And credits are pretty cheap too.

Competitors
My Free Cams is another site based on the idea of free/tipping and using the power of the crowd to make their girls lots of money while letting their fans save. It's really on about even footing in quality and size and has a lot of hot models, too. Amateurs are connected all day every day, ready to do public shows for tips or go private.

Naked.com is another big cam site, more expensive but much more developed and quite a bit larger. Stream quality and the beauty of the girls is top notch here, but you won't get much of anything for free. Private shows and paying to spy on private or group shows is where its at here.

Live Jasmin is another giant of the niche. They are huge with thousands of cams and can really offer you anything and everything as far as experiences go. Their free chat areas aren't that great though, so you have to sign up and buy credits to go private or spy on other people's private chats. Once you do, you're in for whatever you can dream up as these girls and guys do it all.

Screenshots





Reviews of webcam models from Chaturbate
Overall Score

Sitename Review date

offline

Review date: 2019-07-01

Review summary:
External Opinions
Don't take our word for it and see what others think! We have collected a list of opinions and impressions from other sites, so you can compare them all from one place.
Total average: 85.2/100 Our score: 90.2/100
User Comments
Write your comment - feedback is appreciated
Comments from other readers
User
Comment
jywisco
2015-09-09 04:13:37

Beware of "scam and ban" on chaturbate and all other cam sites. If you find a model you trust, wonderful. But several models including Jennifer X2 ask for a tip to "roll the dice" or some other promise, and then ban you after you tip rather than doing what was promised. You instantly disappear and the other customers don't realize there is a scam going on.

All cam sites seem to have some of this. Find models you trust and see how they are treating other customers before making and large tips or you may find yourself "scammed and banned"

AdultReviews.com
2015-09-11 09:31:21

jywisco - Sorry to hear about your bad experience. I would recommend that you contact Chaturbate support and I am sure they will refund you. That is definitely not the way models should treat viewers and tippers. I am sure Chaturbate would love to know as it hurts their business too.

/ J., AdultReviews.com

Nick
2015-11-22 10:28:11

It is frustrating in private not being able to easily send my webcam to the model to view, maybe I am missing something but Jasmin I know it is very simple for them to view me... A work around is to broadcast on another tab and have the model tune into that too, tip enough and they will go, oh they will go for sure but its a lame way to deal with, any ideas?

SHANNON OCLEARY
2015-11-25 19:40:41

I am a model for this website thinking of resigning because they have not paid my first paycheck on time I have made $$ since November 1, 2015 and got hired on here in October 2015 they have not paid me yet and I read nothing but bad reviews that they don't pay models on here till late time after they were supposed to be paid that is ridiculous I made $147.00 I am taking them to court if I don't receive my payment in mail by December 1,2015. Their rules are stupid and why should I have to cash out my own tokens isn't that their job.

Protantus
2016-02-05 00:02:56

Good site, but if they mess up, if you have any issues, you are on your own. They will take your money and run. No support options beyond the sterile FAQ. so join at your own risk.

SadCustomer
2016-02-28 03:17:15

I got banned for no reason (I did not infringe any rule) Support gave just automated replies and no reason for ban. They wanted age verification but as an exhibitionist - clearly over 18 - I wouldn't accept their request. Notice I spent money on the website and had been a user for several years. I also had tokens left on my account, which I won't be able to retrieve. So, apparently not providing age verification was ok when I bought the tokens, but after the ban (for unkonwn reasons), I can't use my tokens (that is, my money) unless I provide age verification. Amazing service :P

thank god there's bongacams

Mr Angry from Purley
2016-03-21 02:29:31

Have to agree with the comments below that this is a scam site.

Under normal conditions it is actually ok but if you have any dealings with what they loosely call 'Customer Support', look out - you are on your own. You WILL lose out - don't be under any illusions about this.

I note the comment below from AdultReviews.com - believe me Chaturbate 'Customer Support' are NOT interested in helping customers out. That's the last thing they want to do as they may have to pay you back what they are stealing from you in the first place!

Contacting Customer Support on this site really is a complete waste of time and effort. If you are in the position where you think this is what you should so, you have already lost out as they will NOT help you as you would expect them to do.

Could be a good site but there are too many negative comments going around about it (including this one of course). The people that run this site need a change of attitude in a big way or there will be no chaturbate in a few months time as they'll just drive their customers away.

Learned the hard way
2016-05-29 03:04:54

Their banning system and their support both appear to be automated and poorly coded. Had account troubles there several times, every time apparently triggered when I tried to buy tokens.

They will take the money from your legitimate credit card, they will shut down your account, and they Will. Not. Tell. You. Why. Probably because they don't know themselves.

I spend on other sites, and have not had problems like on Chaturbate. I have seen them show complete disregard for the models who work there, and the people who try to come and tip them.

If you are a scammer, beggar, or a troll though, then this is the site for you.

Dude McCloy
2016-06-10 05:16:27

While I enjoy watching most cams from girls, they are basically prostitutes who would do most anything for the right price. I don't know what drives a person to dish out good money just to watch a blatantly obvious amateur, in it only for the money who could care less about their audience outside of the cam. Some girls are notoriously popular who don't really perform much but ramble on on endless nonsense. One girl who I've followed goes by the (alias) name of EvelynClaire. "Evelyn" is more of a tease than anything else, she shows only flashes of herself, with a slightly above average face and okay body, yet has enough of a dedicated following to keep her apartment lease and education going. Reading her chat log, her followers are on some wild impression that she's their online girlfriend, while she plainly states that she would not bother even talking to anyone in person. While she's available on some social sites like Snap Chat, has an Amazon Wish List and pictures online, proving nothing with her is free and anyone thinking there's any kind of genuine friendship is sorely misguided. Her cam shows are basically more gab than substance and even her gab consist of pretty lame subject, often laced with profanities and goofy faces. After a few moments one can clearly see that Evelyn is pretty boring, for what she shows one could see elsewhere on a nicer body and person with an actual personality. This is just one of the many cam girls who truly deserve the title "slut" and should tell most followers of these live girls that there's more substance to life than what they offer.

Yeah, Evelyn's a big rip off
2016-06-10 05:34:09

I agree with what was just said. Funny thing about her is that people give her tons of tokens for very little return. I paid a LOT of money on her and only got HOLY SHIT and Thank yous but no real show. She thinks she looks better than she is and she smacks her slightly flabby ass like she's some sex goddess. She's got these goal post teeth and goofy smile that got old fast. See Evelyn, I'm one of your dissatisfied customers. Rot in Hell!

SexualPilgrim
2016-07-12 10:56:03

I very recently cancelled my membership there. The standards for performers there have gone way down from the time when I joined. The last two I followed that had any personality at all and could properly chat with you seem to have left over the last few months. Most of the current lot seem to be content to ignore you, I've lost count of how many I've seen there in recent months who seem content to just sit there doing nothing, doing their make-up, playing with their mobile phones or some such and give zero engagement until tips come in.

I also left because "Tip thieves" have also been on the rise at Chaturbate. I saw a lot of performers get decent tips from respectable members and then not do what they said they would. Worse, sometimes I'd see the performer go offline shortly after the tip was made, only to come back on line 15-20 minutes later to bring in a bunch of new suckers.

I've seen Chaturbate be inexcusably tolerant of poor conduct among their performers. The above tip stealing is one example. There are also too many performers there these days just "Giving it away" too, that's why they have constant problems with non paying "Greys" being rude and making demands on the models, there are models who will give them something for nothing.

If you ran a business, you wouldn't tolerate your staff giving product away for free, you'd sack them. Chaturbate is a business, not a charity and the performers should know that. The "Greys" will disappear when they know they can no longer get something for nothing.

The last straw for me was the introduction of that stupid "Ohmibod" vibrator thing that interacts with tipping. It's not discreet at all under a pair of panties, the lump is visible and a complete turn off. I'd rather they stuck to fingering themselves under their panties.