Summary: If you enjoy gaming Joystick TV may be the perfect alternative to ordinary chat and cam sites for you. Browsing is completely free and credits for tips and direct messages are affordably priced. I highly recommend checking it out and if you find that you love it, you even have the option to become a Joystick TV Streamer and earn some cash.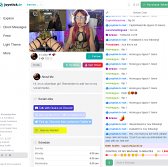 Author:
Drew
,
2023-06-21
Video count:
6000
Categories:
Live-cams / chat
Tags:
Intro promises
- Anyone can be a streamer
- Free registration
- Lots of support
- Lots of variety

First impression
Joystick TV is a new concept for the online community. Itís a welcoming gathering of everyone who is into live streaming, whether thatís gaming, chat, nudity, nude cooking, art, music or just day-to-day living, anyone can become a streamer and connect. Best of all, you can earn money. Itís an OnlyFans for everyone; no need to be an over-paid celeb, simply register, set up a stream and start gathering followers. Not into streaming? Then be a voyeur, watch, follow, chat, get involved or not. Itís completely up to you.

Pricing
Our opinion
When I first saw Joystick TV, I thought, ĎNow this is something new and innovative.í Iíd not long been reviewing some OnlyFans pages and accounts and, frankly, had grown tired of wannabe celebs doing very little for an awful lot of cash. Besides, not everyone wants to see Ďcelebrityí sex acts, and surely no-one wants to pay through the nose for them. That's why Joystick TV caught my eye. Its headline announces it is ĎA welcoming community that allows you to be yourself.í That was intriguing enough, but then came, ĎEarn money while playing videos games, doing art, or whatever you are in the mood for.í I had to explore further.

Registered for free, and in the membersí area, you immediately see what you saw on the front page; a set of stream screens showing you who is live, upcoming, featured, and new, and itís right there that you see how varied things are. Available to me, live and free, were cool girls in chat and cam shows, ĎTittykinsí was gaming, the Hedonistic Satyr was cooking in his jockstrap, dick out, with friends around, there was a dominatrix ready and waiting to give orders, guys were gaming and chatting, and I watched their games in part screen while watching them play and chat, and there were sexy babes in lingerie, plus plenty of other variety.


Content
In terms of accessibility, Joystick TV works in the same way as the well-respected chat and cam sites. Each streamer has a screen, a side box for instant messaging and chat, and they add posts to their wall. A streamer with a full account page will also show you their online schedule, social links, a written intro about themselves, some pics, and their community stats, i.e. how many followers, posts and VODs they have. If you subscribe to a channel, you unlock more content, and each streamer has their own charges for their extras. You buy these and give tips with tokens, and Iíve outlined the cost below.

You might be asking, is Joystick TV a streaming sex service or a streaming gaming service? The answer seems t be, it is both, or either, or whatever you want it to be. Looking down the list of whoís live and upcoming, youíll find gaming sessions, and gaming sessions played by girls and guys in the nude. So, itís safe to say sexy games are on the menu, but how many there are, well, thatís not so easy to say, as there was no list of all registered streamers. However, there is a link to Ďview allí at the bottom of the home page, so make sure you scroll right down.

Anyone over 18 can register to be a streamer, and if you're interested, you say so when you register. Thereís also a ĎChat with usí option on the front page, and that opens an instant chat box where you can ask anything you need to know.


Navigation
Another excellent thing at Joystick TV is that itís simple to navigate, and yet, technically flawless. The simple side menu gives you links to your direct messages, feed, support, terms and other technical matters, and for streamers, there are reports and analytics too. You can also change the theme to light or dark depending on your mood. There are no category lists, because everyone is here to game, do their own thing, get naked or whatever, and itís up to each streamer to say what they are into on their profile. Itís also fun to explore the avatars and sample pics and take pot luck.

Each streamerís page incudes their stream screen which you can run in-screen, a chat screen, feed and Ďaboutí info. You're able to give likes and rates, along with tips and comments, you can follow the streamer or block them. Another neat trick comes with the recommendation links viewers put in the live chat stream; it's a great way to find other, similar streamers within Joystick TV. Finally, youíre going to need to spend some money to get the best out of the platform and to tip the streamers you're going to get hooked on, so you need to know about prices.


Prices
Itís free to register at Joystick TV, and you can login with your Twitter or Google account. Alternatively, you create a unique username and password, verify your email, and youíre in. Itís free to browse, but youíll need to buy tokens to tip your favourite streamers, buy posts on their streams, purchase special content via DM, and to buy subscriptions. Prices are very reasonable, from $0.11 cents per token to as little as $0.08 cents, and they are available to buy in packages from $10.00 for 100, to $44.99 for 500, up to $79.99 for 1,000.

Conclusion
If youíre into gaming, watching guys and girls naked, chilling, having fun, making some spare cash, or just want a complete alternative to the regular humdrum chat and cam sites, then you want to register free at Joystick TV. Itís not a hardcore porn-cam set-up, but itís all about gamers chilling, playing, connecting, and often, doing all three while naked or in lingerie or jockstraps. Itís technically flawless, doesn't cost you a thing to browse, the credits for tips and DMs are at very reasonable prices, and thereís loads of variety among the contributors. Youíll love it, and when you do, you can become a Joystick TV Streamer, and earn money.

Competitors
This is tricky. Joystick TV is so unique, thereís nothing to compare it to, or for it to compete with. However, let's say you were looking for a live-cam sex site and landed here by mistake. If thatís the case, you might want to check out these two:

Live Jasmin has to be the #1 live chat and cam site on the net. Established many years ago, itís packed with gorgeous amateur and professional models waiting, willing, and wanting to get off with you. It has a top-notch platform, gives no technical issues, and hosts thousands of friendly girls (and guys, and trans models) from around the world.

Chaturbate is also a 100% free chat and cam site where, like the rest, you buy token to see more and tip your favourite girls, guys, or trans models. Again, it has a neat platform thatís been the same for years, which is a good thing, and itís easy to use, and packed with interactivity. Itís also a non-expensive site where you buy token as you go.


Screenshots





Reviews of webcam models from Joystick.tv
User Comments
Write your comment - feedback is appreciated
Comments from other readers
User
Comment
No comments yet - please help make our site better for everyone by adding your comment.