MC Nudes review
Summary: MC Nudes is a photography/studio site holding amateur babes partaking in some lesbian action. Low/High quality images in a download zip option as well as hi-definition videos.

There is a newer version of this review - click here to read it.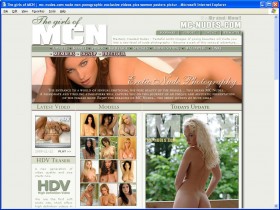 Author:
J C
,
2005-11-06
Categories:
Photography / studio
,
Babes
,
Softcore
,
Movies
,
Videos
Tags:
Intro promises
"The entrance to a world of sensual eroticism, the pure beauty of the female ... This means MC Nudes... A passionate and tingling atmosphere will capture you on this journey of an unique and aesthetic presentation of the female body. Enjoy the paradise of MC Nudes... The sweet secrets of nude girls."

"Tasteful erotic images of young female beauties will invite you into a new level of nude photography - Become a part of this sensual adventure..."

"Every day a new photo set of a beautiful girl! Experience the world of MC Nudes everyday, with new videos and pictures of models. We do not set any limits to the female beauty."

First impression
Professional photographer and studio sites always seem to put the most effort into their web design schemes. There's not a whole lot here to differentiate it from the others in terms of that, but it's still a very effective, solid design. Here, the company name takes precedence over any particular photographer. That's not a bad thing, because that means the girls will be the main attraction. There seems to be a wide array of girls and plenty of content to sift through and this High Definition Video (HDV) thing sounds pretty interesting. Excuse me, while I dive into a sea of naked women.

Prices
By credit card or online check
$24.95 for 30 days will rebill at $19.95 recurring every 30 days until cancelled
$59.95 for 90 days will rebill at $49.95 recurring every 90 days until cancelled
$89.95 for 180 days will rebill at $49.95 recurring every 90 days until cancelled

$39.95 for 30 days non-recurring
$69.95 for 90 days non-recurring

By phone
$24.95 for 30 days then $24.95 recurring every 30 days
$34.95 for 30 days non-recurring


Our opinion
First up is the updates section. This really means photo updates, since the videos are provided in another part. They're all laid out like magazine covers separated by month. The cover photo is captioned with the date and the description name (usually one word like "Divine" or "Naturalness"). Occasionally, you might see a comment listed under that too. You can open them up in a pop-up window if you really want to know what a fellow member said. What they don't provide is the name of the model. It seems like a simple addition that just might come in handy, especially if all that's shown the cover photo is say...a back.

Once you pick one, you can see the nice variety of images spread out before you in the gallery. That's not to say the models pose in a wide variety of stances, but rather that you get a nice spectrum of facial expressions and body language, while still showing the model's personality. That's something that often gets ignored or put on the side. At the top of the page, you'll find a link to visit that model's main page as well as the option to download the current photo set in a low and high quality zip file. The gallery pictures have three quality settings to choose from; usually 600, 1000, 3000. Occasionally you might see something different.

Clicking on a picture automatically opens the lowest resolution version in a new window. Even this lowest quality pic looks great and I notice no real flaws in pixelation or detail in most of the newer sets. The older sets still suffer from a little digitized garbage. The 1000 pixel version is obviously a bigger version and it opens in that same window. Here you can really start to see more detail and this is about the size most of us are probably used to. The 3000 is huge to the point of if you printed it out, you'd have a nearly life-sized naked woman on paper. (That just gave a few of you an idea, didn't it?) This size forces you to focus on a specific body part, because more than one won't fit on the screen. This size is also so big, you can probably check on their photoshopping technique, as well. At the bottom of this window you can navigate through the pictures, which is an easy nice touch I'm glad they included.

I really like these photos. They're mostly taken in front of drab or boring sets and backdrops, which usually looks bad or lazy, but here it's appropriate. The pictures are professionally lit and they take great care to showcase the model and her body. That's why the sparse backgrounds are used. Even in an outdoor shoot, the skin tone and poses of the model make her pop out.

The models section is...interesting. They feature one model and below her you get the thumbnails for the others divided up between four pages. I can't for the life of me figure out how these models are organized. There seems to be no structure whatsoever. But that's kind of okay, because if you're like me, you'll be using the search function anyway. On the upper left, you see criteria to find your hottie. You can search by name, country, age, hair and bra size or any combination of these. There is such an abundance of amazingly hot women to choose from that anything you can do to whittle it down will help. The less you search for the more you'll find. When you click on a girl, from the search results or from the clump of thumbnails, it'll turn her into the featured model. So, you'll have to click her again in order to get to her model page. That's pretty dumb if you ask me. If you already know what you want, why make us choose twice?

The individual models page shows you everything available for that girl. Most of them have multiple photo shoots (and they tell you the highest level of quality it includes), and some even have videos. There's not much else to it, nor does there need to be. Speaking of videos....

Now, according to the support section, in order to view the HDV content, you need to be running at least a 2.4 ghz processor with Windows XP and Windows Media Player 9. Well, I have that last part, but I'm running Windows 98 on an 800 mhz processor that crashes waaay too frequently. I started downloading a video before checking the needed specs. Once I found out what I was supposed to have, I cancelled it. But, I decided to check if it works anyway. When I opened up the file, it took a while to load up and my player gave me a prompt saying it couldn't play the file. But it was playing! So, I just moved the prompt box out of the way and looked at the frame-dropping video file. On a better computer I'm sure it wouldn't stutter and it'd probably even look better, but I love the HDV. I can't wait until this becomes the industry standard. All those other sites that claim DVD quality video don't know what they're talking about unless they're using this. For quality freaks, it's worth the long download times. And for those with slower computers, give it a shot. If you don't mind a slightly jittery picture (it kinda makes it look like slow motion, which could be better actually), then go ahead and give it a shot.

The other video setting is also pretty high. This is what most sites' highest is. Obviously it's not perfect, especially compared to the HDV, but it's still damn good for us low-tech computer users. The videos are quite sexy as you get to see your favorite models roll around and write naked across the screen. The camera work is pretty good and certainly acts much more professional than a reality site would. Since the models are from all different countries, the soundtrack is simply mellow, get-down sex music. But it fits with the highly erotic nature of the softcore content.

The behind the scenes section is more of the same, except here you get to see the crew as well. Most of these updates only include photos, but you will find an occasional video that offers no insight into how the content is created. You'll also see that the same is true of the Specials section. Except with this, the crew isn't as prominent. It's sort of the half-way point between a normal photo shoot and the behind the scenes. You get the best of both worlds.

The models voting section is one of the best systems I've seen in place yet. Not every model is up to be voted on as far as I can tell. At the very top is the current leader. Below her is the rest of the girls sorted by their ranking to date. Once a girl wins, she's not up to be voted on again. Then at the end of the year, you pick the best one who will be given a special shoot and video. They'll even have a member come out to join in the fun. From these voting pages, you can of course view the models' individual pages as well. And don't feel like your voting is limited to just the one model. Once you pick a 1-10 ranking for a model, her voting option goes away, but you can still rate all the rest. Very well done.

Lastly, there's a wallpaper section. There aren't tons to choose from, but the ones that are there look really nice. You'll find a nice selection of different styles in several different screen sizes to choose from. You won't really find too many that don't have the image on the right side of the screen. It's a pretty safe bet, but if you're a rebel and that's where you put all your icons, then maybe it's time to switch.

Conclusion
I found myself highly impressed with MC Nudes. Not only are there tons of gorgeous girls to pick from to keep you busy, but the site's functionality was extremely effective and useful. Plus, there were no ads or "bonus" content! There is a whole lot to look through and the fact that they add new stuff every day is just icing on the already decadent cake. And if videos are your thing, then you don't want to miss out on the HDV. This is one of the best sites I've reviewed.

Samples
Screenshots from MC Nudes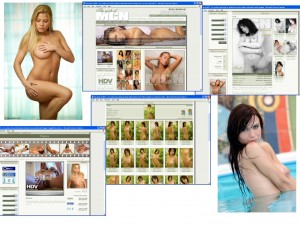 External Opinions
Don't take our word for it and see what others think! We have collected a list of opinions and impressions from other sites, so you can compare them all from one place.
Total average: 90.3/100 Our score: 95.0/100
User Comments
Write your comment - feedback is appreciated
Comments from other readers
User
Comment
No comments yet - please help make our site better for everyone by adding your comment.