Babeink review
Summary: Babeink is about sexy lewd, rude and tattooed British girl Tina Maria who particularly enjoys the fine art of dogging which usually involves strangers, blowjobs and public places... Honest and straightforward site with good original content.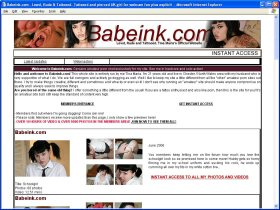 Babeink is closed
Find another site in our Personal-Amateur category instead. We keep the review online for historical reasons.
Author:
Joseph
,
2006-06-15
Categories:
Personal-Amateur
,
Amateur
,
Reality
,
Hardcore
,
Sologirls
,
Movies
,
Videos
Tags:
Intro promises
"Genuine amateur porn shot exclusively for my site. See me in hardcore and solo action!"

"ENJOY TONS OF PHOTOS IN THE MEMBERS AREA. Including Dogging, Blowjobs, Cumshots, Interracial, Toys, Solo Play, Uniforms, Lingerie, Stockings, Pantyhose, Outdoor, Penetration, Girl Girl, PVC, Leather, Bondage, Tattoos, Piercings and loads more."

First impression
Meet Tina Maria, a British twenty-one-year-old bird who describes herself as "lewd, rude and tattooed." Our heroine enjoys swinging and dogging, which is defined as "a predominantly British activity that involves outdoor exhibitionism in car-parks, wooded areas and the like" (huh! You learn something new every day!). Cheeky! Tina Maria kinda looks like the alien love-child of Bettie Page and Angelina Jolie — it's up to you to decide whether or not that's a good thing. But unlike Bettie Page and Angelina Jolie, Tina spends her nights trolling picnic areas looking for fresh cocks to suck. Join Tina's site and gain access to a shitload of exclusive videos, photos, erotic tales and cam captures; hell, you can even post on Tina's forum and read Tina's blog! Best of all, Tina notes on her site when and where she'll be dogging, so not only can you meet her in the flesh, but you can also get blown by her! You can go from passive porn site fan to active participant like that! We are through the looking glass here, people...

Prices
$29.95 for thirty days, recurring

Credit card
Payment processor: Tickets Club

Our opinion
Tina Maria's site is one for the ages. The layout is boring, but the site is relatively easy to navigate and that's all that really matters. More importantly, there's a fuckload of fucking on this site, probably far more than can be digested during a one month membership. I haven't seen one woman fuck and suck so many strangers since my sister's high school graduation in 1990! Sure, you get to see plenty of pretty photos of Tina passively modeling pink panties and whatnot, but there are also photos and videos of our host blowing scores of strange men at home and in public. If you can get over the fact that none of these men are Tina's husband and thus she'll probably burn in hell for all eternity as a result of all this swinging 'n' dogging, then I'm sure you'll be able to get your rocks off to this site. I'll confess that the handful of videos and photosets of Tina blowing groups of strangers or fucking truckers are a touch creepy — thankfully, there aren't many of 'em on the site in spite of the fact that swinging and dogging are supposedly Tina's specialties. The guys that Tina fucks are pretty gross and most of 'em look like high school math teachers. Granted, I'm not looking at this site to check out the guys, but I do find it discouraging to see so many balding goons getting laid with a reasonably attractive female. What is this world coming to?!

The videos, which have fun names like "Good Fucking" and "My First Black Cock" and can be viewed using your handy Windows Media Player, run anywhere from five minutes to twenty-three minutes and show Tina in a variety of outfits stripping, fucking and sucking, sometimes with just one partner, sometimes with multiple partners. In one video she even pisses! I certainly wasn't expecting (or wanting to see) that! Currently, there are fifty-seven videos on the site plus twenty-four outtakes and various bonus clips—all together, that's almost six hundred minutes of footage.

Honestly, much of the sex is unremarkable and most of the money shots in these videos are fairly unspectacular, but I guess that's what happens when you fornicate with overweight truckers who aren't particularly well-endowed. The photos are generally taken at the video shoots, though they are not screen captures, thank Christ. There are one hundred and two photosets containing four thousand, eight hundred and fifty-one photos. The photos were far hotter than the somewhat disappointing videos, for whatever that's worth (not much, probably).

To her credit, Tina Maria puts a lot of tender lovin' care into her site. Not only does she update it somewhat regularly with new pics and videos (which she edits herself), but she also frequently posts on the forum and adds new blog entries every few days. And she even invites her members to fuck her (or watch her fuck other guys) when she's out dogging! How many other Internet porn stars do that?! Precious few... If you're too shy to meet up with Tina at one of her dogging sessions, you can go one-on-one with her on her cam, which is actually located on another site.

Conclusion
On Babeink our heroine, Tina Maria, is a sexy British babe who kinda resembles Bettie Page and will do just about anything to turn you on. She's a swingin' swinger who will suck and fuck her way into your heart. Join her site and not only will you be able to watch her have sex in public with strangers, but you'll also learn how you can join her in said acts of public fucking! If you find Tina Maria even remotely attractive and you're interested in watching this tattooed beauty wage a one-woman-war on impotency, then you'll enjoy this site. If not, you won't. And that's the bottom line!

Screenshots from Babeink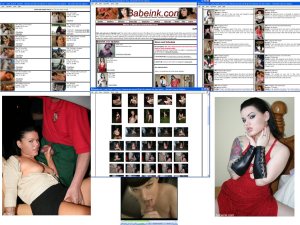 User Comments
Write your comment - feedback is appreciated
Comments from other readers
User
Comment
No comments yet - please help make our site better for everyone by adding your comment.