Lazerbunny review
Summary: Lazerbunny is an art porn community for girls with tattoos, piercings and strange hair colors - and for men who like just that. Besides pictures of the girls, the site offers a community with blogs and member profiles. Photos cannot be saved unfortunately.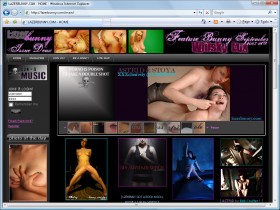 Author:
Joseph
,
2007-12-20
Categories:
Amateur
,
Fetish
,
Softcore
,
Other
Tags:
Intro promises
Lazerbunny is a Philadelphia-based art porn community site for artists and creators, designed and photographed by Sean Adamz. Each model on the site inhabits a unique place within Lazerbunny and creates pornart that reflect that uniqueness. Models are chosen based on their own specific
attributes and distinct personalities as artists. Adamz and the Star Bunnies, like Stoya!, present to you each week their select Feature Bunnies, their favorite Lazerbunnies, and the up and coming Bunnies Next Door.

First impression
Designed by Sean Adamz, the site's chief photographer, Lazerbunny is a Philadelphia-based "art porn community site" for artists and creators. Is it too early to call bullshit? Regardless, I call bullshit: Pornography is generally defined as the "blunt or excessive depiction of sexual acts, with little or no artistic value, intended for mere entertainment," thus "art porn" is an oxymoron. Oops. Not only isn't this site art, but it's merely softcore, thus it's not really porn either — I think Lazerbunny probably meant to describe itself as erotica.

Anyway, each model on the site "inhabits a unique place within Lazerbunny and creates pornart [sic] that reflect that uniqueness. Models are chosen based on their own specific attributes and distinct personalities as artists." Whatever. I know all of this sounds like pretentious drivel (and it is), but I assure you Lazerbunny is basically just an alt-porn site catering to folks who like to see tattooed babes with funky hair go all naked. I have an idea for an alt-porn site of my own called Tit4Tat. The premise is simple: Young women pose naked for free tattoos. Or small-chested and heavily tattooed babes fuck plastic surgeons for breast implants. Both ideas could work, don't you think?

Prices
One month: $20.00
Three months: $40.00
Six months: $60.00
One year: $99.95

Credit card billing handled by CCBill.


Our opinion
But back to Lazerbunny. Navigation for this site is kinda confusing. I guess it's supposed to vaguely resemble a virtual magazine, but I personally had some difficulty finding my way around. And the site map was empty, making it about as useful as tits on a bull (I hate that expression). Anyway, ignore most of what you see on the main page of the members area and focus on the menu bar at the top of each page and you'll have an easier time finding everything on the site.

Lazerbunny is updated twice a week: once on "Humpday" (Wednesday), "when the Lazerbunnies unfold their newest work," and again on "Sunday Skool" (Sunday), the "holy day of Featured Sets, newest articles and hot off the presses interviews." Over three thousand photographs are added to the site per month, allegedly. Each month that the site exists is supposed to be an issue of Lazerbunny. Ugh, just give me a prominently displayed set of links to the naked photos and cut the crap, Lazerbunny!

Currently, there are twelve lazerbunnies on the site. All of the models are fucking hot as shit — they're heavily tattooed, liberally pierced and dressed to the nines in handsome lingerie. They're also beautifully photographed — Sean Adamz may be a pretentious twat, but he sure knows to shoot "art porn"!

Each lazerbunny has a few photosets under her garter belt. Though most of these sets feature solo girl posing, there are a few girl-girl sets as well (don't get too excited, they're most just posing together, though I did see a set in which one girl fucks another with a strap-on). The photosets are fairly tame (just stripping and posing for the most part), but every so often a lazerbunny will stuff a dong up her rabbit hole. The photosets are filled with photos, anywhere from one hundred to three hundred shots, and can only be viewed in a Flash player on the site. Thankfully, the Flash player has a slideshow function, which makes using it a little less tedious. Personally, I wish I could save some of these fine images to my hard drive, but that's just not an option with Lazerbunny's current configuration. Sigh. Again, the photos is elegantly (dare I say artistically?) shot and look gorgeous as a result.

But Lazerbunny isn't just a bunch of photos of naked chicks who look like they're on their way to Lollapalooza, no sir! It's also a community of sorts (each member of the site has a profile that can be used to stay in contact with other members as well as models), thus there's all kinds of other incidental (i.e., non-porn) shit on the site. For example, there's access to Pornsaints.org. As the site explains, "Every good community has to have its religious source and Pornsaints is Lazerbunny's. Founded by Porn Pope Francesco D'Isa in Florence, Italy, D'Isa works together with PornCardinal Adamz to bring you images that are 'an artistic approach to porn, a pornographic approach to art, and a pornartistic approach to religion.'" Yawn. It's just a bunch of shitty paintings and drawings of noted alt-porn starlets — you can't beat off to that! Lazerbunny also has articles, music junk and a blog that is regularly updated by Adamz and his bevy of bunnies.

Conclusion
Lazerbunny may be pretentious and arty, two things porn should never be, but it's also hot as sin, thus it gets the old thumbs up from yours truly. The models are attractive and the photography is nice, thus Lazerbunny may very well become the ultimate alt-porn site if it ever decides to abandon its pretensions and focus solely on producing quality smut (leave the arty shit to someone more qualified to handle it, Adamz — you're Hugh Hefner not Pablo Picasso, bud… and there's nothing wrong with that…).

Put simply, if you like your girls slathered with tattoos and pierced from head to toe, then you will dig Lazerbunny.

Screenshots from Lazerbunny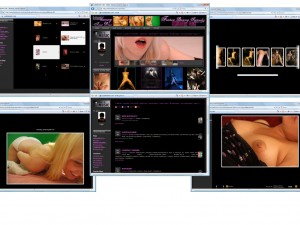 User Comments
Write your comment - feedback is appreciated
Comments from other readers
User
Comment
No comments yet - please help make our site better for everyone by adding your comment.