Sick Puppy review
Summary: Sick Puppy is bringing you hard-core amateur fetish content in the form of, new daily pics of never before seen content, AVI, MPEG and QuickTime formatted movies.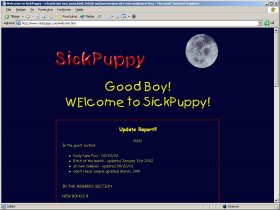 Author:
Kim J
,
2002-03-08
Categories:
Fetish
,
Amateur
,
Hardcore
Tags:
Intro promises
The most sick and twisted site on the Web!
New Pics Daily
Bondage, Disclipline and Hardcore S&M
1000's of Never before seen Images
Huge Collection of Wet and Nasty Water Sports
Insane amounts of Fisting Pics
Wide Open Beavers
Hot Chicks stuffing themselves FULL
Movies (including AVI's, Mpegs, Quicktime)

First impression
After 3 (!) warning pages you get to the guest section, with a list of the latest updates and info about Sickpuppy. Among other things they claim to be "the most sick and twisted site on the Web!" You only have to take a look at some of the over 100 sample pictures to become convinced that it's actually true!
The design is very simple yet very functional with yellow text on dark blue background.

Prices
1 month $23.95
3 month $49.95
6 month $74.95
1 year $99.95

They accept credit-card and checks.


Our opinion
Sickpuppy is a special place... You're probably either gonna love it or hate it. If you are not into things like watersports, catheter play, object insertions and medical toys, don't bother reading on, but if you are, this could very well be your new favorite place to spend some time online.

Sickpuppy take both members and models seriously and treat them with respect, but still they have a great sense of humour as well. E.g. there was a recent bonus photoshoot entitled "Pussy talk" which showed one of the models with a mobile phone up her most private place while receiving a call...
I guess you can say they really live up to their motto: "'cuz sex is so much FUN!".

The models are all aged from 18 to 35 years I would guess, they are all quite attractive and the term cute applies to all of them. Actually I think that's one of the things that make the concept so cool - cute babes doing this kind of "dirty" fetish pictures.
As mentioned Sickpuppy treat their models with respect and want them to have fun while doing the pictures, so you won't see them do anything they are not comfortable with. That way the models keep coming back to shoot new pictures, which the members probably appreciate very much.

When you enter SickPuppy's members section, you have a menu with the different sections. The sections are:

"New pics" - a section updated on a normally daily basis with 6-10 original and never before seen pictures.
"The Wasted galleries" - 180 fetish pictures from the site wasteland.com. Not updated very often.
"Sickpuppy forums" - Interactive forum where members, webmasters and some of the models can discuss or suggest ideas to new photo shoots. The forum is quite active.
"Puss'n'boots" - Women using shoes, stockings and other feet-related items in untraditional, but quite interesting ways.
"Cream pups" - The only section where men are also featured.
"Catheter sluts" - Watersports involving catheters (tubes inserted into the urethra).
"Links" - Links to other adult sites, all links discussed and approved by members in one of the forums.
"Sickpuppy Exclusive" - A mix of previous "New pics" and other original Sickpuppy pictures in various categories.
"Moovies" - Large movies featuring some of the models and their toys etc. Many movies as large as 40-60 mb.
"Sadomasocistic dogs" - The section dedicated to sadomasocism e.g. bondage, needles and candles.
"Paw fucking" - Fisting and finger play.
"Gimme a bone" - The models with various toys, tools and some of the largest dildos I have seen!
"The fire hydrant" - General watersports pictures.
"Big Pussy" - Let's play doctor. The section with speculums and wide open pussies.
"Bottle blondes" - The models playing with bottles of many different kinds and sizes.
"Archives" - Some of the many previous models are available in this section. However the archive is far from complete.

All pictures are of course original and high-quality. Over 1300 pictures are available at any time.
Each section is updated about once a month with around 80 pictures in each update. But sadly at every update the old pictures disappear from the site and are no longer available to the members. The only way to get them is if the webmasters decide to put them in the archives-section. In other words you have to make your own archive and download all the pictures to your HD if you want to be able to see older pictures in the future.

Considering the fact that the pictures are not online forever and you have to save them yourself, a thing that would be greatly appreciated is adding a single thumbnail page with all pictures from a shoot, or a single zip-file with the pictures from a section. It could get pretty annoying that you have to click on every picture when saving them.
An alternative way of organizing the pictures, e.g. by model would also be great.

Now let's take a closer look at the movie-section. There's about 90-100 movies in this section. The movies are not streamable, so you can't see them without downloading them to your harddrive. This is a potential problem to some users, because the files are very big, often between 25 and 70 Mb each - and that takes a while if you have a 56k modem.
But if you're lucky enough to have a good connection, it's not a big problem. However I'm not really sure the quality justifies the filesize, a different encoding would most likely reduce the filesize without quality loss.

As briefly described earlier the navigation is great, it's very easy to find what you're looking for and with a menu at the bottom of every page, you can easily navigate back and forth between the sections.

Finally there are no popups or banners whatsoever. Sweet!

Conclusion
Outstanding site with a lot af sexy women doing the things you don't even dare to ask your girlfriend to try! Everything original and in top quality. Well worth the money. I wouldn't hesitate to recommend it if you like this kind of stuff.

Screenshots from Sick Puppy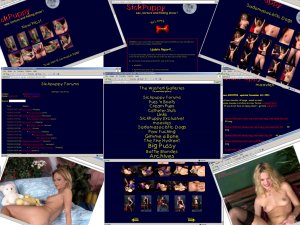 User Comments
Write your comment - feedback is appreciated
Comments from other readers
User
Comment
No comments yet - please help make our site better for everyone by adding your comment.